Farm in Cubdefi Today, and Harvest $CUB Everyday

It's really exciting activities now on cubdefi, where I could farm to harvest $CUB everyday. With some amount of staking I have earned $30 in 24 hours yesterday, in value of 10 CUB, but today I earned $31 in 24 hours but with less $CUB, which is only 8.7 CUB. It's really a nice earning, that I could compound the CUB into the dens.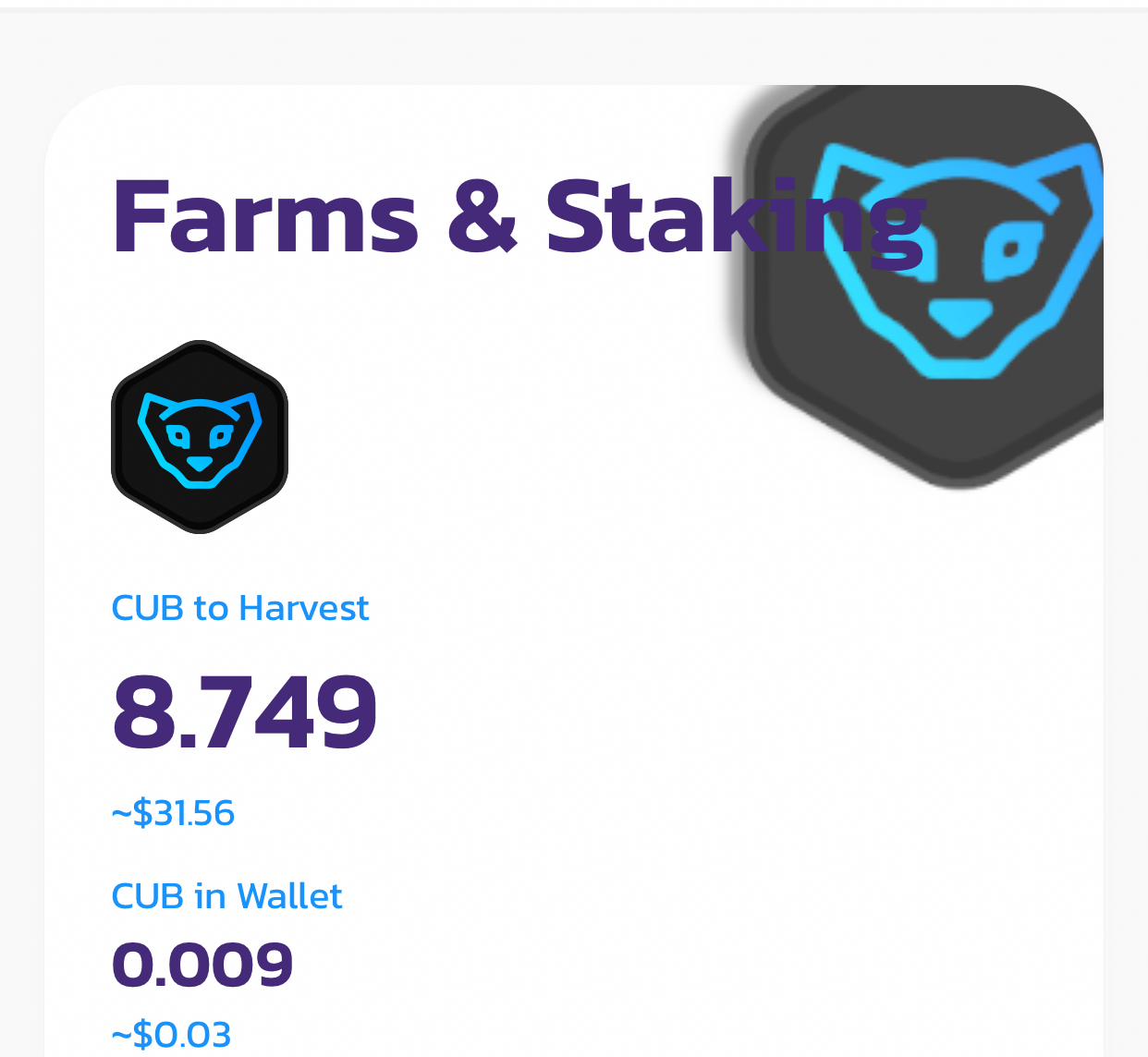 It's fairly easy to notice that the price of CUB today is higher than that yesterday. I am really optimistic with CUB Defi as I have already known the reputation of Leofinance team. They have brought leofinance to a great sucess in this mega bull year.
CUB Finance is one of the best defi run on Binance Smart Chain. It has reached new ATH of TLV, at about 17 mil. I have more stakers will come to join Cub Finance. We have already had a strong community on leofinance. However, we could not rely on the members of the existing leofinance community. We need to promote more to outside.
Longterm Investment
We need diamond hands or diamond paws (the term of CUB holders) to hold $CUB by staking them in Dens or in liquidity pool like CUB-BUSD, CUB-BNB, and so on. If we are able to hold in longterm, I believe we will got the price of CUB is much higher than it today.
I would hold the token as long as possible. I will keep it in Dens and some pools. Hopefully, any development on roadmap will go as planned. All we can do is staking and farming. Just let your invesment grow with Cubdefi. I just hope that the APR remain stable, of if possible higher than today.
I hope I could earn about $30 in a day, or $900 in one month. Cubdefi is really a good mean of investment. But for sure, we have to know the risk. It's not just bring money, and entering the farm but we have to be patient for not selling CUB for long time period. It's encouraged to collect more and more CUB when it's still so cheap.
Posted Using LeoFinance Beta
---
---