I reached the splinterland's Champion league 1 first time in my life and anyone playing splinterland's know it is highest possible league for season rewards. It gurantees me the 150 loot chest and everyone will say it should be definitely the reason of rejoice and celebration.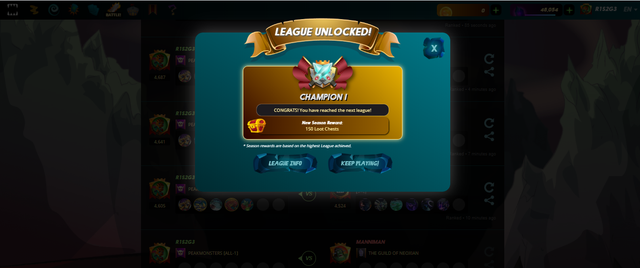 If you have noticed for past few weeks I am doing my earning reports in splinterlands. I noticed my earning week by week are fairly constant (so it is not a concern) but my cards value are decreasing steadily. (May be it act as good chance if someone want to invest decent amount right now)
Here is my graph of card value with each passing week.
Chart raw data.
|05/31/2020|466.53|
|06/07/2020|455.40|
|06/14/2020|448.04|
|06/21/2020|404.67|
|06/28/2020|391.05|
|07/05/2020|353.54|
|07/12/2020|310.65|
|07/19/2020|308.65|
My another concern about my earning. We all know with the implementation of reward loot chest the value of daily rewards and season rewards are greatly reduced. But I am also concerned with DEC earning in the game I noticed that my earning are roughly half in DEC that what I used to earn a year ago.
I find a my year ago comment with excerpts as below:
"a good silver account easily make around approx 1000 DEC per day"
Now I see even in playing in champion league I make half of DEC per day now.
Splinterland is still the most rewarding game but may be I am nostalgic with good old days.
Anyway I reached to champion 1 with my level 5 splinters and that was never possible in that good old days and I think I can keep of this tag of Champion forever.
Hope you all are enjoying the game.
Posted Using LeoFinance