source
Lately 80% of the attention on crypto relays to bitcoin.With a price tag of US $37k+
it is no envy to see everyone is trying to hold some for its rise. The institution grabbed as much as possible for the last three months. Grayscale alone holds around 3% of all bitcoin in circulation. You have to have a voice in the bitcoin battle for supremacy.
As bitcoin moving sideways for the past couple weeks, Ethereum is working on its acts.
Holding second place comes with a merit. With #ether running most of all altcoins through its blockchain, you can see where this is going. In the near future, #bitcoin will be out of contention for the average Joe. If you want to own a bitcoin as a class asset, 2021 is the year to do so.
Not so much the idea for Ether. Soon it will change to proof of stake and a whole avenue
of model will come to place. Ethereum has a lot of competition, still it is the favorite to deliver what we see like the #defi movement.
While bitcoin is holding 64% of the market, Ether is growing at 14%+. All time high is around the corner. $1432/eth is around the corner. This is just number now but the real value it brings is nonetheless formidable.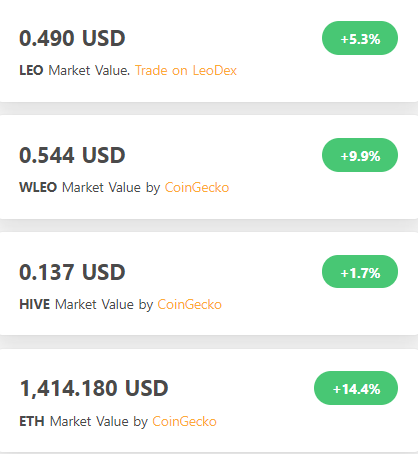 source
The appreciation of #wleo is a clear testimony to the rise of ether with the community in charge. With #defi all over ethereum blockchain, it is a win win that #leofinance did engage in having a gateway through #uniswap. These efforts cemented the idea of branching both blockchains together.
As ether continues to bring value with its price, implementing POS with make that synergy more true to this blockchain. Hive itself is moving the needle lately. Hopefully we can see 500 satoshis for hive. In the meantime leo is getting close to a dollar. The milestone is not far away. When it reaches, leo will be the child hive wants for the long time.
The main focus could be bitcoin. In this community our focus is this blockchain.
If leo can reach 50 cents in this time and age, we can expect to see more. Hive will rise and many more Hive-engine tokens will see light at the end of the tunnel.
Those three tokens hold the top for a reason.
Engagement always serves its purpose.


Posted Using LeoFinance Beta