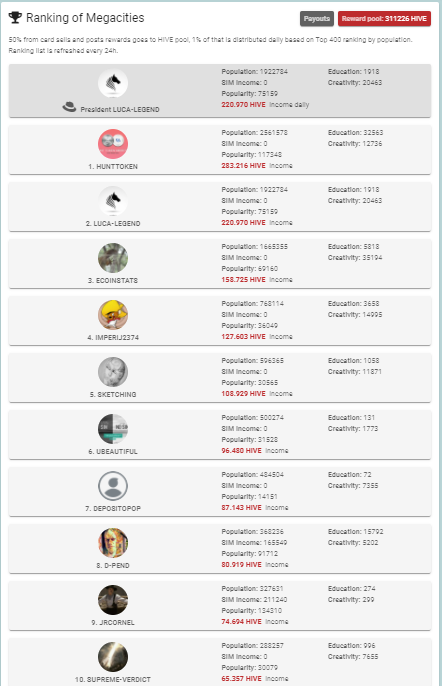 source
Have you played this game on the blockchain ?
If you have time and willing to understand how
to play and then earn, you will find it rewarding.
Needless to say Hive blockchain can do so much it is not
even funny to know the true meaning of this technology.
The fun part of dcity is the part to balance your city.
You can try to buy all the cards and still you are not earning
the proper way. You need to put some work to get the right ratio
to earn hive and sim token.
As you can see the top 7 cities are going all in for Hive token.
They do not care for sim token. They get penalized as well due to lack of
balancing. They earned as much hive they can get through that setting.
The race to reach the top and hold it, have been a fun one to watch the president
under attack this week.
@luca-legend has been on top for sometimes. For the past two weeks Luca is the president
for 14 days. Luca is making sure sim does not go to waste by imposing taxes to control the cities.
Luca is doing what supposed to be done to regulate and make sure everything runs right, I underline.


source
Sim has been for most part top three tokens in leodex after #DEC and #LEO.
#Dcity has been an active game throughout the community.
Many are joining everyday and opportunity is wide open.
I am not sure if Luca can hold the first spot going forward.
The race is on and as you can see the pot reward for Hive is at 311226.
You need to give it a try.
Keep stacking satoshis.
Posted Using LeoFinance Beta