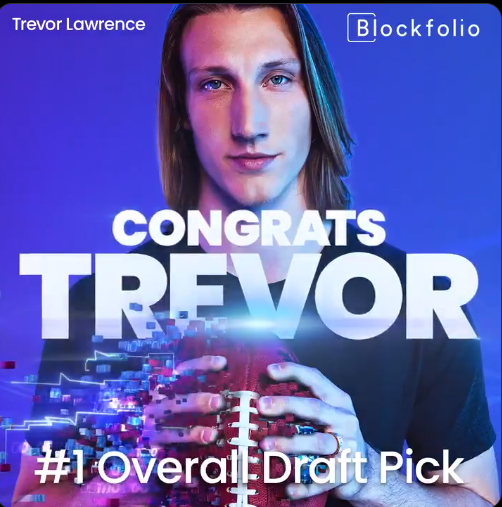 source
I am a big fan of football. It does not matter where it is played. In the US it is Football. In Europe
it is still Football. South America, Football. At the end of the day I love sports. Lately sports has not shy away
of cryptocurrency. It is a combination made on the field where you will see crypto is no stranger to the fans, the organizations
and the players themselves. It is growing constantly knowing the power of crypto cannot be denied.
As a big Fan of AM Football, Trevor Lawrence is the new QB for the Jaguars. I have watched him play for the past two years in college
and his composure stands for him to be the number one pick. Trevor received a nice contract for being number one pick with a nice signing bonus. In AM Football, the position QB is the best one where being smart you may never get hurt and play more years. Usually in this sport longevity of most players last less then 10 years. For a quarterback it is up to the accuracy and winning games.
Just look at number 12 in the bay area.
The future is bright for Trevor and as number one pick, he will help the Jaguars to move up quite well in the AFC South. Hopefully
they can grab first place the incoming season where Tennessee and Indiana could be a threat. Texans should not be much of an issue.
You know why. Now dissecting his first #NFL contract for 4 years, we can expect him to make $36.7 million with a signing bonus of $24.1 million signing bonus. These numbers are just speculative not knowing the true fundamental of the contract.
Having this much at hand, Trevor is set. Now apart from Football Trevor has many deals like the one you see above with Blockfolio.
He will have many more deals along the way. It is exciting to see from day one of the draft everything is running at full speed to cash in with him. So glad cryptocurrency is part of the race where the benefit will be tenfold for everyone in the space.
I know regulation will come but we know the word "ban" will not be part of it in the states.
Trevor Lawrence will not be the first and the last player to get involved with crypto. You and I will never know how many so far. Everything is changing under our feet. I like the PR generated by this. It is not about where BTC or Ether value will be tomorrow. It is more where you are in the trend and acquire the effective knowledge to accumulate crypto. When you see celebrities jumping the bandwagon it is a sign they get the message from a higher source. They act upon it and make the timely investment. The time has come where investment in crypto is not a matter of price.
It is a matter of position and secure it for the long term goal.
Trevor said it that way
When it comes to my crypto portfolio, I wanted a long-term partner in the space that I could trust.
Do you recall Russel Okung, Sean Culkin and the Sacramento King? Somehow crypto is something they are part of. The youth has been moving
quite swift with their earning to crypto. The speed it is happening could be mind boggling.
Having a percentage of your earning or the whole thing in crypto, it is a call worth considering.
I know quite a few of Hivers hold 90% of their wealth in crypto. With $2+ trillion and counting crypto market cap is going
to grow in proportion ever seen possible.
I know you are holding your stacks. Make sure you grow it. This is the beginning of the abundance for everyone who listen
and make the ample move. Soon it will be normal going forward. Crypto will become an extension of everyday life.
By the way is your team or your sport involved in crypto ?

Posted Using LeoFinance Beta