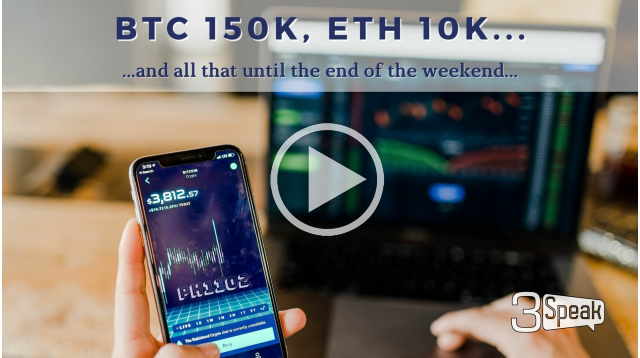 ---
How many times did you see titles like this? I mean, written "for real" and not ironically like I did... I see that minimum 2-3 times per day, and I don't follow these "crypto prophets" on the Internet at all! I do follow some market analysts, but none of them will dare to give predictions like that for such a short timeframe...
But, the Internet is a jungle, and you have to stick our somehow... And people like bombastic titles, which are selling them dreams, even if they don't have any BTC, ETH, or any other coin in question... They will maybe buy those coins, but when they hit the next ATH as this current price is too low...
I was talking about these things in the video, how should we react and be cautious when we read these kinds of "predictions"... Also, I have noticed some new trends in the "new coins" sell strategies... It looks that this time, the most popular word that will lure investors to new shiny cryptocurrencies is USE CASE! I'm not saying that use-case isn't important, just the opposite, it is one of the crucial components of every cryptocurrency and because of that, it will be the most buzzed word...
As always, pay attention to the projects that are trying to sell you unfinished coins... I like to call them "dream sellers", or "promise sellers", as they are doing exactly that... Write a roadmap in 30 min, and promise you to rule the world...
I have also shared my opinions about "all-in" statements, "the first of all" sayings, and other stuff... Check out the video...
Thank you for your valuable time,
~ph~
---
Music in video:
Growing Up by Scott Buckley https://soundcloud.com/scottbuckley
Creative Commons — Attribution 3.0 Unported — CC BY 3.0
---
.:. .:. .:. .:. .:. .:. .:. .:. .:. .:. .:. .:. .:. .:. .:. .:. .:. .:. .:. .:. .:. .:. .:. .:. .:.
Don't forget to follow, reblog, and browse my Hivepage to stay connected with all the great stuff!
You can also find me on LEO Finance .:. Twitter .:. LBRY
.:. .:. .:. .:. .:. .:. .:. .:. .:. .:. .:. .:. .:. .:. .:. .:. .:. .:. .:. .:. .:. .:. .:. .:. .:.
---
▶️ 3Speak