We all know what this title means... But it doesn't mean the same for everyone... Someone would say that people who are just watching on the crypto, commenting, but don't do anything to get involved are "sideliners"...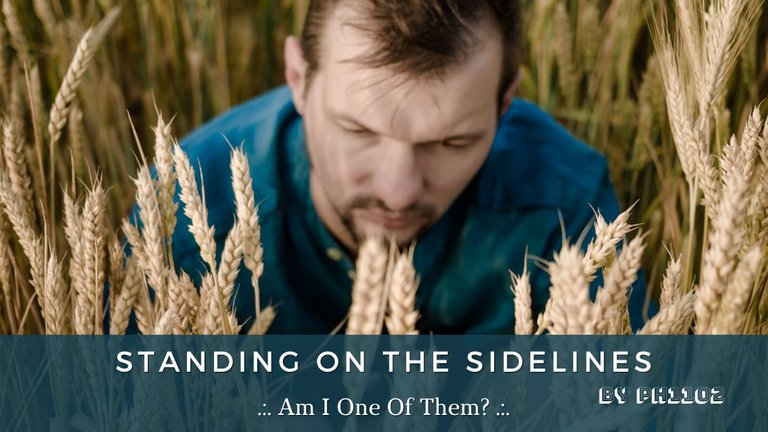 image created in canva.com
Or when you create some amazing project, and some people are joining it, but there is another group that isn't secure that it's the right thing to jump into something new... They are hesitating, and sometimes, that hesitation lasts the whole life... Just watching all the good things passing by, in a fear that something will go wrong if you jump in...

The last couple of days I had a feeling that I'm one of the "sideliners"... From my point of view, I have been a bit "reserved" in all this and maybe fell into the new comfort zone... And that means that I'm not growing... And that's exactly how sideliners look and live...

Just a small jump into my personal history... When I was at the end of my University, I have started my business... It was a small computer shop, where I was a co-owner, and my friend and I have started it with literally $200... It was 20 years ago when the distribution of goods "wasn't a thing", so we had to travel 300km (+300 back) twice a week to collect goods... And we didn't have a car...
After a year or two, our paths have split and I opened my shop... It was easier as I had more clients, and people who knew me... After a couple more years, I started a third company, along with my competition... And it was a huge success... Until the economic crisis...

9 years ago I have decided to move to another country with my family and start from scratch... It was OK at the beginning, but slowly, I have noticed that I was pulling back myself from the first lines to the second... From offensive to middle field...
I got tired of working with people, and I have decided to wait for someone else to take initiative this time... I didn't want to be the guy who is pulling first, but rather the guy who keeps someone's back... So, I went from the middle field to all in defense...

And, here I am... Trying to push that story, but it's not going... I felt like a sideliner that just wandering from side to side...
I'm always trying new things... And this was my tryout to play in defense of my entrepreneur life, but real entrepreneurs aren't made for playing in defense... Our place is to step out and ATTACK! When everyone is in defense, we are trying to break out! Is there a better moment than NOW?
I hope you will follow this blog in the future as you could miss something interesting and different very soon! You will be invited to be a part of it and I hope that we will earn and grow together!
Thank you for your time,
~ph~

Don't forget to follow, reblog, and browse my Hivepage to stay connected with all the great stuff!
You can also find me on LEO Finance .:. Twitter .:. LBRY
Posted Using LeoFinance Beta