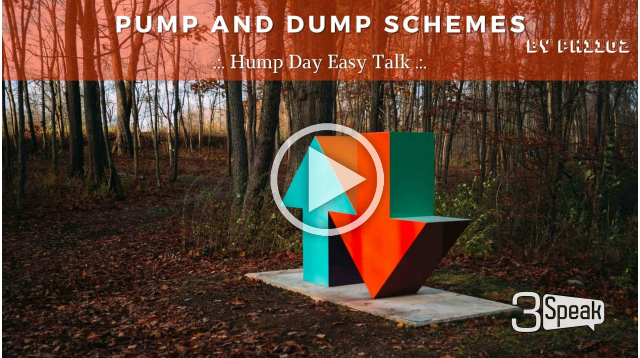 ---
In the last 2-3 days, the price of our old blockchain coin that we forked out is doing some crazy moves... In one hour price spiked by almost 50%, but of course, it didn't stay there and it went down... But, it's still at a higher price than it was before the "pump"... All that made me create a vlog this Wednesday in my easy vlogging video...
I'm not sure what was the reason for the pump, but there is some indication... One of them is JS shill on Twitter where he was "announcing the pre-announcement of an announcement", so those who don't know him, maybe FOMOed and pumped the price... On the other side, I'm not sure how "easily" can someone manipulate the coin with that supply, but there is a possibility...
I have a sort of "theory" about it and it is connected with the SBD token... Not sure how many are they out, but I suppose that there are less than STEEM, and they can be easier to manipulate... In the moment of STEEM pump, SBD price went 4x up! Yes, you saw it well... it was 4 times more in that hour-two, and there was almost NO buy orders on the internal STEEM market... I would maybe lose the bet saying that the pump started from there, but I will still bet on that...
So, why the F am I telling you all this when we don't give a s* about that coin anymore? Well, a similar scenario can happen with other coins, and a LOT of them had a lot less supply and it's VERY easy to manipulate with them... It happened a lot of times, and it will happen a lot of times... Btw, I have read the post on @leofinance where the author mentioned how they are searching for the HONEST exchange that didn't manipulate with numbers, coins, and that it is almost a mission impossible to do!
Ok... But, still... Why do you telling us this at all? Well, the problem lays always in the same thing... and it's called FOMO... People who aren't professional traders, or they don't have experience in trading, react to these pump events emotionally, and the first idea that comes to their head is BUY BUY BUY... It will go to the Moooon! I don't want to regret later that I didn't buy it!
But, they regret... And I did regret it when I did that... But, I regret that I have BOUGHT those coins because when I did that, they were "on the Moon", and the only way where they can go were, to crash to the Earth...
Don't forget to check out the video!
Thank you for your valuable time,
~ph~
---
Music in video:
Growing Up by Scott Buckley https://soundcloud.com/scottbuckley
Creative Commons — Attribution 3.0 Unported — CC BY 3.0
---
.:. .:. .:. .:. .:. .:. .:. .:. .:. .:. .:. .:. .:. .:. .:. .:. .:. .:. .:. .:. .:. .:. .:. .:. .:.
Don't forget to follow, reblog, and browse my Hivepage to stay connected with all the great stuff!
You can also find me on LEO Finance .:. Twitter .:. LBRY
.:. .:. .:. .:. .:. .:. .:. .:. .:. .:. .:. .:. .:. .:. .:. .:. .:. .:. .:. .:. .:. .:. .:. .:. .:.
---
▶️ 3Speak