We are on the 2nd day of the New Year, and I haven't done my yearly report... I wanted to do it at the end of the last year, but I got sick and couldn't do it, so I will do it now with today's numbers... Also, I will try to go a bit deeper into the reasons why I have picked these parameters for my goals last year...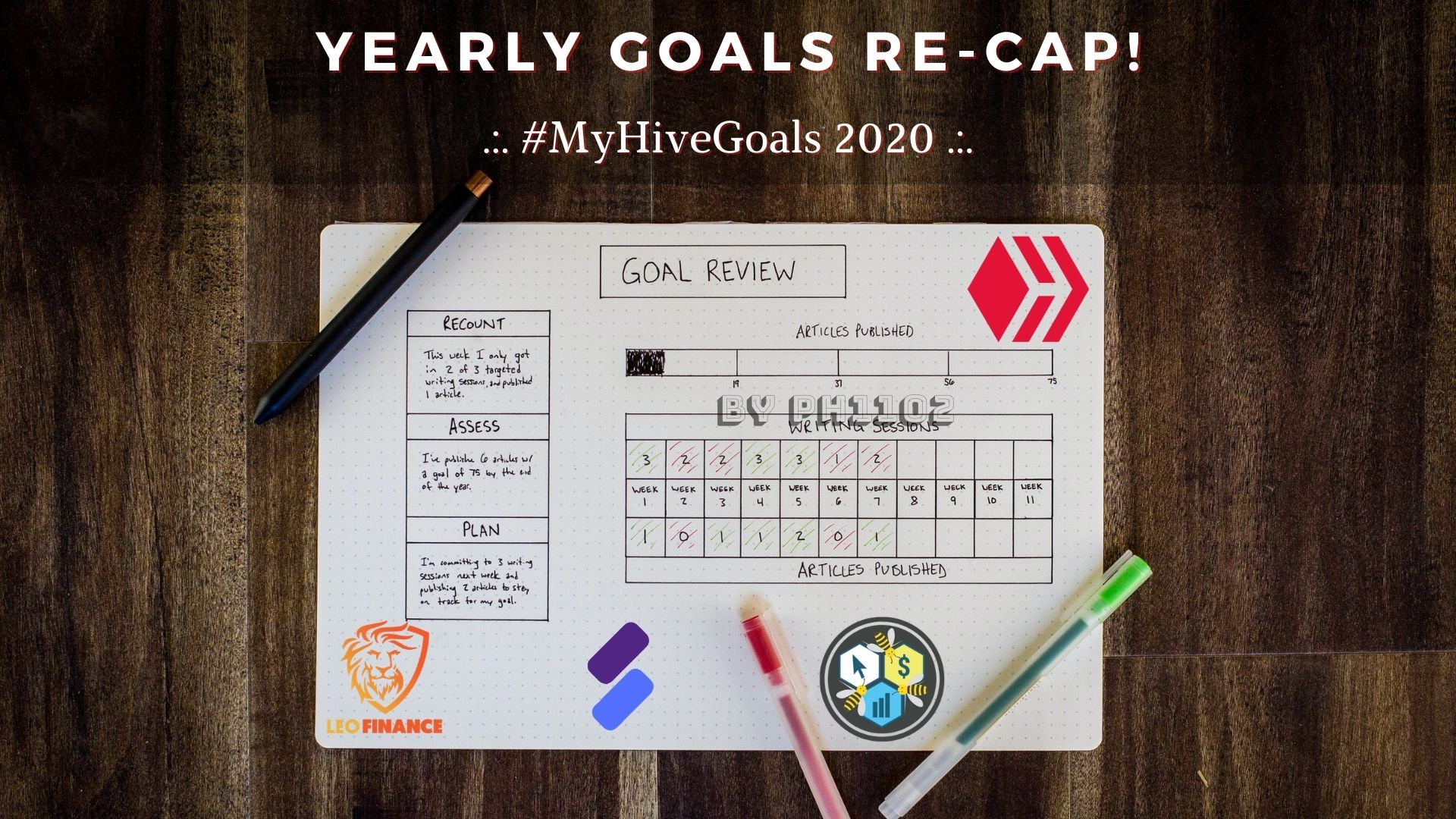 Created in Canva.com
So, let us dive into the numbers (January 2nd, 2021) on #MyHiveGoals and discuss a bit on them:
HIVE POWER - 20,312 / 20,000    100.00%  --> GOAL REACHED!
CTP POWER - 148,095 / 150,000   98.73%   --> FAILED!
HIVE Followers - 392 / 400      96.75%   --> GOAL REACHED (333)! Bumped to 400, the new one didn't reach.
LBRY Followers - 1208 / 1,500   80.53%   --> FAILED!
SPORTS POWER   - 5M / 5M        100.00%  --> GOAL ADDED 30.11.2020. - GOAL REACHED!
LEO POWER      - 7,980 / 7,500  100.00%  --> GOAL REACHED!


First on the list is of course HivePower...
This was probably my most important goal for the past year... At the beginning of the year (before the unfortunate split from the old chain), my goal for 2020 was to reach 10K SP, but I was hoping to get to 15K (you can check the link to the original post at the end of this one)... Of course, after the split, we got Hive tokens for free, and I have started my power down on the old blockchain, exchanging them for Hive... I have to admit that in those days, there was a lot of FOMO and panic, so it was an ideal situation to earn some Hive tokens from trading also... I didn't write it down how much I got from trading, but it wasn't less than 3-4K Hive and that was a nice addition for reaching this goal...
The most of my HP I have earned from creating content... I did buy a couple of times Hive on the exchanges, and I did convert some tokens to Hive (for example DEC that I was (am) earning in Splinterlands)... Of course, I got some curation rewards during the year, so that was also a nice addition to the goal...

CTP POWER
This was my second most important goal for 2020 and I have failed to reach it! I was a member of CTPTalk (CTP SWARM) from the very beginning and I was supporting this tribe with my content, and with my upvotes all the time... But, I have done some wrong calculation, and the growth of others in the tribe made my upvotes less worthy, so I didn't go forward in the pace as I imagined... Anyway, I was pretty close to reach the goal and I needed only 2K tokens, and to be more exact, from the beginning of the #MyHiveGoals challenge I have accumulated exactly 50K CTP Power, and 99% of that are by creating and curating posts on CTPTalk...
There are some rumors that @jongolson will have some awesome news for the tribe and project in general, so I will probably keep on accumulating my tokens in the future...

HIVE Followers
I know that this parameter isn't that important as a lot of people think... It's nice to see the number grow, but it's not a sign of bigger upvotes or more engagement at all... There are members with thousands of followers that barely receive any comments or upvotes... In a nutshell, I have used this goal for measuring the proportion between the amount of engagement with a number of followers... And it worked!
When I was engaging with others on their posts, commenting, upvoting, and joining discussions, those people would check my blog page and in most cases, followed my account... So, if you need a tip on how to grow your followers, ENGAGE MORE!
I have reached my goal for this year earlier, but I have bumped up the number to keep myself active... and I didn't get the second goal... But, in general, I count this one as REACHED!

LBRY Followers
This was a very audacious goal that I put on myself, but there is an explanation for that... I like the LBRY network and I re-posting my content from HIVE there... It helps a lot with spreading the word about Hive, and I have got some referrals to Hive games from there, so it works!
The problem with the goal was that I have created it when LBRY was at its peak... There were a lot of new users, I was getting a lot of new followers daily, and I thought that it will continue to grow through the rest of the year... But, that didn't happen... LBRY network had some problems with video uploading, they were developing a new website (odysee.com) and there weren't that many new members, and with that, fewer possibilities to get new followers... LBRY followers goal, FAILED!

SPORTS POWER
This was one of the goals that I have added during the year... I have already written about it, so I don't want to repeat myself... In a nutshell, there was an opportunity to buy a lot of SPORTS tokens (2-3M) for a cheap price and I have used it! After that, I have invested some time in creating an additional account for curating SPORTS posts, and I'm doing my Actifit reports every day accumulating more tokens...
I have to add that changing to a linear curation curve helped a lot with curation rewards, and that was an awesome move from the creators of the token...

LEO POWER
The same as SPORTS, it goes for my LEO goal... I have added it later, but I have expanded this goal and my involvement in this tribe even more by adding a little contribution to the wLEO pool on Uniswap... So, the goal is REACHED and OVER-REACHED for this one. :)
Also, I'm planning to move my focus even more to the LEO tribe, contribute with more content, and with a lot more engagement in 2021! LEO Power and LEO Finance in general will be on the top of my Goals list for this year.

In a resume, I didn't reach all of my last year's goals, but I'm satisfied with my results! The most important thing is that these goals kept me on the right path... Yes, I did look on the side for some other opportunities, and I did expand myself into some other fields, but I was still focused on these main goals...
I will do my new #MyHiveGoals list very soon, correcting a bit the last year's list and adding some new ones... Thank you for reading this post, and what are your goals for 2021? Did you reach yours for the last year? Tell me more in the comment section... You know that I like to engage with you guys and reward everyone that leaves a comment...
Thank you for your time,
~ph~

Join me in this awesome #MyHiveGoals and let's grow together! You can find the original post about the challenge by @robwillmann here: https://peakd.com/myhivegoals/@robwillmann/new-challenge-myhivegoals-set-and-achieve-your-goals
The link to my initial post is here... And you can find a link to my 2020 goals from the beginning of the year here: https://peakd.com/blog/@ph1102/goals-for-2019-checked-it-s-time-to-aim-new-ones-for-2020
These are my initial (and starting) goals for 2020 on June 1st, 2020, and this #MyHiveGoals Challenge
HIVE POWER - 12,092 / 20,000    60.46%
CTP POWER - 98,148 / 150,000    65.43%
HIVE Followers - 222 / 333      66.67%
LBRY Followers - 648 / 1,500    43.20%



Don't forget to follow, reblog and browse my Hivepage to stay connected with all the great stuff!

You can find me on ClickTrackProfit .:. Twitter .:. LBRY


Posted Using LeoFinance Beta