It's not a secret that I like blockchain games, but I was keeping my gaming "addiction" on my other account here on Hive, and you can find it on @cryptofiloz... I have tried a lot of games but trying to stick to only a few...
I like to keep my focus narrow as that gives me usually the best results, and when I focus on some game, I go deep into it, discovering strategies, tactics, and always trying to play most effectively...
Currently, my focus is on two games on Hive; Splinterlands, and Rising Star! The first one is the one that pisses me off the most, and the second one is for relaxing... :)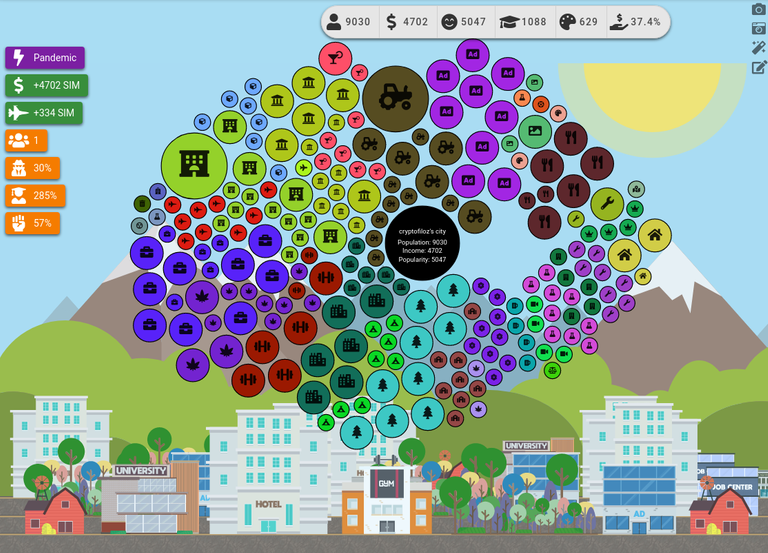 Screenshot from the game
Oh, yes... You are probably wondering why that title if I didn't list dCity in my games that I play... Well, I don't count it as a game, but rather as an investment... It has a lot of math, brainstorming in what way to develop the city, how to get the best ROI, and how to do return your investment in a shorter period... So, it's an investing "game"...

I have started to play dCity on December 19th, 2020, without having a clue what am I doing (as probably 90% of you guys...lol...). I knew that game is out for some time, but I didn't have time to play it and dedicate time to research more about it... So, you can say that I was a bit late for the party... and if you pay attention to the SIM token chart, you can exactly locate the date when I started to play... It's the one when SIM token price started to go down... lol...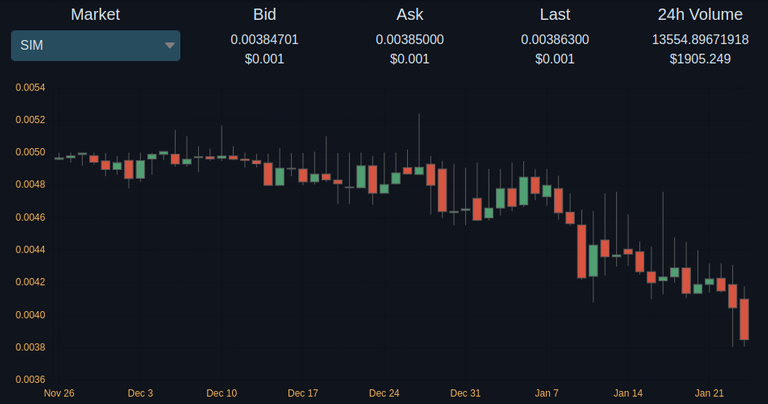 Screenshot from leodex.io/market/SIM
Anyways, despite the SIM price dump, I have decided to build my position in the game following that popular quote by Warren Buffett: "Be Fearful When Others Are Greedy and Greedy When Others Are Fearful"... A lot of players are dumping their tokens, lowering prices of cards, and those who are fearless are picking them up, including myself...
So in this one month of playing, I have no idea how much Hive did I spend on the game, but my city got into the Top 200, which is a great result from my point of view... Like I said at the beginning, I like to research and investigate all games until the smallest parts, and I did that with dCity (and still doing)... Luckily for me, I have found some great tutorials and strategies here on Hive, that helped me in developing my city in the "right way"...

I know that there is no bad way, but still, I think that I was prepared for things that are happening at this moment... In one moment, I had to choose between two paths, one was to build my SIM earnings, and the other path was to focus on "mining" cards... Currently, taxes are insanely high (over 37% at the moment of writing this post) and if you add negative "special events", it represents a huge cut to the city earnings... As a result of these measures, the prices of cards went down a bit, but not that much like taxes... All this means that "mining" cards are good leverage to SIM earnings...

I don't want to go deeper into things in my dCity introduction post, but I will try to do that in my next posts... I will try to create these posts at least once per week, but I will see how it goes...
Thank you for your valuable time,
~ph~

Don't forget to follow, reblog, and browse my Hivepage to stay connected with all the great stuff!
You can also find me on LEO Finance .:. Twitter .:. LBRY
Posted Using LeoFinance Beta