This is a kind-of random thought about certain things regarding my investments, and thinking about the future... Trying to "see the future" without the crystal ball... :) I have mentioned a few days ago that I'm in the decision-making of going more into Ethereum mining, and as I currently still mine other coins, it should be easier to decide... But it's not... Let me explain...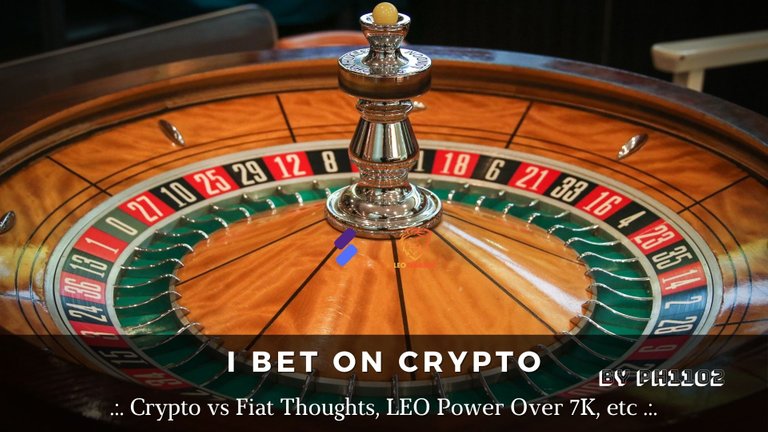 image created in canva.com

Some people think that GPU mining (and all other types of mining) are gambling... Well, if we want to look from that side, we can get to the conclusion that every investment is gambling... Maybe it is, but even in gambling, there is a difference between placing your bet on RED or placing a bet on SPECIFIC NUMBER on the roulette table... Probability isn't on the side of the second bet...
When I think about investing in certain things, I try to look at all the possible scenarios... Good and bad... and the third option is that boring one... that I like the most actually... :) So, I did a lot of possible scenarios in my head regarding expanding my mining business... I will not list all of them, but maybe some that you didn't think about (or did)...

When you want to start a GPU mining business there are some fixed expenses and a lot of variables regarding possible income... Like in every entrepreneur business, there is a risk, but if you are aware of the risk, you have some plan on how to make it less "dangerous"... But, I digress... So, fixed expenses should be hardware equipment (I will talk about 1 rig, but it's easy to multiply things), like motherboard, CPU, RAM, HDD, power supply, and of course, GPUs...
image source - tenor.com
I look at these fixed expenses as buying crypto with a future price that I don't know... It sounds complicated, but you can imagine it like dollar-cost averaging crypto in the next X months... So, at this moment, we are coming to the title of this post... By buying equipment and start mining, you are actually converting FIAT money into CRYPTO, as you are paying your expenses (hardware, electricity, Internet) with fiat money... (you don't have to, but it is usually the case)

The only and the biggest difference is that you are buying CRYPTO at a discounted price... Of course, if mining is profitable at the moment when you are doing it... And now we come to those variable part of the equation... If we are indeed at the beginning (or a bit before) of the next bull run, your GPU mining investment will be probably extremely profitable... If not, you will struggle to pay your bills for some time...

So, starting GPU mining requires a bit of craziness, a bit of knowledge of computer hardware, and a bit of courage and faith in crypto... But, we have survived the bears, so we don't have a lack of faith as we are still here...
And just a final thought and the question...
Crypto or FIAT? Where do you place your bet? If your answer is CRYPTO, what is your ACTION plan to make it happen?

In the end, I would like to make an update of my current numbers (November 30th, 2020 - monthly target 95%) on #MyHiveGoals:
HIVE POWER - 19,392 / 20,000    96.96%
CTP POWER - 140,211 / 150,000   93.47%
HIVE Followers - 383 / 400      95.75%   --> GOAL REACHED (333)! Bumped to 400
LBRY Followers - 1144 / 1,500   76.26%
SPORTS POWER   - 4.37M / 5M     87.38%   --> GOAL ADDED 30.11.2020.
LEO POWER      - 7,114 / 7,500  94.85%   --> GOAL ADDED 30.11.2020.

As you can see, I have added 2 more goals on the list for this year, and those are my two favorite tribe tokens, LEO and SPORTS... I'm following closely those two gems, and buying on every dip a bit of the cake... On the last LEO dip, 3-4 days ago, I have added 150-200 LEO Power to my curation account!
Join us in this awesome #MyHiveGoals and let's grow together! You can find the original post about the challenge by @robwillmann here: https://peakd.com/myhivegoals/@robwillmann/new-challenge-myhivegoals-set-and-achieve-your-goals
Thank you for your time,
~ph~

The link to my initial post is here
These are my initial (and starting) goals for 2020 on June 1st, 2020, and this #MyHiveGoals Challenge
HIVE POWER - 12,092 / 20,000    60.46%
CTP POWER - 98,148 / 150,000    65.43%
HIVE Followers - 222 / 333      66.67%
LBRY Followers - 648 / 1,500    43.20%


Don't forget to follow, reblog, and browse my Hivepage to stay connected with all the great stuff!
You can also find me on LEO Finance .:. Twitter .:. LBRY
Posted Using LeoFinance Beta