Spending some time in North America made me realize how normal it is for people there to have several credit cards and have some of them maxed out. And that was in March 2020 when the effects of Covid were just starting to show its full magnitude.
Apparently, at the end of 2020 80% of Americans were in debt with the education and the healthcare being the largest contributors to that. Then there's the lifestyle – having your own house and a big car comes at a cost. That's not a problem when jobs are available but as we saw last year an unexpected event can bring down even the ones that were absolutely sure they have a secured work position.
There were 671,129 job cuts in USA in April 2020 alone, and while the rest of the year the situation seemed to slow down, the US based employers announced another 77,030 job cuts in December of 2020, up 18.9% from 64,797 in November.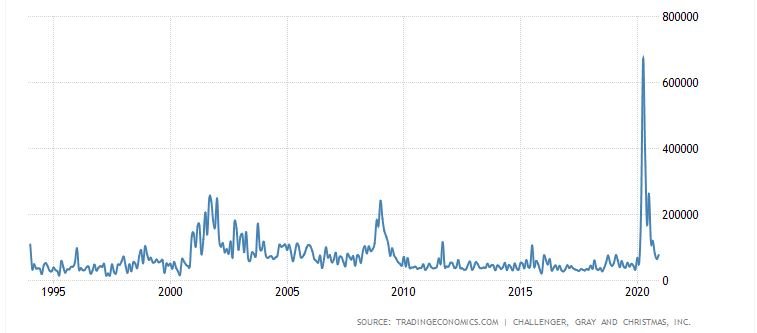 Job Cuts in United States per month
The lifestyle concerns in the West have shifted dramatically. According to Consumer Reports, 1 in 5 Americans are now turning to food banks, including 15% of white Americans which is double the amount from the pre-pandemic days. The US hunger-relief organization Feeding America estimates that stresses from the pandemic could soon result in 50 million Americans not having access to an adequate amount of affordable nutritious food.
In my opinion, the $600 stimulus checks that are being delivered this week won't make much difference in the long term. Neither will the March checks, whether it's $1,400 or $2,000. A major change in the system is inevitable but I just can't foresee how it will look like…
Source:
https://tradingeconomics.com/united-states/challenger-job-cuts
https://www.consumerreports.org/food/americans-turning-to-food-banks-during-the-pandemic/