Here are the stats after my last harvest this morning as the CUB ratio goes to 1 per block.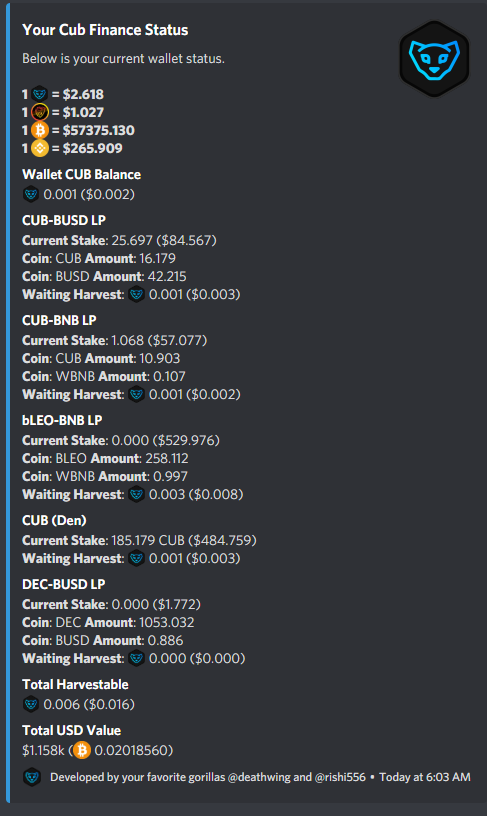 Considering I got about 9 CUB in the airdrop I am happy to be at a little over 200 now. Of course I did a lot of research prior to launch and put myself in a good position to start earning CUB from the farms and den right as the doors opened. It didn't hurt any either that I was able to use some of my stimulus check in the first two weeks to help up my total CUB.
As a newbie to DeFi I was in, but still very ignorant of what was going on. Still am to a large degree. I have read about "impermanent loss" and other factors that affect my holdings. How moving funds around could maximize profits. While at some point I would like to learn and understand all the ins and outs of DeFi, right now I don't have the time and inclination to go there. As long as I am earning CUB I will probably just let things ride as they are. After all I expect CUB to go on a 5x, 10x, 50X pump at some point! :)
So while I was harvesting/compounding once or twice a day, I now plan to wait a week and see how the new CUB per block ratio is going to treat me over that time period. The only thing that may lure me into Cub Finance this week is trying out the new Leo Bridge feature. During the pre-launch phase of Cub Finance I did get some funds stuck in gas fee purgatory (to expensive to move) and hope Leo Bridge may be able to help me free up those funds.
At any rate that is my strategy for now. There is so much going on in the Hive ecosystem right now that I feel I need to spend time exploring and researching all the new things that are happening. I will just have to trust that I have a decent plan in place for earning CUB right now and spend some of my time and resources elsewhere.
Not financial advice by any stretch of the imagination. Just my latest ever changing strategy as I move through the cryptoverse. :)
Thanks for reading and have a great day!
Posted Using LeoFinance Beta