Over the past couple of weeks we have finally started to see some fields of green in the crypto markets. Not in all areas but the top ranked coins have been making some good gains recently and it suddenly has vibes of 2017 all over again.
Back in those heady days I was a crypto noob and thought that the party would never end. That every shitcoin on the markets would gain me 10x returns and that this whole game was easy.
Back then I could earn STEEM by being active on the site, buy any shitcoin that was out there and it would magically return me 10x in a week. A great time to be alive.
With Bitcoin smashing through every previous barrier thought possible with little to no resistance forming, we have started to see that confidence and cash injection fall into the other top tokens and see some proper gains.
Over one month from Nov to Dec bitcoin soared from 8k to 20k and the markets erupted with FOMO, money and false promises from every angle. So many people got caught up in the easy money that they also forgot to take some out and lost it all back very fast. The problem with such high, highs is that they are followed by the lowest of lows. All those coins with no substance disappeared and even the ones with real use case lost 90% of their value over the next few months.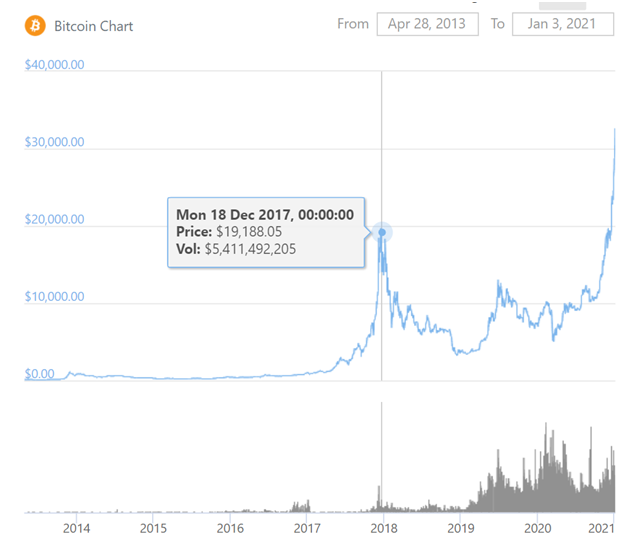 This time around the highs are even higher as we have soared from 10k bitcoin to 33k in just a few short weeks. Now I don't know if this is the top but such fast gains aren't sustainable in my opinion. I don't think that the price of bitcoin will fall as hard this time around as the markets are more mature but i do think that they will fall back.
The money pushing the markets now is coming from big companies with trading experience and long term plans instead of amateur people with a fear of losses. The only question is whether these companies will be happy to take 100% profit at some stage soon and dump or whether they are planning for 5 years down the line and continue to buy and hold.
Supply is diminishing on the open markets fast which should sustain it over the long term and a lot of the first bitcoin bag holders have long since sold their positions over the past decade. Not as many large wallets to be dumped onto the markets as last time around.
I am still hoping for some of this profit to trickle into the lower cap coins such as hive as more people look to get into crypto from a small position now that interest is peaking again but I don't think that we will have the same gold rush as before. Use case is everything and we have a far more mature user base in crypto with a lot of hard lessons leaned from the last time around.
I know that i will take some profits if my long holds do catch a pump and will keep accumulating as much hive as possible while the price is suppressed by it's supply. The day that a team changes that on a large scale we will see a huge change of events on the chain. (Watching out for @threespeak and their new plan.)
This time around I will be setting some targets and gradually selling on the way up to maximize all of the coins that i have bought on the way down over the past few years. Experience is worthless unless we learn from it and improve going forward.
Posted Using LeoFinance Beta