Hashkings, basically a great game [EN/ES]

Very good dear community.
In this opportunity I come to talk about a NFT game to generate income within our HIVE platform, Hashkings.
Before starting I want you to see the prices of the tokens and the movement of the market in Hive Engine, the MOTA is not bad at all.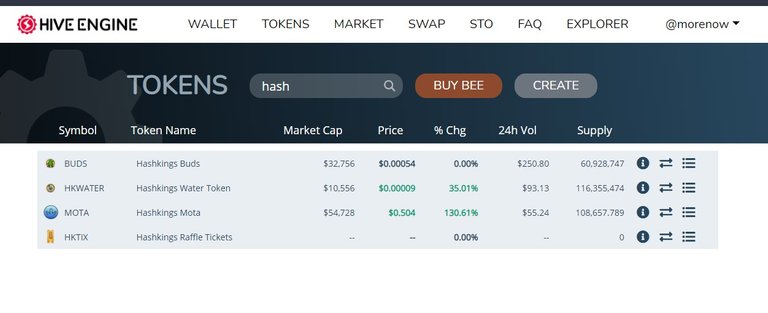 Hashkings is a NFT game that works on the HIVE platform, it has its own tokens that you can buy and sell in the market using the Hive Engine. It is essential that you have a Keychain wallet, because as some already know in NFT games each operation has a cost and is deducted directly from your Keychain wallet in this case.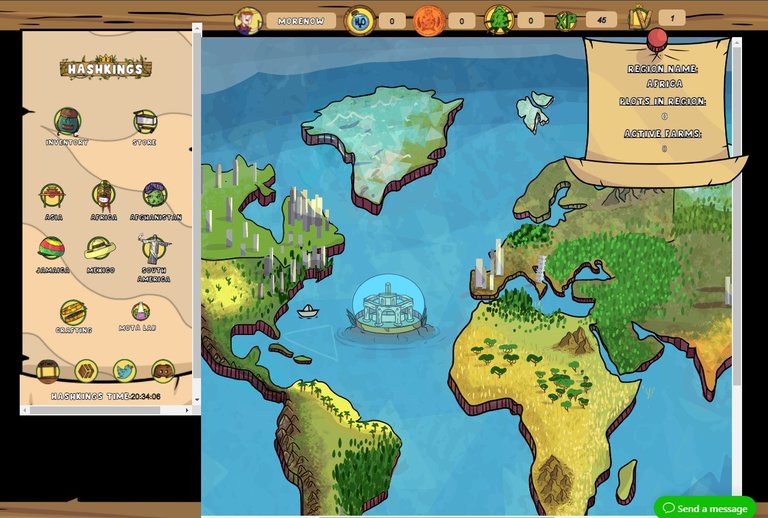 The game is based on the production of marijuana worldwide, so we will start with a level 1 avatar who will be our worker to plant, harvest or work. This avatar can be purchased directly here https://www.hashkings.app/avatars, since in the NFT market we will get others but with very high prices for their experience.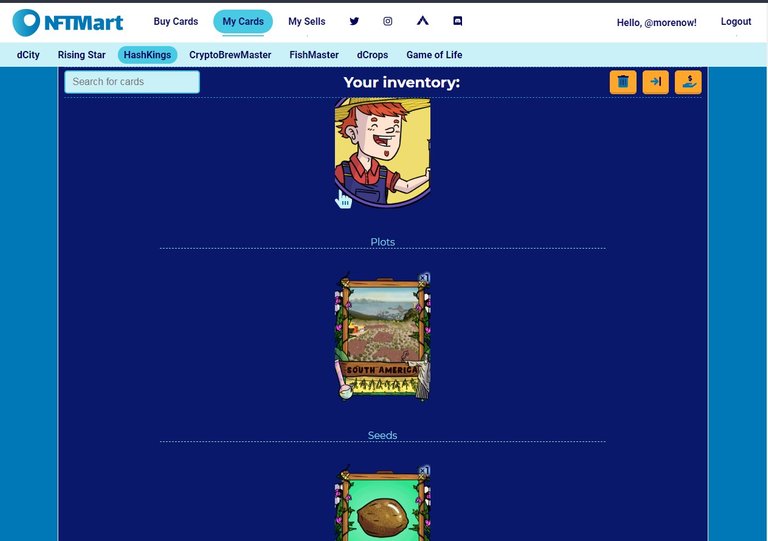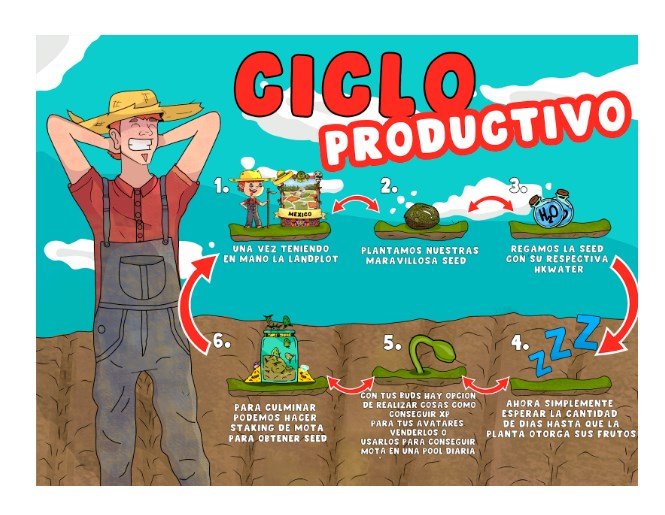 Already having our marihuano (avatar) we can choose what we want to do in Hashkings, because you can do several things that we will see below while I explain with my example. I bought in the NFT market https://nftm.art/buy/hkfarm a land in South America and a Colombian Gold seed, then I went to Hive Engine and bought 600 HKWater (token) needed to water my seed, it is watered only once, in 7 days it will be ready to harvest and will generate BUDs, in my case 313 BUDs.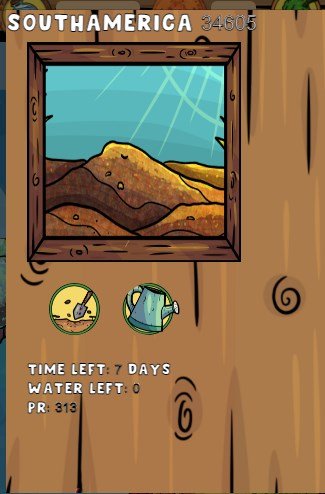 Once I collect those BUDs I can transform them into Jonkis (cigars or tobaccos) that can be consumed by my marijuana worker to increase his level, or I can sell them in the NFTmarket. I can also use the BUDs to burn them and get MOTA (another token), that MOTA can be placed in staking to produce seeds, however I can also sell the MOTA directly in the Hive Engine.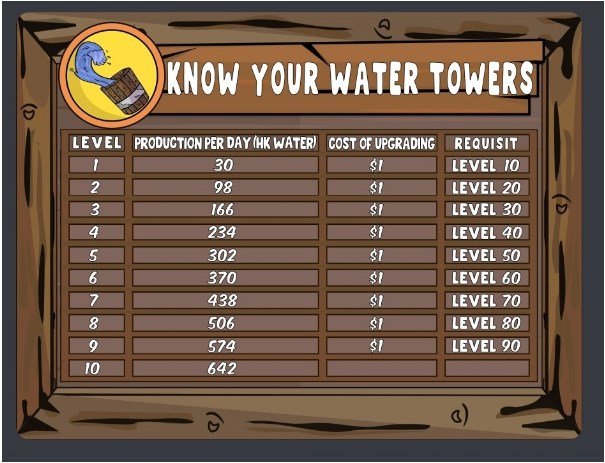 Water is an essential resource for our plants, without it our marijuana would not have its photosynthesis process, so it is important to buy water in the market and have it in our Keychain wallet, remember that water is a token represented as HKWater. If you do not want to plant or buy land or seeds, you can dedicate yourself to sell water, how, in the NFTmarket is possible to find offers of water towers that have a daily production of this resource, there are different levels of towers with different modes of daily production, obviously the higher the level the more expensive. For the avoidance of doubt, the daily production generated by your water towers expressed in HKWater, is a token that is loaded to your Keychain wallet and you can sell it in Hive Engine or exchange it.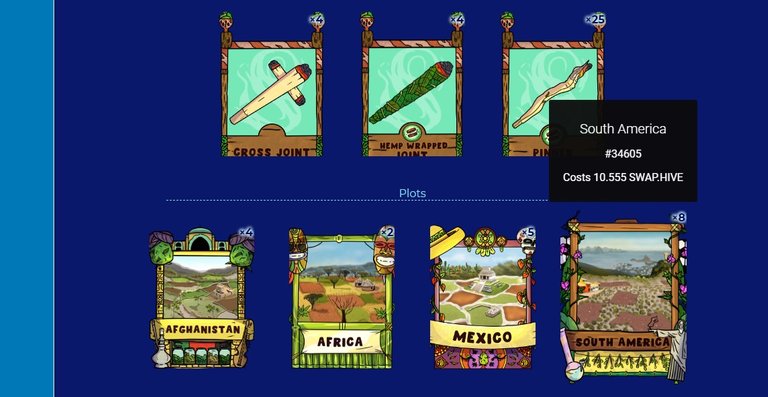 Let's talk about the lands in the world, Asia, Jamaica, Africa, Afghanistan, Mexico and South America, we can buy land in any of these places taking into account that the price varies in each one, but what is the difference between each one, well basically there is a diversity of seeds that can only be planted in a particular area, for example, my land in South America is to plant seeds of Colombian Gold and Panama Red type, these seeds generate a plant that when harvested conceive a few BUDs, but there are plants that produce thousands of BUDs in a single harvest. Asia is the most expensive land and has the greatest benefits, the quality of their land allows the planting of unique seeds with a fairly high harvest of BUDs.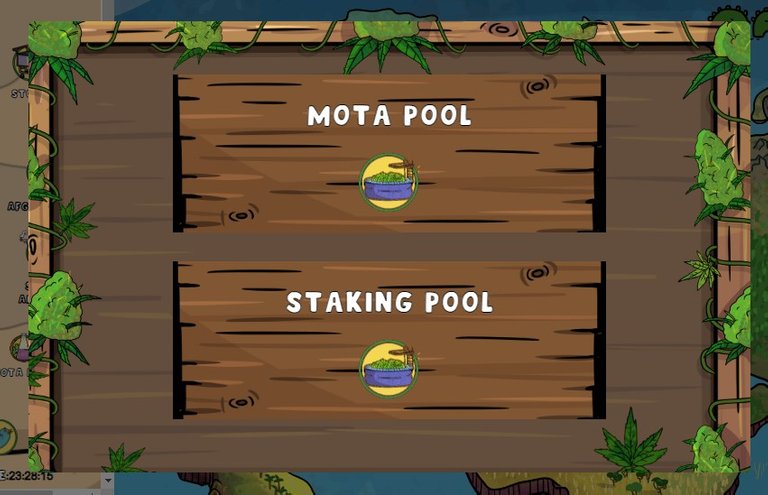 Now, let's review what to do with the harvest of our marijuana, the so-called BUDs, we have several options, but the pool gives us an advantage. If we decide to place our BUDs in the pool we will get Mota, which means that we increase our profits. The benefit of the pool of BUDs is the Mota. Remember that BUD and MOTA are tradeable tokens in Hive Engine.
The same happens with the MOTA, participating in the pool we will obtain random seeds which we can sell in the NFT market or sow in our lands if it is the case.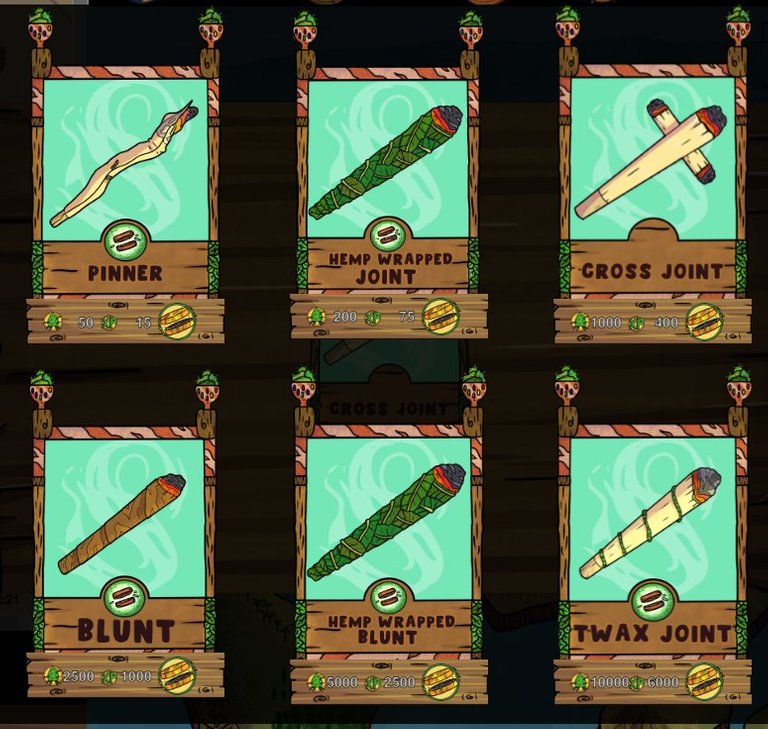 The joints, jonki, whatever they call it in your land. The use of these is to level up the avatar, the marihuanos, but why, well they are marihuanos and they work better if they are in your world. Leveling up the water towers requires a certain level in our marijuana, as well as creating joints, the higher level our avatar has, the better joints he will be able to create. So if you are dedicated to the creation and sale of joints, you will have to give a lot of note to your avatar, as if you were dedicated to selling water.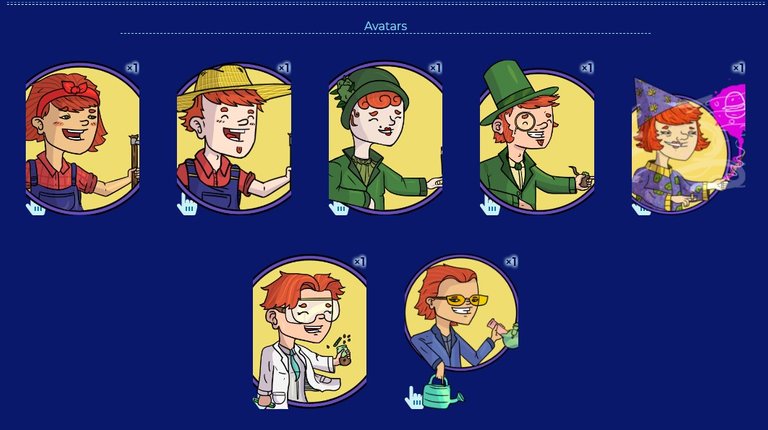 Finally, the game is very young and has constant updates and a full good vibe community (XD), I'm just part of it, as you go into it becomes more fun, profitability is pretty good, I invite you to grow together. By the way this is the link to the Official Discord https://discord.gg/SZ6BdHqzu4, and this other https://discord.gg/aVwV3cJYQw of @pleo1542 which is very active and collaborative, I recommend you to follow it for more information about the game and other blokchain curiosities.
Soon I will be showing you my progress on Hashkings, until next time and don't forget to keep a good drug free vibe.



Muy buenas querida comunidad.
En esta oportunidad les vengo a hablar de un juego NFT para generar ingresos dentro de nuestra plataforma HIVE, Hashkings.
Antes de iniciar quiero que vean los precios de los tokens y la movida del mercado en Hive Engine, la MOTA no está nada mal la verdad.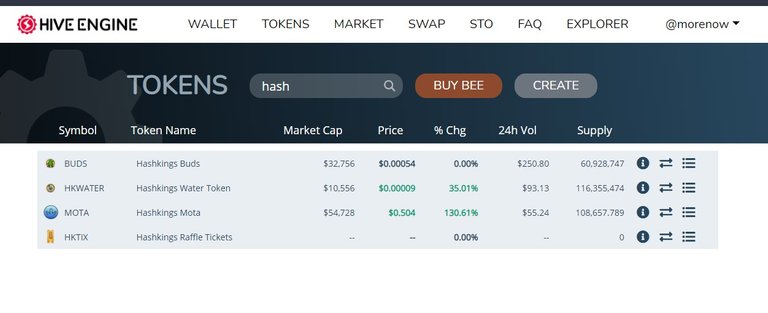 Hashkings es un juego NFT que funciona en la plataforma de HIVE, tiene sus propios tokens que puedes comprar y vender en el mercado usando el Hive Engine. Es imprescindible que tengas monedero Keychain, pues como algunos ya saben en los juegos NFT cada operación tiene un costo y es descontado directamente de tu wallet Keychain en este caso.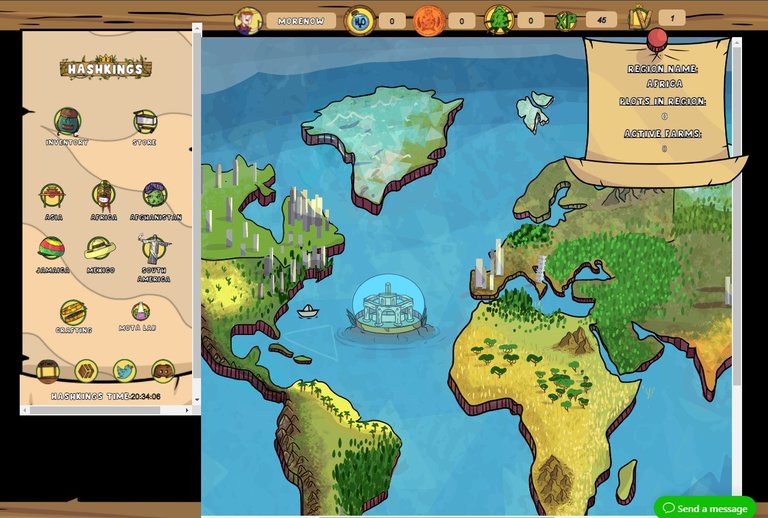 El juego está basado en la producción de marihuana a nivel mundial, por tanto empezaremos con un avatar nivel 1 quien será nuestro obrero para sembrar, cosechar o trabajar. Este avatar lo podemos comprar directamente aquí https://www.hashkings.app/avatars, ya que en el mercado NFT conseguiremos otros pero con precios muy elevados por su experiencia.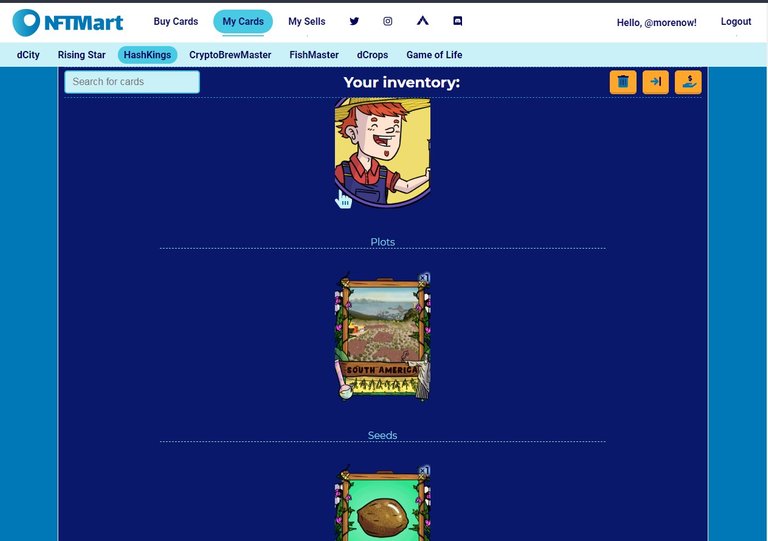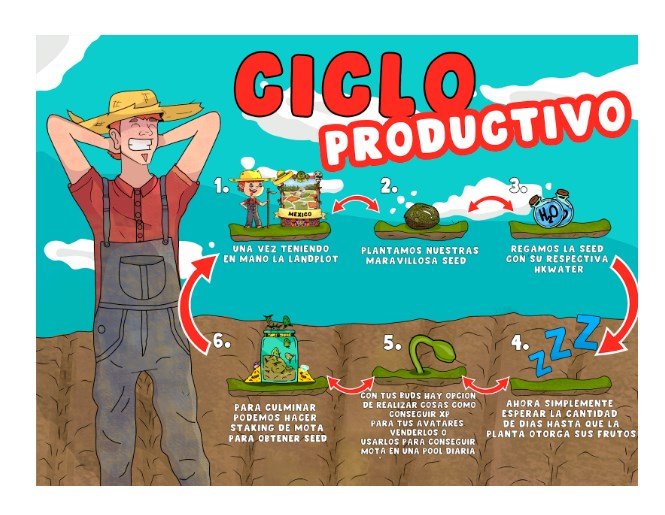 Ya teniendo nuestro marihuano (avatar) podemos elegir que queremos hacer en Hashkings, pues se pueden hacer varias cosas que veremos a continuación mientras les voy explicando con mi ejemplo. Compre en el mercado NFT https://nftm.art/buy/hkfarm un terreno en Sur América y una semilla Colombian Gold, seguido me dirigí a Hive Engine y compre 600 HKWater (token) necesarios para regar mi semilla, se riega una sola vez, en 7 días estará lista para cosechar y me generará BUD, en mi caso 313 BUDs.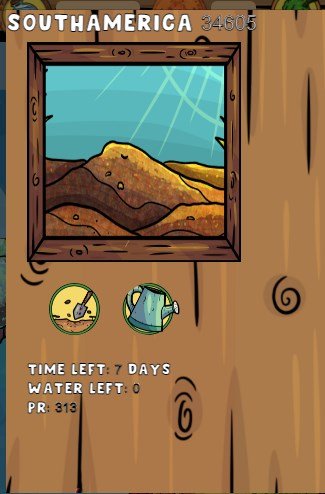 Una vez recolectados esos BUDs puedo transformalos a Jonkis (los cigarros o tabacos) que pueden ser consumidos por mi obrero marihuano para aumentarle el nivel, o bien puedo venderlos en el NFTmarket. También puedo usar los BUDs para quemarlos y conseguir MOTA (otro token), esa MOTA colocarla en staking para producir semillas, sin embargo también puedo vender la MOTA directamente en el Hive Engine.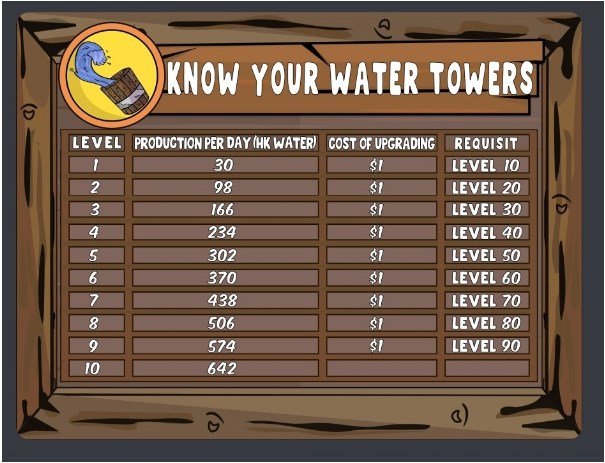 El agua es un recurso esencial para nuestras plantas, sin ella nuestra marihuana no tendría su proceso de fotosíntesis, por ello es importante comprar agua en el mercado y tenerla en nuestra billetera Keychain, recuerden que el agua es un token representado como HKWater. Si no quieres sembrar ni comprar terrenos ni semillas, puedes dedicarte a vender agua, ¿cómo?, en el NFTmarket es posible encontrar ofertas de torres de agua que tienen una producción diaria de este recurso, existen diferentes niveles de torres con diferentes modos de producción diaria, obviamente a mayor nivel más caras. Para que no quede duda, la producción diaria generada por tus torres de agua expresada en HKWater, es un token que se carga a tu wallet Keychain y el mismo puedes venderlo en Hive Engine o intercambiarlo.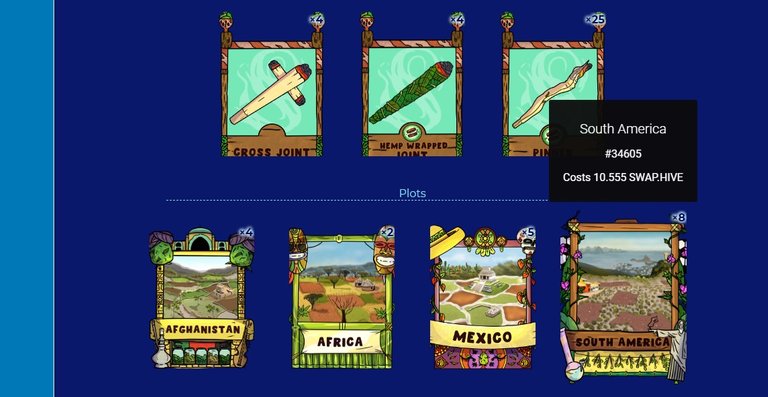 Hablemos de las tierras en el mundo, Asia, Jamaica, África, Afganistán, México y South América, podemos comprar terrenos en cualquiera de estos lugares teniendo en cuenta que el precio varía en cada uno, pero ¿qué diferencia existe entre cada uno?, bueno básicamente existen diversidad de semillas que solo pueden ser plantadas en una zona en particular, por ejemplo, mi terreno en Sur América es para plantar semillas de tipo Colombian Gold y Panama Red, estas semillas generan una planta que al ser cosechada conciben unos pocos BUDs, pero hay plantas que producen miles de BUDs en una sola cosecha. Asia es la tierra más costosa y que tiene mayores beneficios, la calidad de sus tierras permite la siembra de semillas únicas con una cosecha bastante alta de BUDs.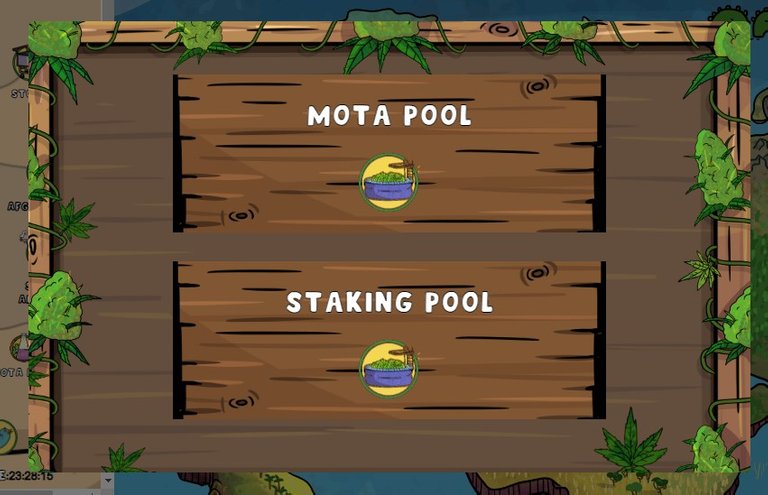 Ahora bien, pasemos a repasar que hacer con la cosecha de nuestra marihuana, los llamados BUDs, tenemos varias opciones, pero los pool nos dan una ventaja. Si decidimos colocar nuestros BUDs en el pool obtendremos Mota, lo que quiere decir que aumentamos nuestras ganancias. El beneficio del pool de BUDs es la Mota. Recuerden que BUD y MOTA son tokens tradeables en Hive Engine.
Lo mismo ocurre con la MOTA, participando en el pool obtendremos semillas aleatorias las cuales podremos vender en el mercado NFT o sembrar en nuestras tierras de ser el caso.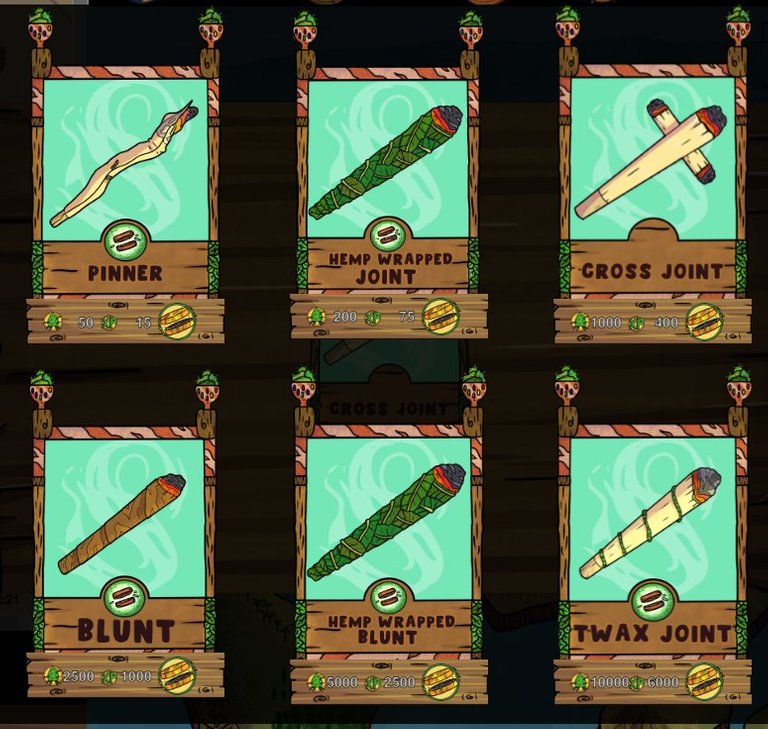 Los porros, cigarros, tabacos, crypi, jonki, como lo llamen en tu tierra. El uso de éstos es para subir de nivel los avatar, los marihuanos, pero ¿por qué?, bueno son marihuanos y trabajan mejor si se encuentran en su mundo. Subir de nivel las torres de agua tiene como requisito cierto nivel en nuestros marihuanos, al igual que crear porros, mientras mayor nivel tenga nuestro avatar mejores porros podrá crear. Entonces si te dedicas a la creación y venta de porros, tendrás que darle mucha nota a tu avatar, al igual que si te dedicaras a vender agua.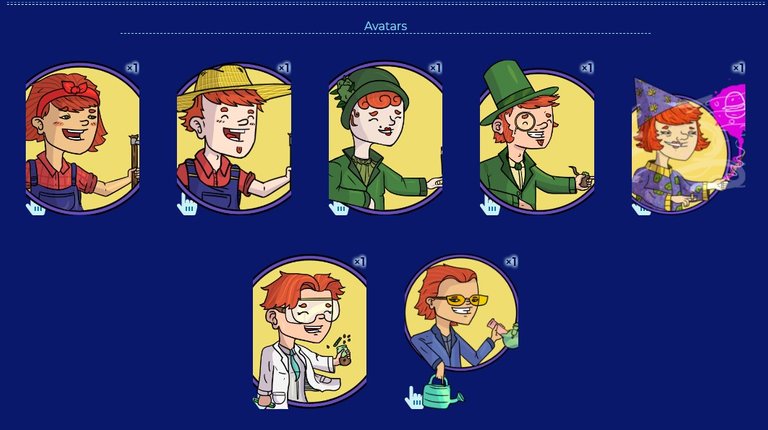 Para finalizar, el juego es muy joven y cuenta con constantes actualizaciones además de una comunidad full buena vibra (XD), recién soy parte de ella, a medida que te vas adentrando se va volviendo más divertido, la rentabilidad está bastante bien, los invito a crecer juntos. Por cierto este es el enlace al Discord Oficial https://discord.gg/SZ6BdHqzu4, y este otro https://discord.gg/aVwV3cJYQw de @pleo1542 el cual es muy activo y colaborador, les recomiendo seguirlo para más información del juego y demás curiosidades blokchain.
Pronto les estaré mostrando mi avance en Hashkings, hasta la próxima y no olviden mantener una buena vibra libre de drogas.

---
---