[🎊 HaPpY New Years 🍾] My witness #HivePUD & Review 2020 Goals 2021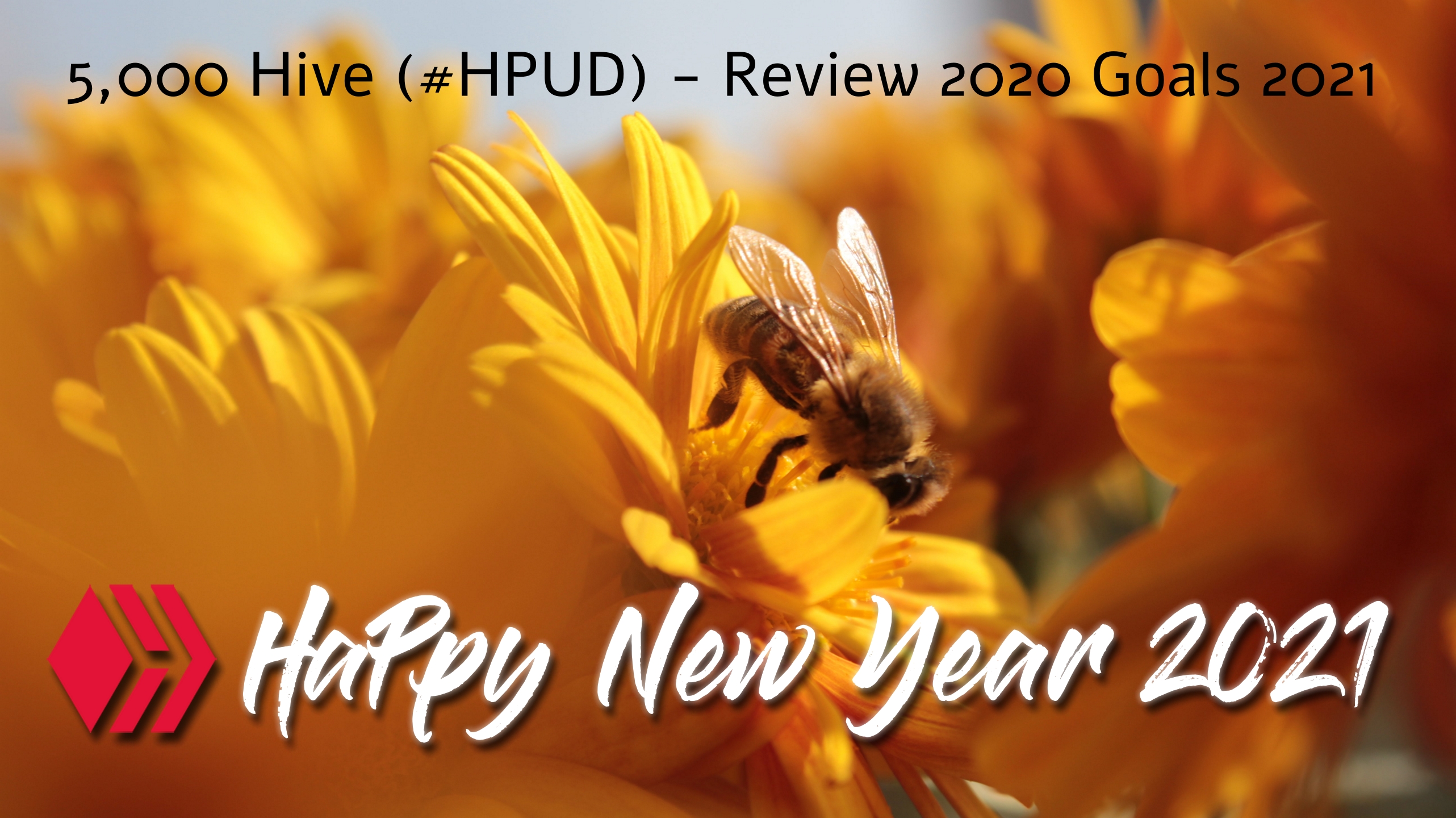 Hive Power UP DAY #HivePUD
Today like every 1st day of the month it's the Hive Power UP DAY #HPUD (more information on @hivebuzz post here) and for this 1st day of the 1st month of this new year, I thought it would be a good idea to start with a consequent Power UP on my witness account @mintrawa
That's why I made a transfer from my Bittrex account of more than 4,500.00 HIVE last tuesday (announced by a tweet)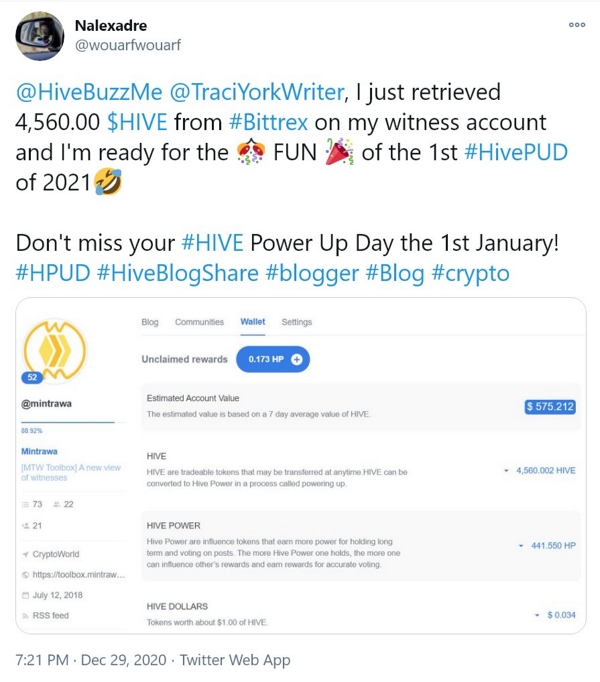 That I have Power UP today, which brings my account to 5,000.00 HIVE POWER
This Power UP is also a mark of trust towards all these talented developers working on the improvement of Hive as I did in the previous months with my @french-tech account that I've increased to over 10,000.00 Hive via 4 Hive Power UP DAY.
You too, have fun and join the adventure, it's not too late! 12 hours left for the Hive Power UP DAY #HivePUD. For more information and the Prize list you can read this post from @traciyork.
---
Review of my year 2020 on HIVE
It's been a really busy year, 9 months ago it was the Launch of the Hive Blockchain and the beginning of a great adventure which finally decided me to make a witness server 🎆
Starting from the 125th place I'm now at the 92nd place (as you can see on the @quochuy weekly report here) thanks to all those supporting my witness @mintrawa account.
This allows me to sign 1 block every 10 hours and to receive 93.6 HIVE/month in rewards. Of course this is still far from covering the server costs but that's not the point.
At the same time I had made a small toolbox that I used as a sandbox to better familiarize myself with the Hive blockchain and that I started to rewrite in NodeJS/Typescript (server part) + Angular 11 (client part).
I also participated, 4 months ago, in the HF24 Eclipse Testnet which was going to definitively turn the page of the STEEM era.
Due to a lot of work this year with new projects that came in, I wasn't able to spend as much time as I would have liked at Hive, but I was still able to meet a lot of extremely interesting Hivians.
---
My goals on HIVE for 2021
I'm currently working with 2 clients on projects that I would like to bring to Hive through Tokens.
The first one is a company of electric scooters in free floating which proposes an investment system in order to accelerate its growth. After several months on a restricted group of investors they get a ROI on less than 9 months for a 1 year contract and I would like to carry the solution to a token.
The second is a real estate investment company that is looking to set up a token in order to realize a participative financing to increase its size more quickly.
Now everything will depend on the evolution that Hive-engine or DLUX will have this year.
In addition to these 2 projects, I have a personal one which is more for creators not yet on Hive, a hybrid system allowing the creator and his community a smoother transition.
And of course continue to have fun on the 1st of every month with the Hive Power Up Day 🥳
---
Original photo by İbrahim Özdemir on Unsplash
---
Thanks for reading :)
@mintrawa
---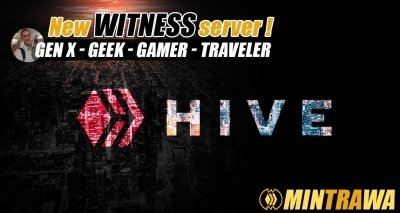 If you like my work, consider voting for my witness
it will only cost you 30 seconds of your time 😉

My witness presentation: @mintrawa a Gen X - Geek 🤓 Gamer 🎮 Traveler ⛩️ Witness
Upvote for my witness: click here via HiveSigner
Posted Using LeoFinance Beta
---
---