Plain and simple

There seems to be some sort of initiative (?) regarding what can someone buy in their country with 10 LEO. I am saying this because posts keep popping up on my feed page about that topic which is a good thing if you ask me. Simply because it shows that people take really seriously the LEO token and realized(?) that it's here to stay.
But this isn't a post about what can someone buy in their country with 10 LEO (maybe later in the week) or if they can make a living off of LEO because it solely depends on which country one lives in. For example 10 LEO per day and and you're good to go for a major in Sri Lanka but in most European countries 10 LEO equates to a cup of coffee or a quick snack. Still, not bad...for now.
So instead of talking to you about LEO again let's talk about...our national currency prior to EURO...
It was New Years Day in 2002 when we officially got rid of Greek drachma and welcomed our "savior" EURO. If my memory serves me well there was a 3 month transition period where EURO and drachma coexisted so the official date should be April 1st 2002. And getting rid of drachma was the biggest mistake our government could make and of course the beginning of collapse of Greece's economy. Why? Because as crazy as it sounds when a country has its own currency they are not forced to obey to any order from E.U and can establish their own rules in the internal market.
Of course there's a downside to that when people in charge have no clue what they are doing i.e Venezuela / Turkey the results are apocalyptic...in any case things here in Greece were actually good. We weren't millionaires nor our annual salary was something extraordinary but you don't need an extraordinary salary to have a good life when even the basic salary is enough to cover all your basic needs, right?
What a masterpiece...
---
This is a screenshot I found on the Internet and displays the prices of some basic goods right before we welcome EURO.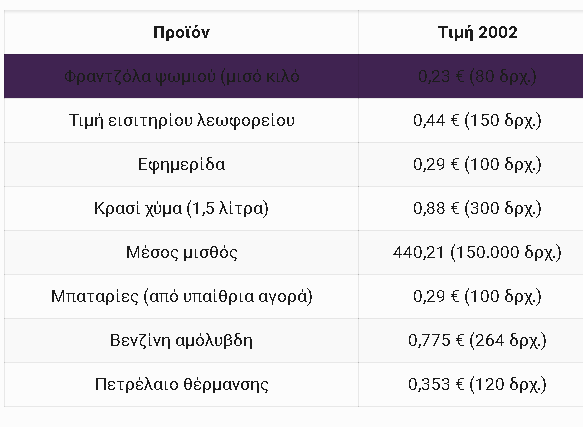 Silly me...forgot to mention that 1 EURO = 340.75 drachmas.
And because I am pretty sure that you have no clue what strange letters mean I'll translate it for you.
1 bus ticket = 150 drachmas and it should worth 0.44 Euro after the transition.
1 newspaper = 100 drachmas or 0.29 Euro after the transition.
1 1.5 ltr wine in bulk = 300 drachmas or 0.88 Euro after the transition.
Average salary = 150.000 drachmas per month or 420.21 Euro after the transition.
1 battery = 100 drachmas or 0.29 Euro after the transition.
Unleaded gas per ltr = 264 drachmas or 0.775 after the transition.
And there you have it...a few years down the road...
---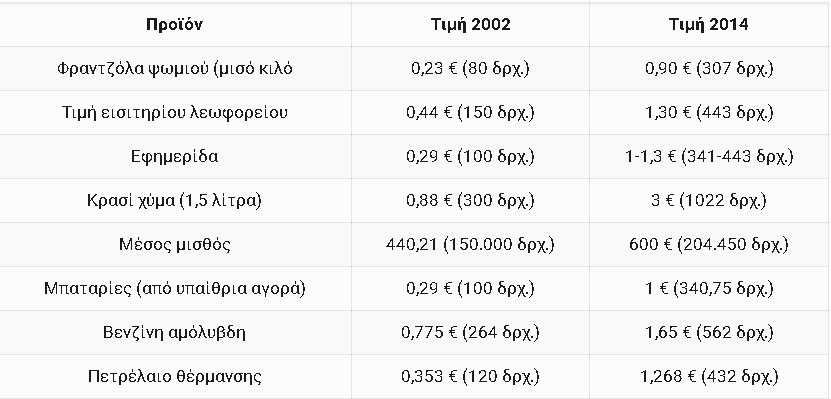 12 years later everything was up 2x - 4x but the only thing that remained the same, well almost the same was the average salary which went up ~ 40%
Fast forward to how things look like today? Well everything is more expensive than 2014 and in some cases a lot more expensive...except the minimum wage of course. You know, the wage that 50%+ of all Greeks are working for...ya that. You wanna know how much that is? 650 damn Euro.
Still wonder why we need to have a regular + a part time job? That's the sad reality in this side of the world. People forced to work at least 12 hours a day just to cover basic needs.
And I am pretty damn sure that this is exactly what is happening in many other countries as well. Numbers might be slightly different but the end result is the same.
Now tell me that you do realize why crypto will succeed...
Maybe 10 LEO per day isn't enough at these prices...but 100 LEO per day would do the job just fine. So how do you get there? Buy more...post more...comment more.
Plain and simple.
image
Cheers and have a good one peeps.
Posted Using LeoFinance Beta
---
---