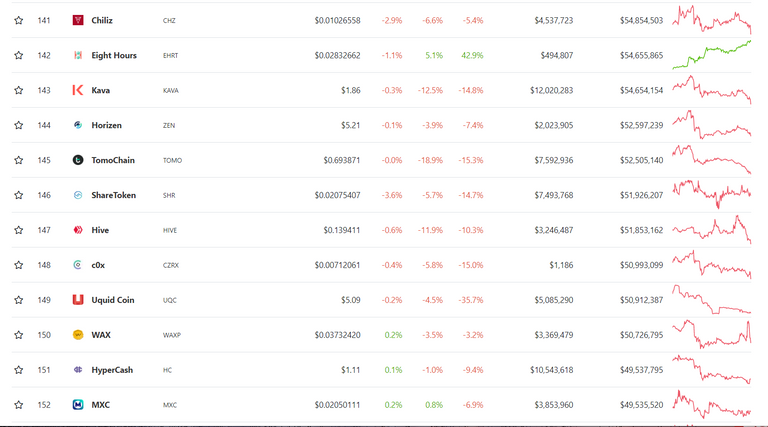 Hive has gone under 14 cents. I've seen people start asking questions and frantically putting forward hypotheses that this or that must be causing the dip. All that is very bad for your state control. You have to accept that on markets as speculative as crypto, you cannot possibly predict every short-term price action. It seems that there is a market-wide correction in altcoins. There's blood everywhere. DeFi protocols are bleeding. The UniSwap governance token (UNI) is down by 11.8% in the last 24 hours. SushiSwap (SUSHI) is crashing even harder. The largest cap coins are holding the steadiest right now as you can expect. But they'll also pump the least, relatively speaking, when they pump.
Relax. It's not good for your mental state to react too strongly to market events like this. Crypto is a long game where you try and find the most advantageous entry point and identify the top. You'll do best if you follow macro trends if you trade at all. The short-term fluctuations will only mess with your head if you allow them to.
If this correction lasts much longer, look forward to HIVE at 10 cents. That was the bottom last April before the violent pump to 90+ cents from which HIVE has been correcting the whole time. I have no idea whether it will go that far down or if it will go even further down but anyone can read the charts and see for themselves where HIVE bottomed out last spring. 10 cents was incidentally also where STEEM bottomed out last December.
I believe it's best to set sights on the distant future (> 5 years from now). What matters for Hive is what is being built. I'm particularly impressed by two projects: 3speak and LeoFinance. What I like about LeoFinance is that it's run by people who grok the economic side of things and who are getting stuff done. 3speak is working on a decentralized media storage system complete with the ability to offer any content creator their own instance of 3speak.online and to create a token for themselves. The plan is to build a robust infrastructure for a non-canceling online publishing culture with the tokenomics to enable every interested party including the audience to seamlessly participate in it.
Some serious shit is being worked on by a bunch of fanatically obsessed people with bags bursting with money. :) Do not lose your shit over some insignificant short-term market movements.
Posted Using LeoFinance Beta