One of my favorite projects on Dcityi s homeless city. It was created by @detlev some time ago and he has managed to grow homeless city into a top 150 ranking city. Since then, the flow of new players and the enthousiasm of existing ones, has caused homeless city to just drop out of the top 150. Time for Dcity Helper to out the project and donate some buildings to propel it back in the top 150.
As always, the focus is on the APR we can achieve by picking the best suiting buildings to donate, but in this case i'd like to shine some light on the project itself as well and tell you what homeless city is all about,
What a lot of players don't know, is that homeless city has an actual impact on real homeless projects. So supporting homeless city by sending your homeless, immigrants or even some buildings, could make an impact in the life of an actual homeless person. So how does this work?
50% of all Hive income will go to selected homeless projects in real life, the other 50% of Hive rewards, as well as the daily generated SIM income, will go into further growing @homeless-city.
You can read more on the project in this post:
https://hive.blog/dcity/@homeless-city/the-update-6-of-the-homeless-city-project-will-give-real-help
So let's dive in it and take a look at homeless city in it's current state.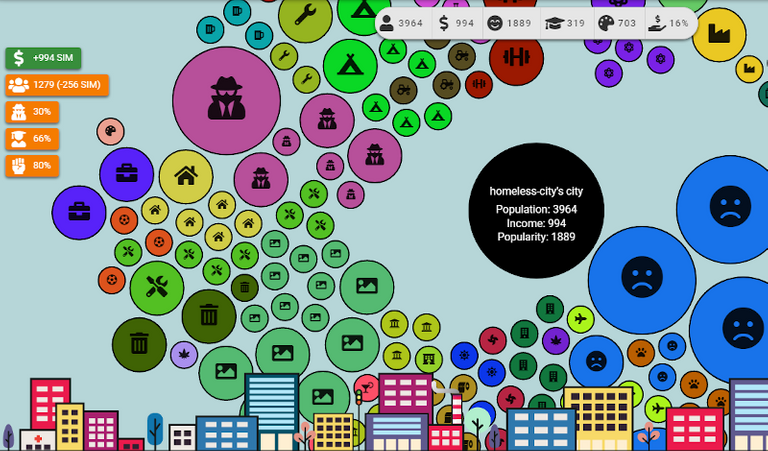 As you can see there is some unemployment in homeless city and personally i think it would be smarter to max sim income than focus on the short term ranking. To assure the city's return to the top 150 i have sent 3 shopping malls and 3 basic homes, worth around 28 hive.
Admittingly, this won't keep them in the top 150 very long, so anybody who feels their karma is due for some good rubbing, sending cards to @homeless-city is a quick, guaranteed fix.
But we are here to maximize SIM earnings, so let's see what we can do if we really get to work on the city setup. A fair warning, what we are about to do goes straight against the ethics on which the foundation of homeless city was built. For the purpose of this calculation, the safe haven for all the homeless on Dcity will be selling them of like cattle, all just to make a quick buck.
So we are getting rid of 412 homeless and 108 immigrants and send them off to the highest bidder.
After that homeless city looks like this: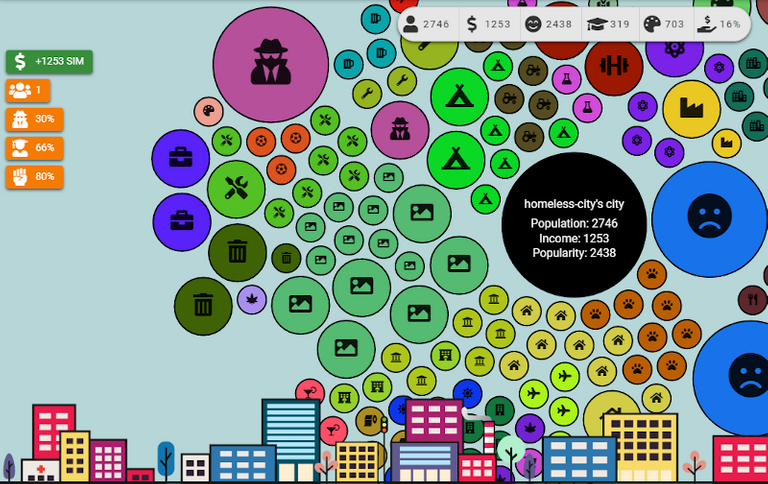 SIM income has increased from 994 to 1253, this daily increase of 259 amounts to 94,535 SIM per year, or a cool 453,76 hive in today's rate. But that is not all: When we sell off the 412 homeless at the lowest price of 0,235 swap hive we get an additional 96,82 hive. The immigrants rack in another 52,92, bringing the total of our firesale at 149,74 hive. This allows us to buy 19 shopping malls at todays prices, which bring in another 285 SIM daily, which amounts to 86,340 SIM after taxes, which is another 414 hive.
All in all, by tying the noose and some virtual Dcity homeless, real life homeless could potentially profit from a whopping 867 hive or $114 US.
I'd like to thank @onealfa , @rollandthomas , @thegoliath , @ecoinstant , @megavest and i'd like to give a big thank you as well to everybody else who supports my Dcity Helper posts, your votes matter!
Posted Using LeoFinance Beta