Welcome to the 4th edition of Dcity Helper.
I was pleased to see a lot of comments on yesterday's post. I think i may even have drawn one or two new players in and these posts are partly meant to promote Dcity, i am happy with how this series took off. I have given 2 police stations, a school, 3 apartments and 2 basic homes to the commentors, a little more than the 25 hive i had in mind, but as these Dcity Helper posts have received some nice supporting votes thus far, I am also able to give away more cards.
So far i have gotten quite a few requests from players if i can take a look at their cities. I want these posts to have an educational value as well, so if your city is decent enough, i probably won't feature it in one of these posts any time soon.
Today's city is owned by @rollandthomas and is actually pretty decent, but it is a good example how doing some balancing can help you maximize your SIM income.
This is a screenshot of his city in it's current state.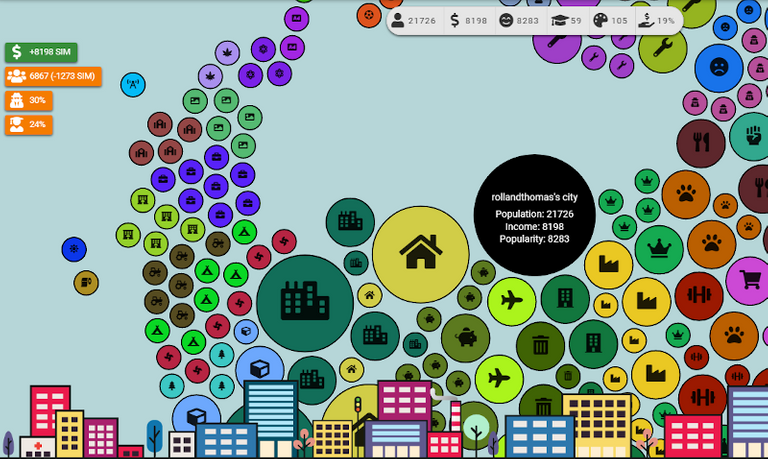 What caught my attention is the below average ratio between population and income.
In my opinion the perfect city has an income equal to the population amount. Let's be honest, you wouldn't want to live of less than 1 SIM daily, so it's only fair that you provide your citizens with atleast half of that. After all, living the good life doesn't come cheap in Dcity.
As you can see unemployment costs are 1273 SIM daily now. The only way to solve this without buying huge amounts income buildings is to decrease the population. This will result in a drop in rankings (Rollandthomas currently ranks 50th) and as such will mean he will lose ranking rewards, but as i will show you, this will be more than compensated with an increase in SIM income.
I will again de-activate several buildings to the point there is no more unemployment.
First i have de-activated his 52 garbage dumps. Without Advanced Recycling technology, garbage dumps bring no income and Rollandthomas does not need the popularity boost, since our aim is to bring down the population.
Secondly, i have de-activated 40 apartments, as the social cost per apartment by far outweigh the 5 SIM income each apartment generates.
Now his city looks like this.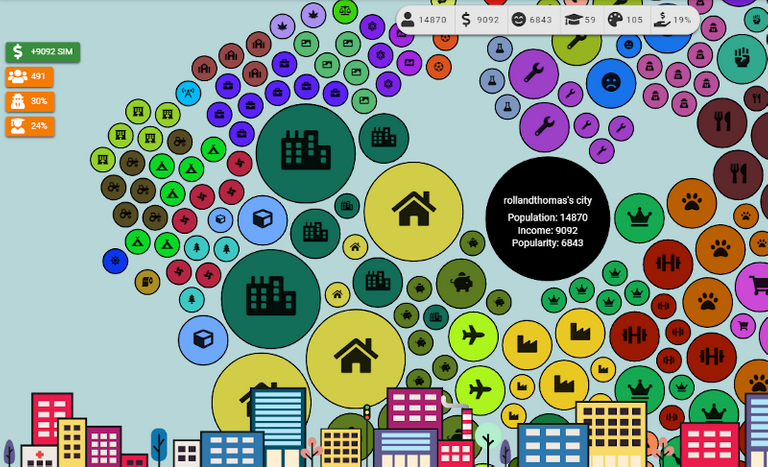 Sim income has gone up from 8,198 to 9,092 SIM per day, an increase of 894 SIM.
When Rollandthomas would sell the 52 garbage dumps and 40 apartments on the market as today's prices, he would free up 684 hive. If those 684 were reinvested in shopping malls, he could buy, again at today's prices, 78 shopping malls.
Each shopping mall brings 15 SIM in daily income, which amounts to 1,170 SIM. After taxes of 30% (today's taxes are 19% btw), this brings him another 819 SIM daily.
The total increase in hive income would be 894+819 = 1713 SIM or 8,22 hive at todays rate.
Now lets see what the drop in ranking means in lost rewards. Rollandthomas is currently ranking 50th and receives 6.44 hive daily. After optimization his population is only 14,870. This means he will drop in the rankings to 70th place and will only get 4,19 daily hive. Ofcourse the popularity of the 78 malls he would buy, would increase population again, but not enough to get to 60th propably, so let's just calculate with 70th place.
So he gains 1,713 SIM or 8,22 hive from extra SIM income and loses 2,25 hive in ranking rewards. Still still nets him 5,97 hive every day, which comes to 2,179 hive per year. That's enough lobster dinners to make it worth the effort i would think.
As this approach is more about taking population away to increase income, i can't really send him cards that make a big impact, so i will send some Technology cards to Rollandthomas that he could use and some education builldings as well.
So @rollandthomas, you have received the following cards from me:
1x Drone Technology
1x Free Internet Connection
1x Police Equipment
3x University
1x Laboratory
3x School
And in case you ever feel you need a breath of fresh mountain air, i have added the Rockies background as well. I appreciate your votes on my Dcity Helper posts and i hope you'll keep supporting this series.
On the topic of support, a big thumb's up is also in order for @onealfa , @jrcornel , @ecoinstant , @bdvoter , @thegoliath and everybody else who has voted on the Dcity Helper posts. You can count on your votes being well spent in the upcoming posts.
Posted Using LeoFinance Beta