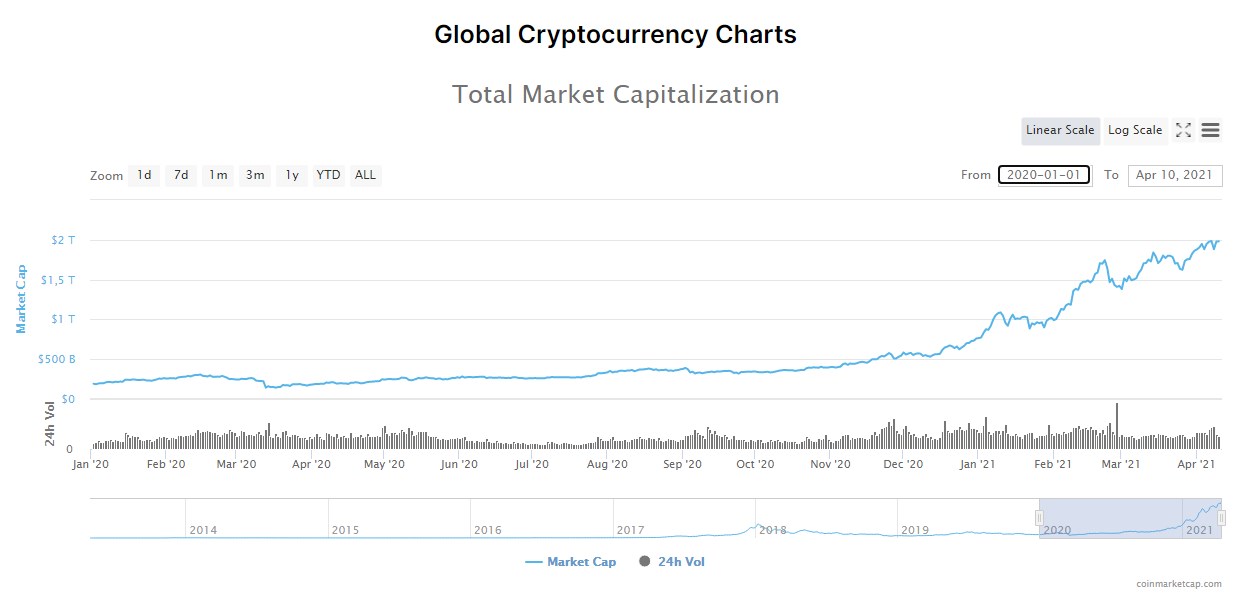 The cryptocurrency market capitalization has been swinging over the $2 trillion mark for 5 days now.
With Bitcoin ready to explore new highs and Ethereum already doing so, the total cryptocurrency market capitalization hit the $2 trillion mark for the first time ever five days ago, and we have been moving sideways ever since. Looks like a new bottom is being formed, and holders all over the world have 2 trillion reasons to smile. Of course, this is not just because those invested in the game for a long time are already enjoying the reward, but also because the future of the space looks bright.
We have been getting tons of bullish news on a daily basis recently, with payment giants, retail corporations, central banks and governments coming forward and making positive public statements about the cryptocurrency industry. The space has been attracting major attention lately, and one needs to stay wired 24/7 in order to be able to catch up with all the progress being made. It appears that the world is finally starting to realize the amazing potential of crypto, with the revolutionary technology behind it all enabling us to generate more wealth than ever before.
There are literally thousands of ways to earn income from the comfort of your home, be it blogging, curating, staking, mining, listening to music and so on. Don't underestimate airdrops, which is literally free money handed out just for performing easy tasks that require only a few wminutes of your time, and if you are interested, there are literally tens of new airdrops to chase and grab every single day. The game is now growing exponentially, and we are witnessing a massive inflow of capital into more and more crypto projects as the days go by.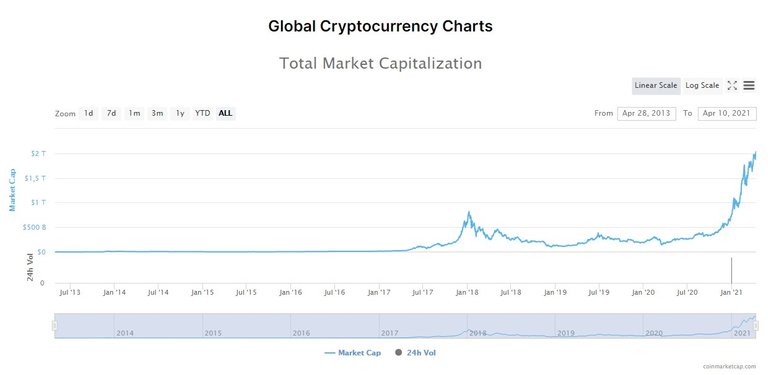 The technology that gave birth to the crypto game was invented roughly 12 years ago, and we have already witnessed massive growth in a relatively short period of time. However, in the last two years alone, the crypto space has attracted much more attention than it did during the first nine and a half years of existence, and as you can understand, this is about to start a domino effect of awareness and adoption. The more people succeed and manage to transform their lives thanks to their involvement in crypto, the more people are convinced to enter the fray and give it a shot. Lather, rinse and repeat. Boom.
As a result, here we are now, making headlines almost on a daily basis, and drawing more and more capital in all those farms across the Ethereum and Binance Smart Chain networks. DeFi has taken the game to the next level, and 2021 is already proving to be a spectacular year of growth, laying the groundwork for a massive run towards the end of Q4 which will make all previous peaks and dips look flat. This is mere speculation of course, and you should take everything you read in this post with a grain of salt, but I think the signs are there.
The total crypto market cap was swinging around the $191.5 billion mark on January 1st, 2020, and hit the $765.3 billion mark for the first time ever 365 days later. As for now, 465 days later, we are moving around the $2.03 trillion mark. So yeah, it's safe to say that it has been an explosive year so far, and with more and more powerful players removing liquidity from exchanges and sharing bullish messages on twitter, I think there's a lot more to come. Besides, it's evident that crypto hasn't gone mainstream yet; just hit the street and ask random strangers what they know about crypto, and you will agree with me.
With USD and EUR having a combined market capitalization of 606.8 million BTC, and taking into consideration the fact that technology is gradually enabling us to produce more wealth as technology advances and the years go by, I think BTC can easily do another 50x in the long run. Again, that's just a wild guess, and you should always do your own research before making any investment decisions. But if there's still room for BTC to perform such stunts, what about some of the best alt projects out there?
I believe there is limitless potential. The crypto space is a realm full of amazing opportunities, and those of us involved in the game at such an early stage will definitely reap the reward in the years to come. The revolutionary technology that gave birth to it all has the power to completely transform the way we live for the better, and it feels amazing to be part of the crypto movement. There's a lot of hope for the future, and this year will be remembered for many years to come.
Make the most of the situation and fill your bags at a discount while it's still feasible. And make sure to HODL. We have a trillion reasons to be optimistic, and another trillion reasons to grind hard and stack as much as possible. There's a storm coming that the weatherman couldn't predict, and you wouldn't want to miss it.
---
Thank you for your attention.
Alright guys, that's it for now. Thank you for taking the time to read these lines.
Just my two cents. This is by no means financial advice. Just sharing my personal views and experiences. Please do not take my word for your investment choices, and always do your own research.
Stay safe and have a good one,
@lordneroo
---
Posted Using LeoFinance Beta