Last year was extraordinary, probably in a negative way. The global pandemic changed the way we do things and it had and continues to impact our lives in various aspects, primarily financially. Many have lost their jobs and closed their businesses. I consider myself fortunate and grateful for what I have and what I am today. Having a job that is in the utility industry, I have somehow to some extent a security of having a source of income amidst these tumultuous times. To top it all, I live in New Zealand, one of the countries of the world who has done a remarkable job in dealing with COVID. Compared with other countries in the OECD, I believe NZ is in the top in terms of COVID response.
Despite all of these, life must go on. There are still expenses to be made and bills to be paid. The pandemic must not stop us from our pursuit of wealth and hopefully in the future, we can have an early retirement and just enjoy the fruits of our hardwork. This blog post is a response to the post made by @theycallmedan encouraging people to post their financial goals for 2021. He posted four guide questions but instead of answering them one by one, I will try to address all of them in the entirety of this blog post.
If you have read my blog posts before, you may have encountered my #hivejourney series of posts where I share my 2022 challenge. It is about my personal goals in terms of HIVE, DEC, and LEO holdings in my Hive account. While the challenge is for the year 2022, it is basically a work-in-progress for the whole of 2021 as the target date is the first day of 2022. The targets are not the huge, compared to the large stakes that many people in Hive hold. However, that's my modest personal target as I am more into diversifying my stakes in different areas.
Having said that, my investment strategy is still the same like in the past – diversify but still maintain liquidity. I do not have the FOMO mentality of many and just putting every single egg (while in different baskets) into various investments and then sacrificing liquidity. To respond to that Warren Buffet quote, I am still not THAT greedy when others are fearful.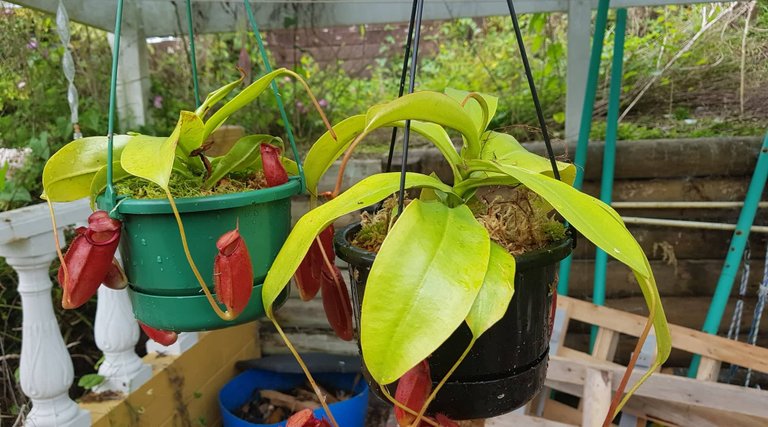 Two of the pitcher plants that I am currently propagating
My main hobby is gardening. I love planting vegetables and flowering plants. More than that, I love growing carnivorous plants. It is also my main side hustle. It constitutes one of my main investment strategies for this year. My plan is to expand my current plant selections by buying seeds of various varieties from overseas and start growing them. However, since many of these plants take some time to grow, the returns for this investment won't be realized until next year, at the earliest. It is very fulfilling though, as I really enjoy tending them every day and through time they just keep on multiplying which I can sell through TradeMe or in the Facebook marketplace. Part of my earnings then are invested in stocks and/or crypto.
I also like crypto. Compared to traditional money markets, crypto can grow your investments at a faster pace. However, I am not a seasoned trader. I am more of a hodler type of person. My investments in cryptocurrencies are more of the buy and hold method. The only exception is in the Hive blockchain where I can earn through curation and delegation. Hive-Engine tokens also becomes my "practice area" to do crypto trading even in just small quantities.
Like what I mentioned above, I am more of the hodler type. Aside from crypto, I am also buying stocks. Here in New Zealand, one of the most popular site is Sharesies. It enables Kiwis to buy stocks in a user-friendly way without the complexities of a traditional stock brokerage. I set a fixed amount every week to buy more stocks and add to my growing portfolio.
Lastly, my investment portfolio will include stakes in the New Zealand property market. A real estate expert in New Zealand said that properties in New Zealand doubled their values in seven years. In fact, the real estate agents that we talked to said it is 7-10 years on the average. Our current house alone has doubled in price in just about five years. The New Zealand property market is defying the market forces of recession and probably the only one in the world where house prices are sky-rocketing in the midst of a global pandemic.
Our plan is to use our existing equity to get another mortgage and get a rental property. Using the house prices forecast alone, it is indeed a positive cashflow notwithstanding the income that's coming from rental payments. The main challenge for us is to have a thorough study of our options as our optimum target is to get two houses – one rental and the other one is a completely new build. For the latter, that's where we plan to settle for a very long time. Also, if we have a newly-built house, we will put our existing house into the rental market too, making it two rental properties.
We are still weighing our options now. Nevertheless, we will get a new property. It may be one, or two but certainly we will have it sorted within this year. As house prices in New Zealand continue to soar, we cannot let this year pass without any decision.
There you have it – my investment goals are summed up into four major areas – my hobby turned business, cryptocurrencies, stocks, and the New Zealand property market.
Thank you and I hope you enjoyed reading.
---

---
Posted Using LeoFinance Beta