How to Earn a 16% ROI on HIVE POWER and Support LeoFinance's New LeoInfra Onboarding System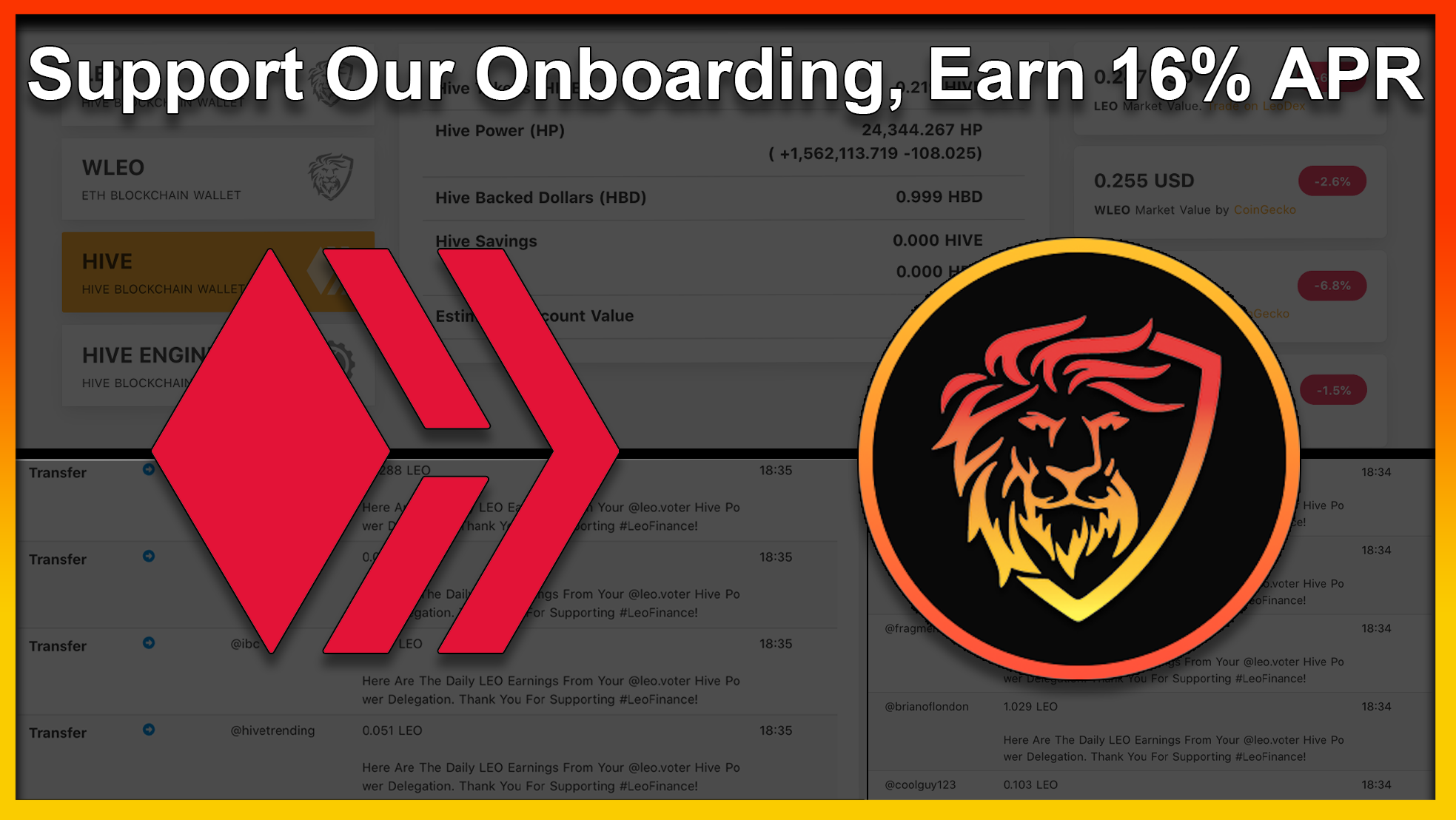 Many have said that Hive was one of the first real DeFi projects. We've had so many ways to earn yield on HIVE POWER for longer than DeFi was even a term that people used. Earlier this week, we released LeoInfra V2 which introduced 3 new signup options for the LeoInfra onboarding system:
Twitter Lite Accounts
Direct Hive Signup Via Phone #
Direct Hive Signup via Twitter Verification
These integrations along with the Metamask lite account system we built a few weeks ago have started to gain a lot of traction. We're already onboarding 20+ new accounts each day. While many of these may be Hive alts, we've already tracked many accounts that are brand new sign ups like @scaredycatguide's two friends: @gualteramarelo and @leoschein.
We'll start publishing monthly reports that show our new account sign ups along with data to show their levels of activity as well.
Scaling Up
LeoInfra doesn't work like other onboarding systems. Aside from the fact that we've built this "Lite Account" approach, we also delegate 10 HP to every new signup so that they can immediately interact with https://leofinance.io without worrying about RCs.
This creates a much better user experience, but it also creates a bottleneck for onboarding. Not only do we need account creation tokens to create new accounts, we also need to sustainably earn HIVE POWER so that we can distribute delegations to new users.
@leo.voter is our official curation account for the LeoFinance community. Delegators receive a 16% APR on their HIVE POWER when they delegate it to this account.
We use @leo.voter for 100% manual curation of LeoFinance community content along with the claiming of account creation tokens and delegations of 10 HP to each new signup.
With over 1.5M HIVE POWER currently delegated to the @leo.voter account, we're already capable of onboarding ~75-100 new signups sustainably per day.
While we could ask for other users to provide their account creation tokens and HP delegations to new signups, I much prefer a sustainable approach that provides a win for the users who delegate and a win for the LeoFinance community as a whole.
Having more HIVE POWER in @leo.voter means:
More scalability for LeoFinance signups (account creation tokens generated per day)
More HP to delegate to new users (derived from curation rewards and delegated out to signups for resource credits)
Higher rewards for our existing community (larger HIVE-based upvotes)
The Best Return on Hive
@leo.voter provides one of the highest ROIs on HIVE POWER. Many have asked exactly how it works, so here is a brief explanation:
User delegates HIVE POWER to @leo.voter
Every 24 hours (around 7PM CST), delegators receive LEO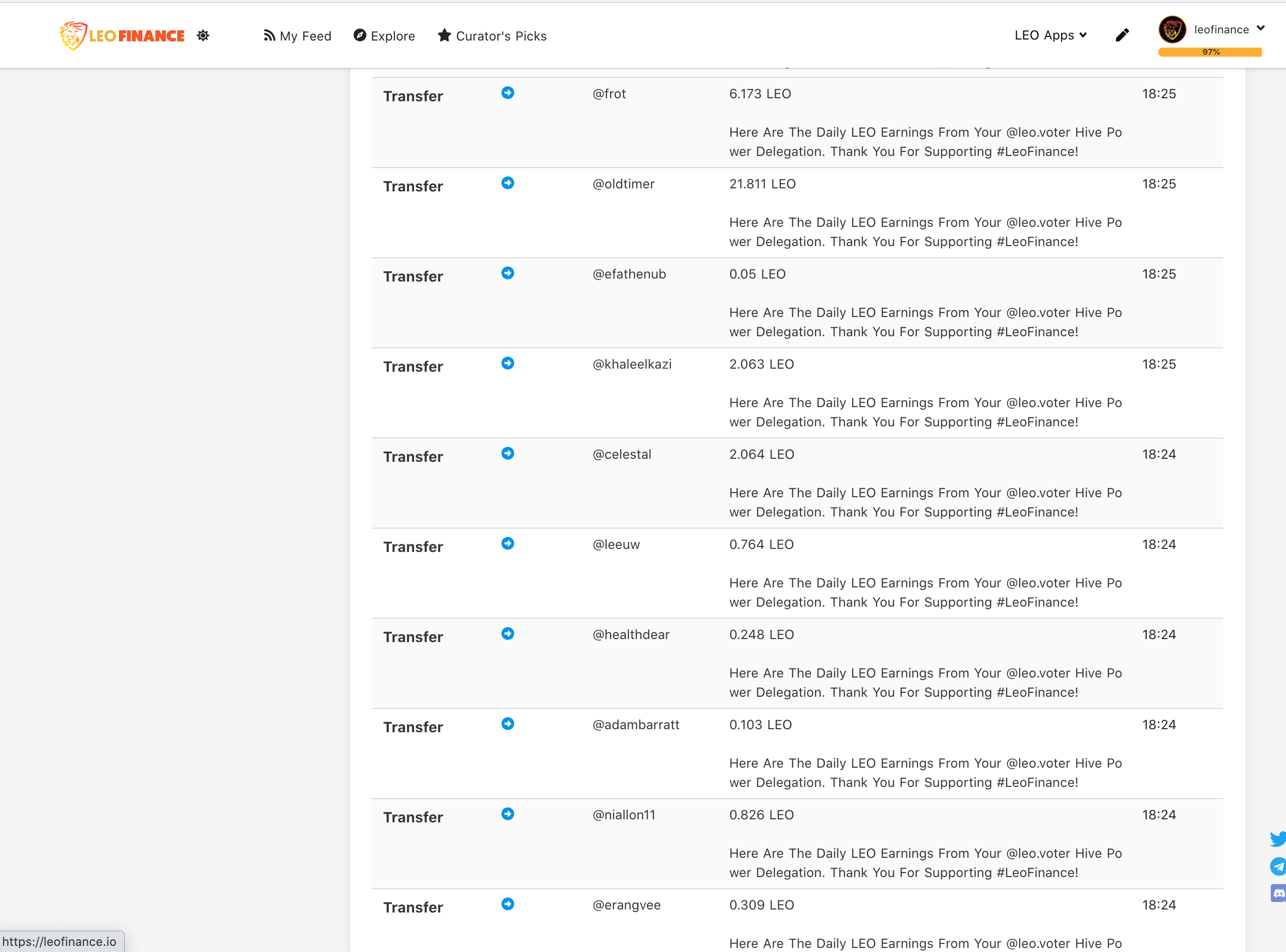 It's that simple. No setup required. The most frequent question we get is:
How is the 16% APR Determined?
We take the mid price of LEO from https://leodex.io relative to HIVE. So if the price of LEO is 2 HIVE per LEO (roughly where it is today), then that is the current price we use.
Taking that value of LEO, our distribution system calculates a 16% APR based on the HIVE POWER delegated to @leo.voter. Once that is determined, it breaks that down by 365 days to give today's daily yield.
If a delegator were to sell the LEO each day into HIVE, they would earn exactly a 16% APR per year.
If a delegator expects that the price of LEO will appreciate over time, then they could hold (or stake) those LEO earnings and then potentially sell them at a later date for a higher price. This would effectively yield greater than a 16% APR on their original delegation.
LeoFinance is a Tokenomics-Driven Platform
If you're paying attention to the way we organize everything on our platform, then you'll see the various ways that we tie in our tokenomics. Delegations and scaling our onboarding are no different. Rather than take donations, we prefer to take a business-oriented approach and provide you something valuable in exchange for the value that you're providing to our platform.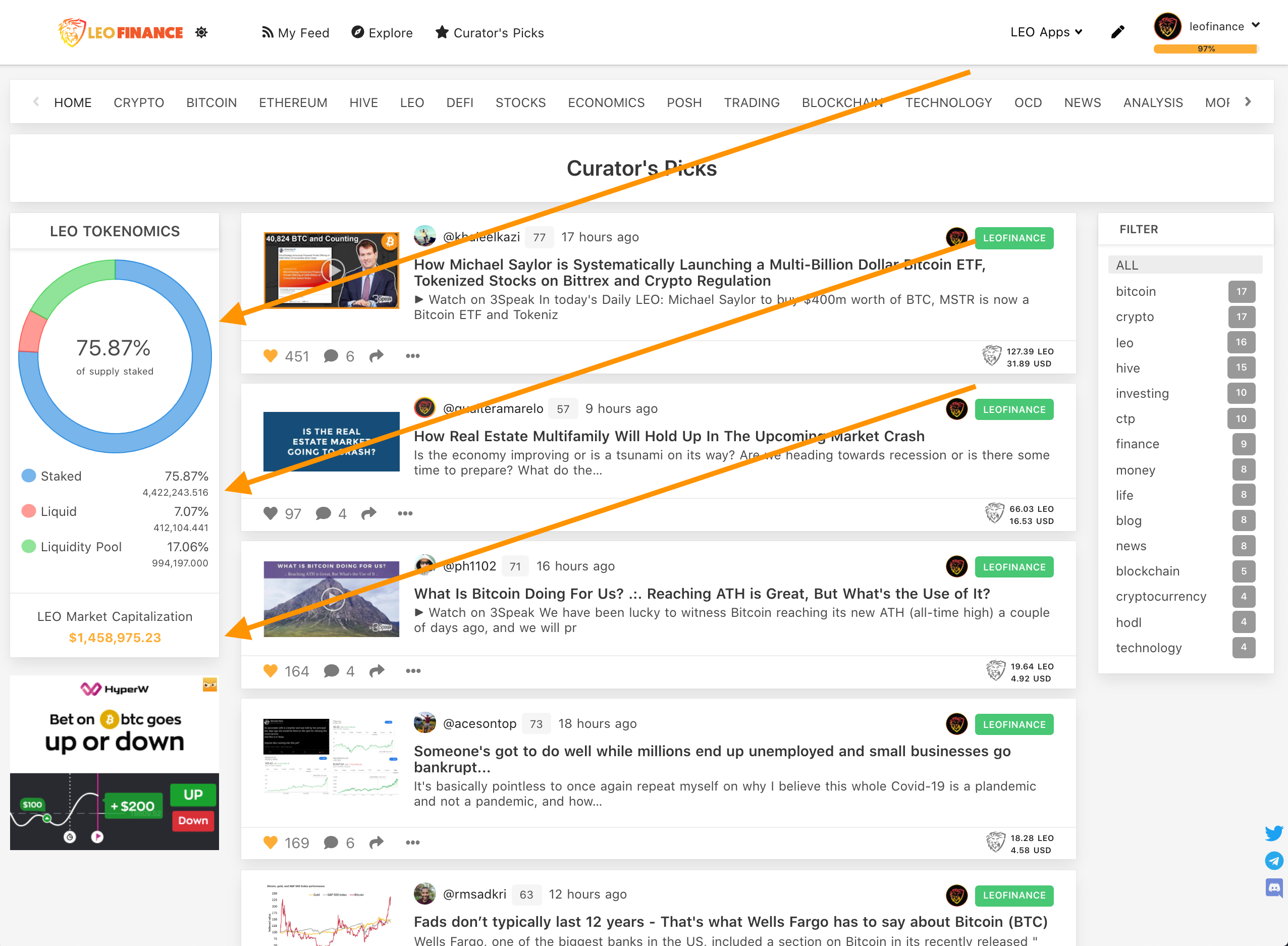 I can't remember the last time I made a post specifically about delegating to @leo.voter. I'm not one to ask for delegations, but now seems like the time to do it.
Delegating to @leo.voter is about more than just earning a 16% yield on your HIVE POWER. It's about supporting the sustainability of our onboarding as we aim to be the #1 source of new active users on the Hive blockchain.
@penguinpablo publishes stats each day on the source of new accounts and one of our onboarding accounts is already #3 on that list. We expect this to grow significantly, especially with a few of the marketing campaigns you'll see from us on Twitter this week and next.
No HIVE POWER, no Problem!
If you've already delegated to @leo.voter or you don't have much HP to delegate out, you can still have a massive impact on our efforts to onboard new users to this blockchain.
Be there and be engaged.
We have a discord channel set up on the LeoFinance Server called "Welcome to the Lion's Den". This server autonomously announces whenever a new account was created using LeoInfra.
Investing time in being engaged and following these new signups is just as valuable as providing HP to @leo.voter to get them onboarded in the first place.
After all, we want people to have an amazing experience here on Hive and LeoFinance. We're the most engaged community on this blockchain and I often think that engagement on an author's piece of content is even more valuable than your upvote.
Nobody wants to spend the time to create content and have nobody read it. So make sure you follow these new users and be there for them as they get acquainted with our site and start sharing their content with us.
November's M2M Roadmap
Our last post introducing LeoInfra V2 was so long that I didn't want to overwhelm by including our M2M roadmap. Here you'll see our progress on the targets we set back at the end of October.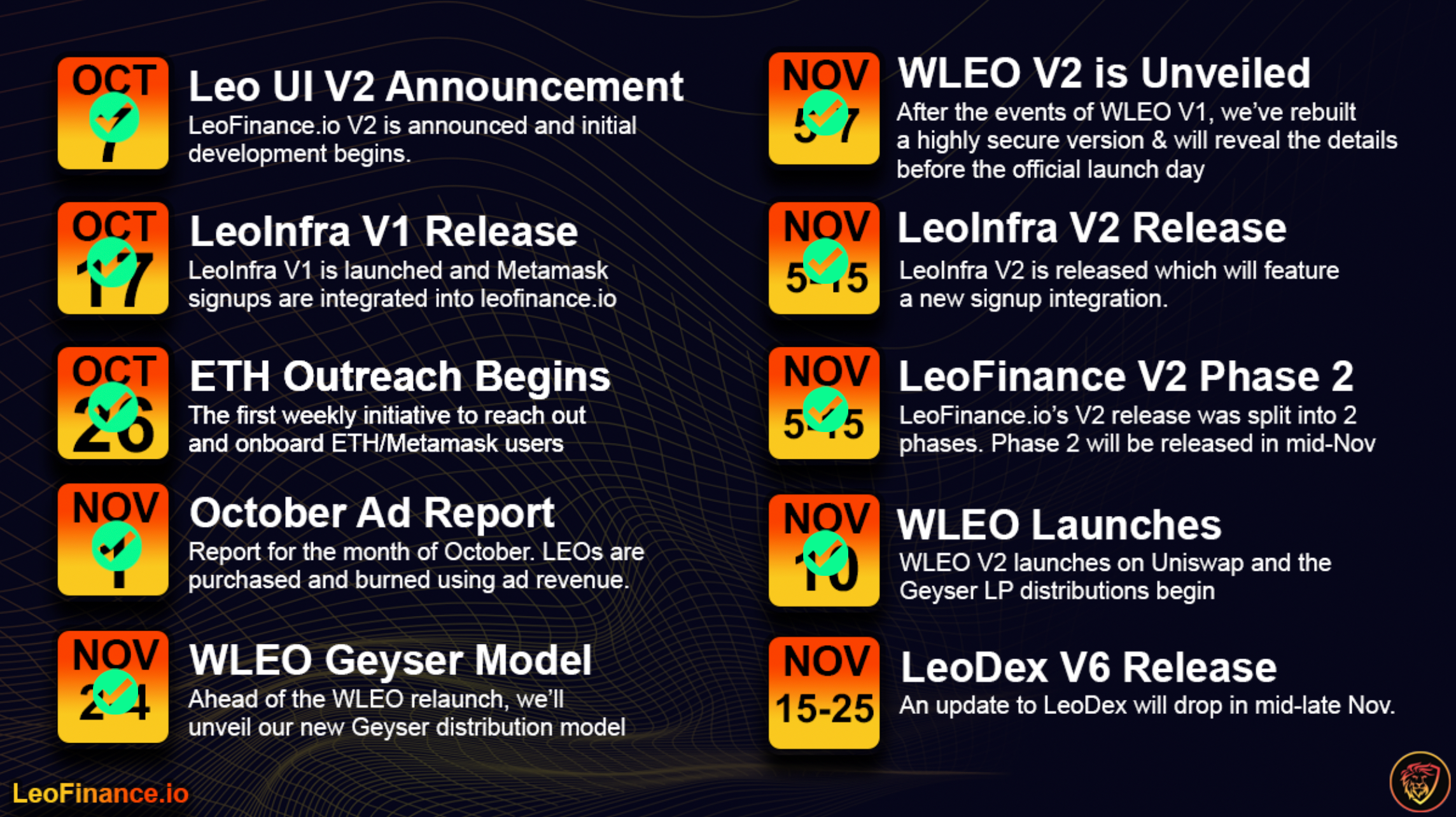 LeoFinance.io V2 P2 has already been released to our production UI. This includes over 20+ new features that we've systematically rolled out over the past several weeks. In the next few days, we'll launch a post from this account with all of the in-depth release notes on what we added and how it all works.
Again, these are internal targets. Everything on our M2M roadmaps will get done and we target the dates set on it, but depending on development delays and other factors, we may not hit them exactly. The only aspect of November's roadmap that we decided to push back is the LeoDex V6 release.
We did this for a number of reasons. Namely that we reprioritized 2 other projects ahead of that release. More details will be given in our December roadmap post from this account (again, coming in the next couple of days). To give you some hints, we recently acquired a new site for one of our upcoming projects dubbed "LeoFi" which is going to bring yet another dynamic to earning passive yield on your staked LEO POWER.
We've also decided to build a database layer for serving and storing Hive blockchain content on LeoFinance.io. I've teased this on Twitter, but the tagline of this project is: The speed of Web2 with the immutability of Web3. I'm really excited about the performance improvements that will be possible because of this new development. More details coming soon.
Then we also have our new microblogging platform launching toward the end of December and all of the various ad campaigns that we're about to launch to get Twitter users to our site. Buckle up 🚀

LeoFinance is a blockchain-based social media community for Crypto & Finance content creators. Our tokenized app allows users and creators to engage and share content on the blockchain while earning cryptocurrency rewards.
Follow @leofinance for official updates
Posted Using LeoFinance Beta
---
---