The launch of WLEO has brought a lot of buzz to the community.
It's been a week since the project launched publicly and bridged LEO from the Hive blockchain to the Ethereum blockchain. In this week, more than $300k USD in WLEO-ETH liquidity has been added on Uniswap and the token has been listed on several coins aggregators like Coinmarketcap and Coingecko. Having an ERC20 token has its advantages.
Let's look into the numbers of LEO wrapped by date and accounts.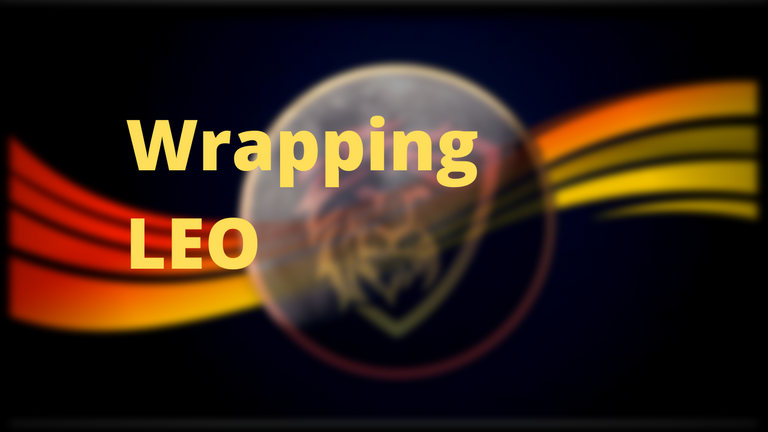 The possibilities for use cases on ETH can be huge. The obvious one at the moment is DeFi and expanding into this growing ecosystem.
Listing wLEO on Uniswap is merely scratching the surface on a multi-year roadmap that LeoFinance has in store for the Hive-ETH cross-chain token bridge.
Amount of Wrapped/Unwrapped LEO Per Day
These are very early days, but there is a lot excitement surrounding our project and the idea of wrapping LEO. There is a 90 day liquidity provider bounty of 300k LEO tokens, so a lot of users are entering the pool in order to get their share of additional rewards for providing liquidity early on.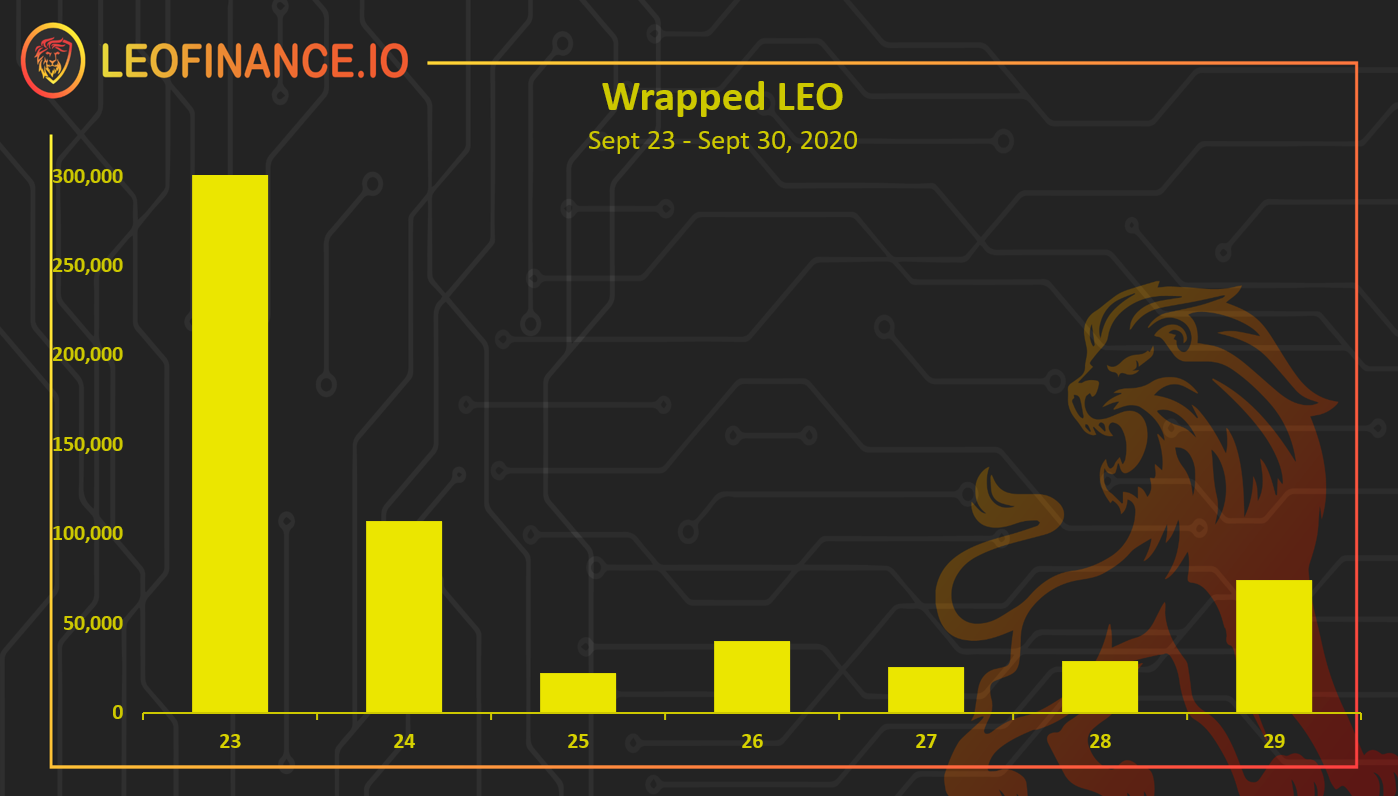 On September 23rd - WLEO's launch day - there is a massive 693k LEO wrapped. The bar on the chart for that day is cut of for better visibility.
The community had known about WLEO for just over 2 weeks at this point, so many had their liquid LEOs locked and loaded for when the pool opened up.
In the days that followed, there were less LEO wrapped - again, as most liquidity was liquid and waiting to get in to the pool off the bat - but still in the range between 20k and 100k LEO per day.
In total, more than one million LEO was wrapped in the past 7 days.
Unwrapping LEO?
What about unwrapping? Do users unwrap LEO? Yes they do (often to arbitrage the exchange price between Uniswap and Hive-Engine), although a small amount compared to the wrapping numbers: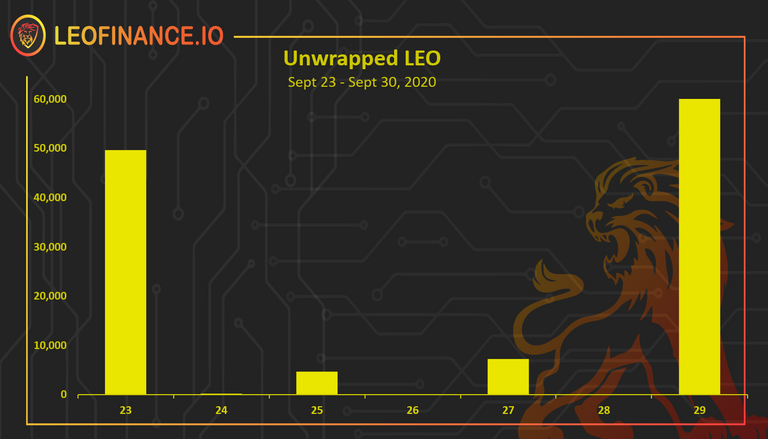 A total of 125k LEO was unwrapped in this period, with two large transactions. The first one on September 23rd where some testing was happening most likely from @leofinance and then again on September 29, when @empoderat decided to buy 60k WLEO on Uniswap, unwrap it and power it all up to acheive 100k LEO POWER 😊.
Top accounts that wrapped LEO
Who is doing most of the wrapping?
Here is a chart for the top accounts that wrapped LEO: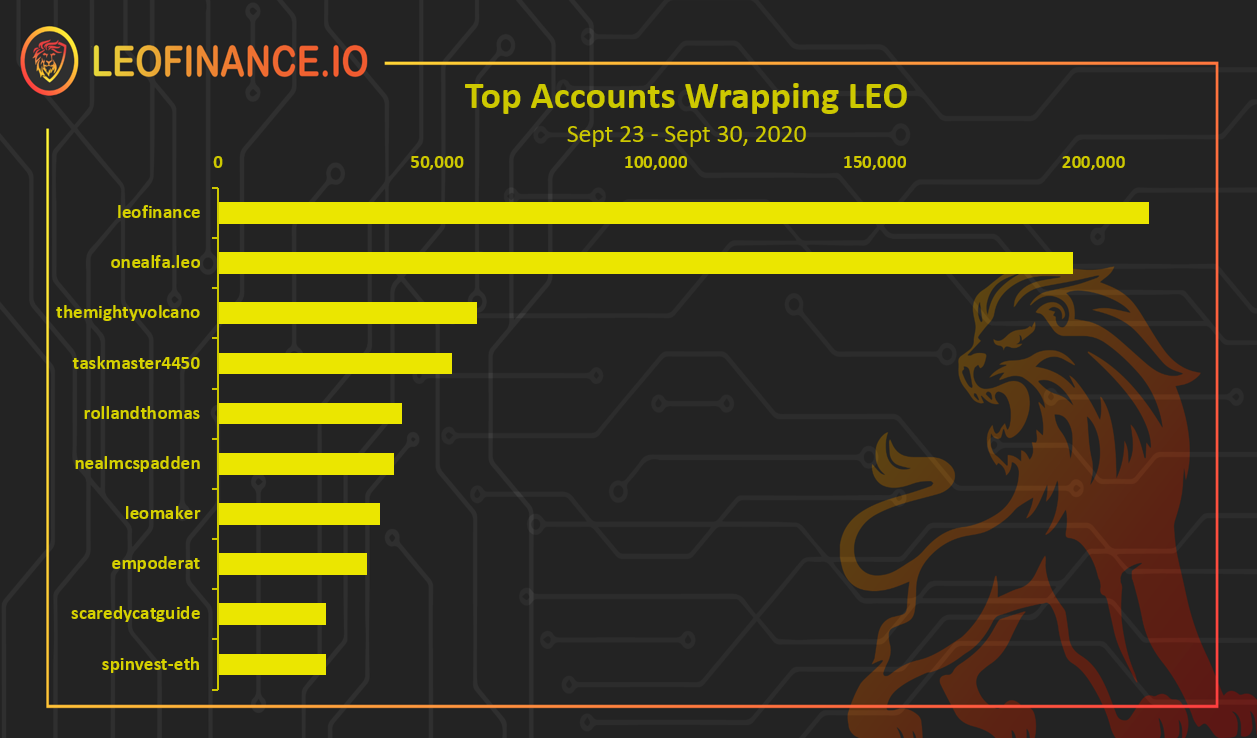 The official @leofinance account on the top with more than 200k LEO wrapped. Next is @onealfa.leo with almost 200k LEO wrapped. He is by far the largest non-official account that has wrapped LEO. @themightyvolcano on the third position with 59k LEO, followed by @rollandthomas with 42k and @nealmcspadden with 40k.
---
At the time of writing this, the @wrapped-leo account has 883k LEO in the wallet. The LEO in the liquidity pool is around 780k LEO with a matching amount of ETH. As things stand there is a high probability for the pool to continue to grow even more, since the promotional period lasts 90 days, and we are only 7 days into it.
With the numbers above WLEO has surpassed a lot of people's expectations and it continues to growing exponentially. We'll see how things plays out as WLEO matures and expands to other dApps on Ethereum.
New to Wrapped LEO? Learn More at https://leopedia.io/wleo


---
Report by @dalz
Posted Using LeoFinance Beta