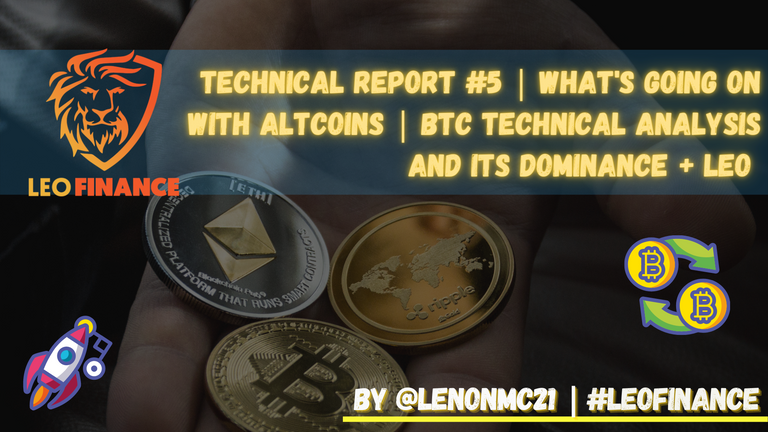 Cover created in Canva
In my last report #4, we indicated the 2 possible scenarios that could be presented in Bitcoin, fortunately the positive aspect was perfect and we saw how the price of Bitcoin was pushed towards $14000, however, there is the expectation of what the new move will be that Bitcoin will make, taking into account that the upward trend continues, so I'll be analyzing technically what the new price targets could be.
On the other hand, I'll also be analyzing the "Bitcoin Dominance" and why while it's rising the other Altcoins aren't responding in the same way as the Bitcoin, since most of them tend to follow the giant's movements. Finally, we'll look at the movements that LEO is currently making and the upcoming relaunch of WLEO.
En mi ultimo reporte #4, indicamos los 2 escenarios posibles que se podrían presentar en Bitcoin, afortunadamente el aspecto positivo se dio perfectamente y vimos como el precio de Bitcoin se impulso hacia los $14000, sin embargo, existe la expectativa de cual será el nuevo movimiento que realizara el Bitcoin, tendiendo en cuenta que la tendencia alcista continua, de esta forma estaré analizando técnicamente cuales podrían ser los nuevos objetivos del precio.
Por otro lado, también estaré analizando la "Dominancia del Bitcoin" y porque mientras este esta subiendo las otras Altcoins no están respondiendo de la misma manera que el Bitcoin, ya que, la mayoría suelen seguir los movimientos del gigante. Por último, veremos los movimientos que esta haciendo el LEO actualmente y más acercándose próximamente el relanzamiento del WLEO.

What is happening with the Altcoins? | ¿Qué esta pasando con las Altcoins?

Many analysts are saying that the Altcoin season isn't here yet and that's why while Bitcoin is going up, the others are going down and making corrections, however, there could be several things happening behind the Altcoin setback and the Bitcoin boost, but personally I think that one is the FOMO.
The FOMO nobody wants to miss the Bitcoin rise and its arrival at new highs
The reason I personally see, is that there's a lot of FOMO (Fear of Missing Out) in Bitcoin retail investors and although we're looking at a relatively good investment opportunity to seek to defend the $14,000 so that the price doesn't drop and it continues its upward run, many may be selling some percentage of their holdings in other currencies to buy Bitcoin. In addition, all indications are that the strong holders (Whales) are "HOLDING" Bitcoin, so I think the biggest odds are that BTC will reach its previous highs soon.
Bitcoin Dominance on the Rise
Another reason that Altcoins aren't quite accompanying Bitcoin in its current trend, may be that the Bitcoin dominance has been increasing since October with a lot of force, this has been focusing most of the eyes only on the BTC, so if it increases it means that most investors are taking capital out of other currencies to increase their exposure to Bitcoin. This can be a good indicator to be able to join the trend and joining is better than staying out, of course, this is just my personal opinion, by no means take this as a direct investment recommendation.
Muchos analistas están diciendo que la temporada de Altcoins aun no llega y es por esta razón que mientras el Bitcoin está subiendo las demás están bajando y realizando correcciones, sin embargo, pudieran estar sucediendo varias cosas detrás del retroceso de las Altcoins y el impulso del Bitcoin, pero personalmente creo que una es el FOMO.
El FOMO nadie quiere perderse la subida del Bitcoin y su llegada a nuevos máximos
La razón que personalmente veo, es que hay mucho FOMO (Fear of Missing Out) en los inversores minoristas de Bitcoin y aunque estamos relativamente ante una buena oportunidad de inversión para buscar defender los $14000 para que el precio no descienda y siga su carrera alcista, muchos pudieran estar vendiendo algún porcentaje de sus tenencias en otras monedas para comprar Bitcoin. Además, todo indica que los tenedores fuertes (Ballenas) están realizando "HOLD" de Bitcoin, por lo que creo que las mayores probabilidades están en que BTC alcance sus máximos anteriores próximamente.
La Dominancia de Bitcoin en aumento
Otra de las razones de que las Altcoins no estén acompañando del todo al Bitcoin en su actual tendencia, puede ser que la Dominancia del Bitcoin a estado aumentando desde el mes de octubre con mucha fuerza, esto ha estado centrando la mayoría de las miradas solo en el BTC, por lo que si esta aumenta quiere decir que la mayoría de los inversores están sacando capital de otras monedas para aumentar su exposición en el Bitcoin. Esto puede ser un buen indicador para poder unirse a la tendencia y unirse es mejor que estar fuera, por supuesto, esta es solo mi opinión personal, por ningún concepto tomen esto como una recomendación directa de inversión.

Bitcoin 4H Technical Analysis | Análisis Técnico de Bitcoin 4H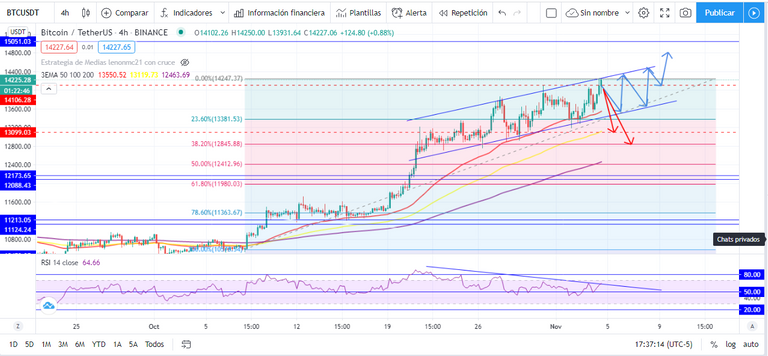 Image from the platform of TradingView
Chart of 4H | Gráfico de 4H
The Bitcoin has been in a clear uptrend, it's currently in the upper part of a "Bullish Channel", but it's having a clear resistance just at $14100, if the bullish players manage to defend that zone with strength and the price manages to break above $14100, we'll surely go to the next resistance around $15051. 03. Also the EMAS of 50,100 and 200, are at a perfect 45 degree angle, so their perfect alignment ratifies the current trend and are serving very well as dynamic support in the price, so in this sense the odds are positive.
Now looking at the other side of the coin, in the negative aspects, at least in the short and medium term, we see that in the "RSI" there is a clear "Bearish Divergence", the interpretation of this is that the price has been losing the strength it had been having upwards, even though the price has been rising, the bullish side is losing strength, so this could trigger a correction in the price. Now, as far as this possible price correction could go, having this as a bearish probability, the price could go to the lower part of a possible range close to $13099.03 and in another scenario, the correction could lead the price to 38.2% of the "Fibonacci Retracements", I don't think that the price could experience at least in the shortest term a correction of 50% or 61.8% of the Fibonacci.
El Bitcoin ha estado en una clara tendencia alcista, actualmente se encuentra en la parte alta de un "Canal Alcista", pero tendiendo una clara resistencia justamente en los $14100, si los alcistas logran defender esa zona con fuerza y el precio logre romper al alza por encima de los $14100, seguramente iremos a la siguiente resistencia cerca aproximadamente de los $15051.03. También las EMAS de 50,100 y 200, están en un ángulo perfecto de 45 grados, por lo que su alineación perfecta ratifica la actual tendencia y están sirviendo muy bien de soporte dinámico en el precio, por lo que en este sentido las probabilidades son positivas.
Ahora viendo la otra cara de la moneda, en los aspectos negativos, al menos en el corto y mediano plazo, vemos que en el "RSI" hay una clara "Divergencia bajista", la interpretación de esto es que el precio ha estado perdiendo la fuerza que venia teniendo hacia alza, a pesar de que el precio ha estado subiendo, los alcistas pierden fuerza, por lo que esto podría desencadenar una corrección en el precio. Ahora bien, hasta donde podría ser esta posible corrección de precios, teniendo esto como probabilidades bajistas, el precio podría dirigirse a la parte baja de un posible rango cera de los $13099.03 y en otro escenario, la corrección podría dirigir al precio al 38.2% de los "Retrocesos de Fibonacci", no creo que el precio pueda experimentar al menos en el mas corto plazo una corrección del 50% o del 61.8% de los Fibonacci.

Bitcoin 1D Technical Dominance Analysis | Análisis Técnico de la Dominancia del Bitcoin 1D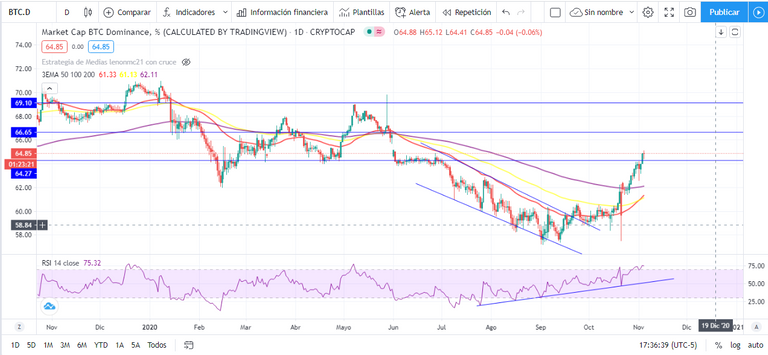 Image from the platform of TradingView
Since September the dominance of Bitcoin has been rising, as I mentioned earlier, this has caused most investors to move directly to Bitcoin, abandoning Altcoins. This is one of the reasons why I think that the rest of the currencies haven't risen as strongly, however, to see a bit better this Bitcoin dominance scenario, I bring you a 1D chart, where we can see how strongly it has risen since September.
Since May the dominance was in a clear downward trend, however, it started to revert in the last two months, based on this we can see how in the "RSI", a bullish divergence has been formed, where it has been getting more strength little by little, to the point of breaking the last resistance around 64.27%. Currently it is at 64.73%, tending now as support the 64.27% mentioned above. Although the probabilities continue to rise, it is important to keep track of this, since when it comes to actively speculating in the cryptomoney market in the short term, we could get stuck in some altcoin.
Desde el mes de septiembre ha estado subiendo la dominancia del Bitcoin, como comenté anteriormente, esto ha causado que la mayoría de los inversores se pasen directamente a Bitcoin, abandonando las Altcoins. Esta es una de las razones por la que creo que el resto de las monedas no ha subido con tanta fuerza, sin embargo, para ver un poco mejor este panorama de la dominancia del Bitcoin, traigo un grafico de 1D, donde podemos evidenciar con que fuerza ha subido la misma desde septiembre.
Desde el mes de mayo la dominancia venia en una clara tendencia bajista, sin embargo, comenzó a revertirse en los dos últimos meses, en base a esto podemos ver como en el "RSI", se ha formado una divergencia alcista, donde esta ha estado obteniendo mas fuerza poco a poco, al punto de romper la ultima resistencia cerca de los 64.27%. Actualmente se encuentra en los 64.73%, tendiendo ahora como soporte los 64.27% mencionados anteriormente. Aunque las probabilidades siguen al alza, es importante tener un seguimiento de esta, ya que cuando se trata de especular activamente en el mercado de criptomonedas en el corto plazo, podríamos quedar atorados en alguna altcoin.

LEO Technical Analysis | Análisis Técnico del LEO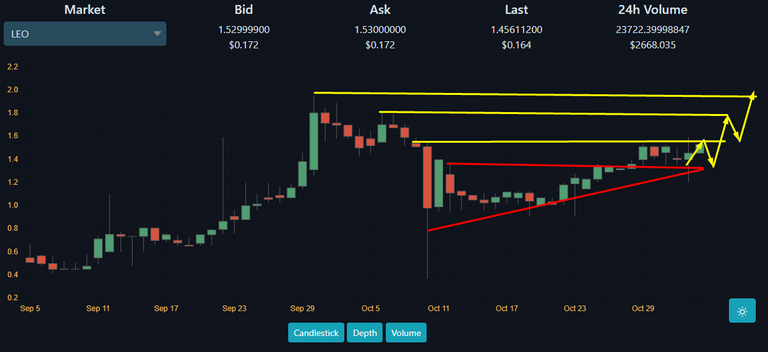 Screenshot of LeoDex
It had previously marked a clear "Upward Triangle" that LEO successfully broke upwards, now it is having strong support at the top of the triangle looking to reach one of the previous highs again at about 1. 8 HIVE for each LEO, the odds are clearly positive that the price of LEO will continue to rise and gain much more strength, on the other hand we are very close to the relaunch of WLEO, so many investors will look to have as much liquid LEO as they can in order to continue to provide liquidity to the Uniswap Pool and obtain rewards. This will of course continue to give the LEO a lot of strength, hoping that it will again hit the last highs it had reached and also surpass them.
Había marcado anteriormente un claro "Triangulo Ascendente" que el LEO rompió exitosamente al alza, ahora esta teniendo un fuerte soporte en la parte alta de dicho triangulo buscando alcanzar de nuevo uno de los máximos anteriores aproximadamente en los 1.8 HIVE por cada LEO, las probabilidades claramente son positivas para que el precio del LEO siga subiendo y ganando mucha mas fuerza, por otra parte estanos muy cerca del relanzamiento de WLEO, por lo que, muchos inversores buscaran de tener la cantidad que puedan de LEO líquidos para poder seguir brindando liquidez al Pool en Uniswap y obtener recompensas. Esto por supuesto, le seguirá dando mucha fuerza al LEO, esperando que toque nuevamente los ultimas máximos que había alcanzado y que además los supere.

Conclusions

In general it's positive, however, we have to be careful with the dominance of the BTC, since it's dangerously close to 70% and this can affect the altcoins in that they don't rise as strongly as we all expect and follow the steps of the Bitcoin, even so I'll be following it up and any changes will be brought back in a new report, analyzing other currencies of interest in order to know their current status.
LeoFinance is a Blockchain based social networking community for Crypto & Finance content creators. Our tokenized blog platform LeoFinance.io allows users and creators to participate and share content in the blockchain while earning token rewards LEO.
En panorama general es positivo, sin embargo, hay que tener cuidado con la dominancia del BTC, ya que se acerca peligrosamente al 70% y esto puede afectar a las altcoins en que no suban con la fuerza que todos esperamos y sigan los pasos del Bitcoin, aun así estaré dándole seguimiento y cualquier cambio estaré trayéndolo nuevamente en un nuevo reporte, analizando otras monedas de interés para poder conocer su estado actual.
LeoFinance es una comunidad de redes sociales basada en Blockchain para creadores de contenido de Crypto & Finance. Nuestra plataforma de blogs tokenizada LeoFinance.io permite a los usuarios y creadores participar y compartir contenido en la cadena de bloques mientras obtienen recompensas de tokens LEO.


---

If you are new you can join the game under this LINK
---


Live the BraveBrowser Experience. Browse fast, safe while earning BAT tokens.
Please download the browser using my Referral Link.
---

---
---


Communities I support and promote

---
---
---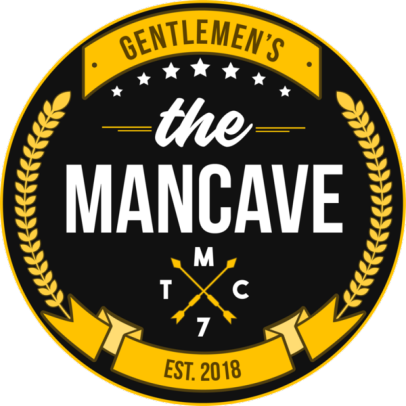 ---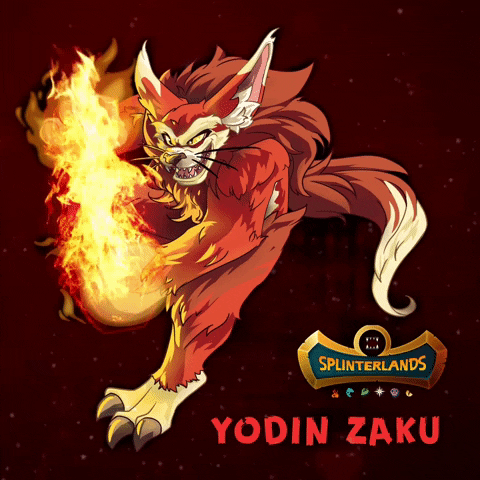 Join the official Discord community
---

Go to the Discord server community officer in Spanish
---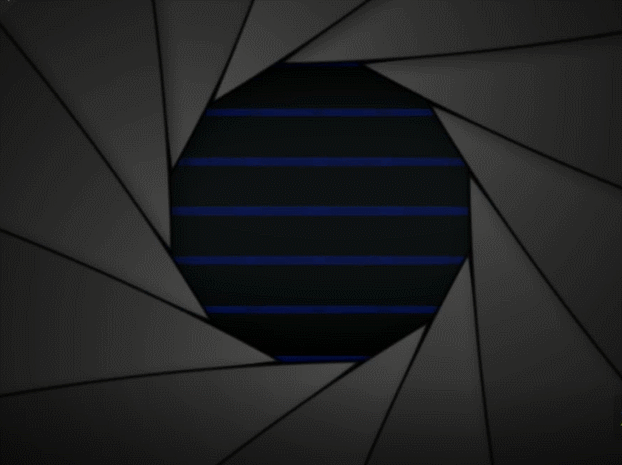 ---
Posted Using LeoFinance Beta