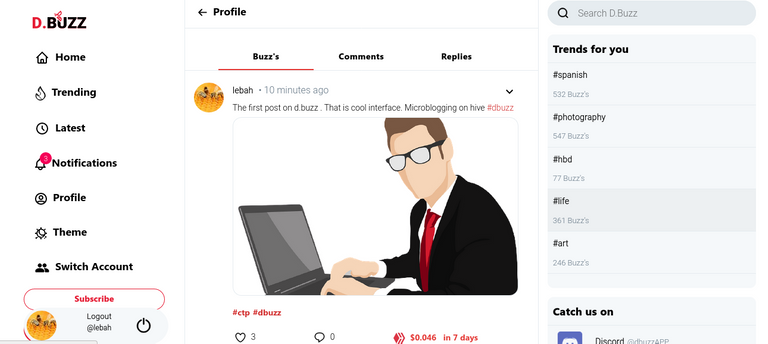 Microblogging is short and limited words blogging platform. The most popular microblogging is twitter. Twitter limit the words to 140 characters. D.buzz is a censorship-resistant short form microblogging platform that empowers you to share your thoughts in 280 characters or less.
Microblogging is demanded by more people because it is a quick platform to send information. With million followers , twitter influencers can deliver a message in seconds. That is why microblogging is a powerful social media to spread quick information.
D.BUZZ
D.Buzz is a microblogging platform that runs on hive network. The platform has good interface. It allows users to post short words. Besides that, users will earn rewards in hive and hbd by posting in d.buzz platform.
There are core members of team behind d.buzz project. They are @chrisrice , @nathansenn , @riyuwe @postnzt , @coffeebender and @jacuzzi .
D.buzz team created some projects.
D.buzz
D.buzz is the microblogging platform on hive. I will tell later in this post how to sign in using hive account.
Dbuzz.store
It is a store that accept hive and hbd payment. Currently, the store sell some clothing with hive image designs.
How to use d.buzz?
If you are a hive user, you just need to sign in with your private posting key. While if you are not hive user, you should sign up hive account first here. Then, you secure your hive keys by downloading or copying the key in a secure file.
Start to post
After you log in d.buzz platform, you can start to post. The character is limited to 258 characters. You can also upload an image and embed a video from youtube.
Pros
Censorship is a big issues on centralized microblogging platform. D.buzz offers a censorship resistant microblogging platform.
Users earn rewards in hive and hbd from posting via d.buzz interface.
The data privacy is protected because no central servers that can access the data storage of the users.
Cons
D.buzz is a short and limited words platform on hive. The post can be seen in cross network among hive tribes with community hastaging. Using community hashtaging can be disruptive posts in a community. Some communities do not allow too short posts in their interface.
D.buzz is still available in web browsers.
New users will be limited from posting because they have no hive power.
How to sign up d.buzz platform?
This is how a hive user sign up the d.buzz platform.
Click sign in
Enter hive user name
Enter private posting key
Submit
You will go to the d.buzz dashboard directly and you can start posting.

For new users
Sign up via hiveonboard
After you sign up save the keys
Copy the private posting key
Enter your user name
Paste the private posting key
Submit
END
D.buzz is a microblogging platform on hive that is censorship resistance. You will earn hive and hbd reward for you micropostings in the d.buzz interface.
Posted Using LeoFinance Beta