Yesterday, I got a new follower. He is a new member. He is still minnow like me. However, I felt that there will be big problem on hive if all minnows from new members suffer as he did in hive. I saw his posts. There were no upvotes from ocra or whales. I know, he should struggle by himself to get his post upvoted. Alright, I will not say we are just going social for minnows. We are going social and not expect votes is for whales. I don't teach whales but I will share my experience for minnows to walk slowly in hive. Before more new members leave the platform due to zero earning, I like to post a guidace how to increase votes and earning slowly. For whales and ocra don't read the post if you not upvote my post.
BASIC GUIDANCE FOR MINNOWS OR NEW MEMBERS
Post the best introductory post with the hashtag introduceyourself
Introduction post is very important with that hashtag. You will be notified by whales. Whales and ocra will welcome you with cool upvotes. You'd better use image or video. You can learn introductory paragraph from the good ones and you can imitate how they write the post.
Join leofinance
I recomend leofinance. You should log in your account with private posting key in https://leofinance.io. Leofinance host is very welcome to new members. You will also earn double rewards hive and leo tokens. Leofinance posts should match to the categories of topics like cryptocurrency , business and finance.
Join ProjectHope
ProjectHope is a cool community. It is a cool mentoring on hive. The admin and moderators are friendly, you need to join the discord group. Read the rules of the community because PH rules are strict. Don't get your account ban in the community. Plagiarism, spining articles are not tolerated. You are allowed to post 3 contents weekly. If you do more posts you can be blacklisted. I prefer to post 2 articles in the community. I prefer in the safe position to get along. Engagement is very important and suggested in projecthope.
Do trial and error to other communities
You may have special talent, you can join other communities that have the same interest with you. If you are not welcome and your cool post not get upvoted by admin or curators in the community, leave the community soon. Don't pend to much time and energy in not welcome hosts. You'd better back to your home of community where curators, members and admin and moderators are welcome you with cool suport.
HASTAGING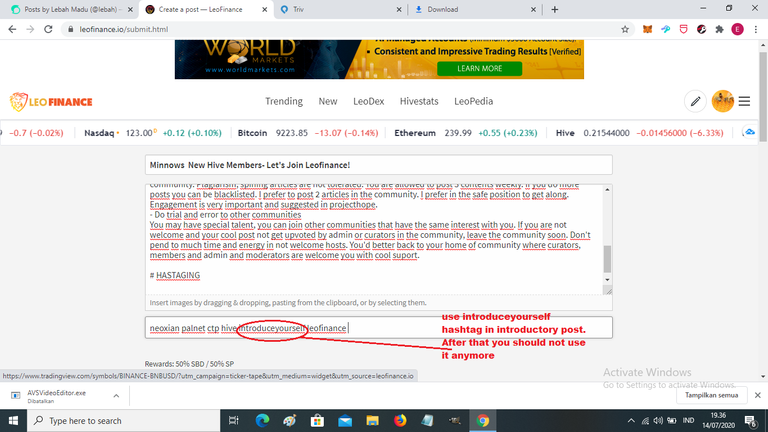 Use hashtag introduceyourself for introductory post, you need to use tag leofinance, neoxian, ctp, and topic of your post.
Join Neoxian
https://www.neoxian.city/ neoxian is a tribe in hive. It is similar to leofianance. You can post with both leofinance or neoxian.city.
Join https://ctptalk.com
The host is friendly. You 'd better use the front end to post. You can use leofinance, neoxian, ctptalk in random to post your contents but remember to use the tag I mention above to each post.
Use promotion tool in those tribes
leofinance , neoxian, ctp are tribes. There is promote button to increase the visibility of your post. The cost is very cheap from 1 token of each tribes. Your post will appear in trending page for one or two days. That is good and cheap promotion cost.
Conclusion
That is a simple tips for new members to grow slowly in hive. OK I will give the next tips I hope this will help you to increase your quality of post and knowledge about leofinance , hive and other tribes. Don't forget to upvote, rehive, and follow me @lebah because I will follow you back!
Posted Using LeoFinance