The only real mistake is the one from which we learn nothing. - Henry Ford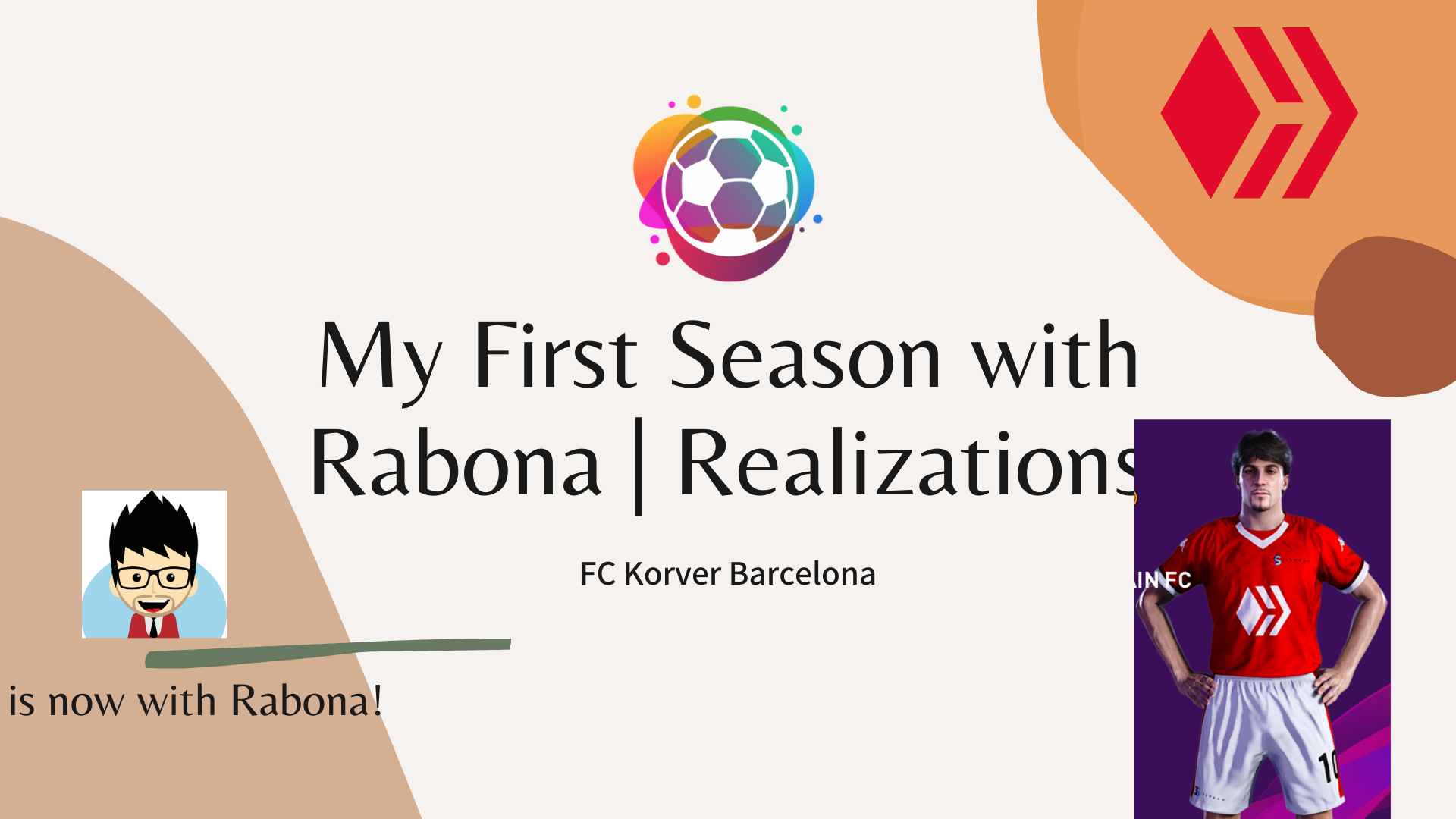 My first season playing with Rabona, (a football managerial game on top of the Hive blockchain) has not been good to me. I had a disappointing start at around 10 games where I only accumulated 11 points and was placed just above the relegation zone. It's the cost of not reading the whole guide properly and too reluctant of the numbers game.
It was after that 10 games when I realized I need to fully understand how this thing will be working on my club. It made me had a series of bad decisions before deciding to take the numbers and statistics strategy to actually win games.
---
Bad Decisions/Relizations/Learning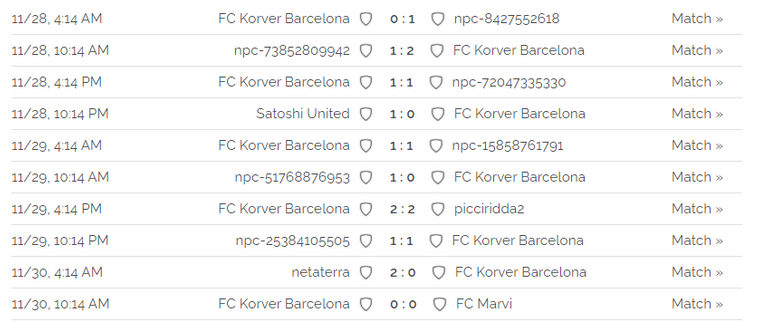 My disappointing first 10 matches in my first Season
Then everything went well on my next matches: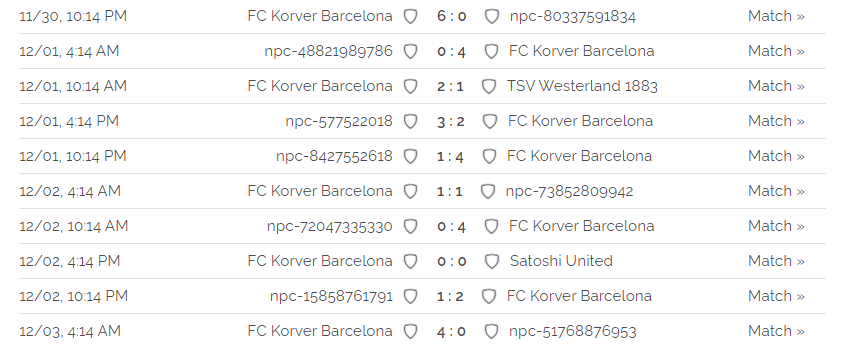 During those first 10 matches I had, these were the bad decisions/mismanagement I made for my club FC Korver Barcelona:
1. Not taking advantage of Formation Odds
In my first 10 games, I didn't base my lineup on this formation odds table. Currently, Rabona has 5 possible formations that you can choose and it gives you the possible odds of using them against the opponent's strategy.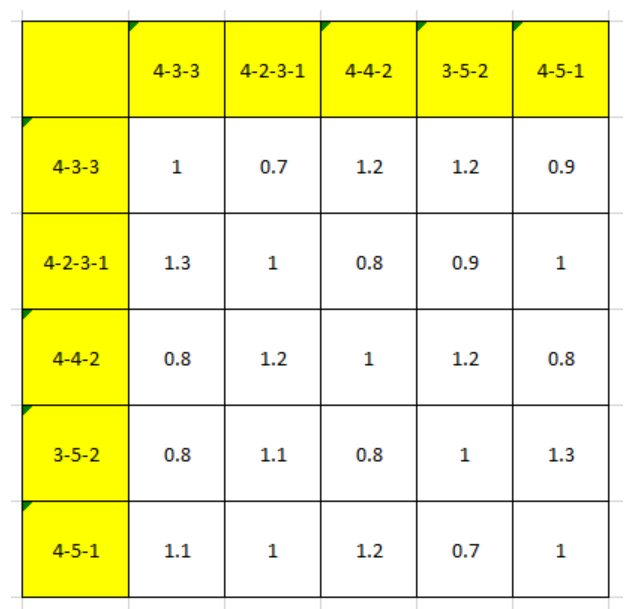 Image courtesey of @rabona site
The thing is, you use a certain formation to counter your opponent. As a matter of fact, all of the NPC teams are having a default 4-3-3 formation. This is the reason why 4-2-3-1 is the best counter formation to easily win against them. It was evident in the next matches that I defeated NPC teams at a convincing score line.
Next is to analyze your opponent's formation. It is best to counter them because Rabona is a numbers game. Any information you know that could make you in advantage is very important to narrow down the possibility to win. There are actually two ways for you to know his possible formation:
Check on hiveblocks.com/@username - Check your opponent's lineup formation by looking at his activity on Hiveblocks. Formations are broadcasted on Hive blockchain and it's the best possible way to know your opponent's formation so you can counter them.
Scout the team in Rabona - You can actually look at the player's previous matches and see his previous formations. Though it's difficult to assume, it will also give you important information on what are his most used strategies. Players who don't care for their lineup are choosing 4-3-3 by default.
---
There are players who have very low score/grade under 4-2-3-1 formation, some are very strong at 4-3-3 and it's important to know their personal statistics. You could place that midfielder on the defensive midfield side because he has strong defense stats, place a player at your front-line because he has a very high shot-dribbling-head ball, or you bench your strongest defender because he's very weak for a formation you are picking. I can say an intelligent picking would likely result in a win.
I may not be the best person to say it since I have not proven anything yet but in general, it's best to choose carefully. These details could be the reason for your winning.
---
3. Financial Management / Signings

When I started, I immediately bough players with good stats at passing, shot, dribbling, and defense forgetting their salaries would cost me enough for a loss. Though now I'm thankful I got them because they can compete in League 3, I'd say you should be very careful when you sign players under the market. I suggest considering a player having a high TP too.
Always check financials to see your club's financial performance. From there you can see the ins and outs of your club's finance. There will also be notified for extra-income when you were offered an advertising partner.
Also, do check your player's contracts because if you weren't able to renew them other players can snatch them from you. Always make sure you do under team. If you don't want to lose that player, better check it under CD (Contract Duration).
---
4. Always Look at the Market (and Discord)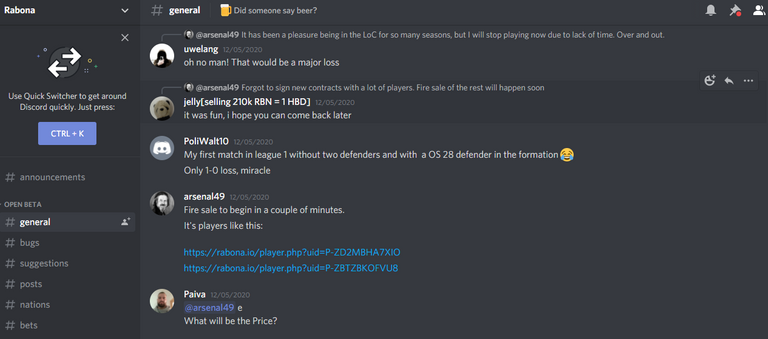 I only got Wang Lu, the leftover of his crazy sale
There was a time one player sold all of his players on the market. He notified that on discord but everyone has the chance to sign them under Market. It would be better if you can spend time checking the market to see if you can get a player that matches your team's philosophy of winning.
Rabona's Official Discord Server also gives you the chance to know about the current happenings of Rabona, meet fellow Rabona players, and join in an intelligent discussion. You can learn from successful players there who managed their team to compete in the League of Champions (LoC). See you there!
---
For more football updates and sports-related talks, click the "Follow" button and support me by clicking that upvote button.

Posted Using LeoFinance Beta