Shortly before Christmas, I stumbled across an article by @behiver that introduced me to Torum. At first, I was hesitant to join the site but since he described it as another way to promote LeoFinance to the world I signed up. Some days later - and without giving away too much - I'm rather glad I did.
So today, let me introduce you to what some claim to be the revolutionary social media platform that is Torum. To do so, I'll provide some general information what the service is all about, give you a tour to what they have to offer and also what they are planning for the future, and finally answer the most important question of all - Is it worth your time?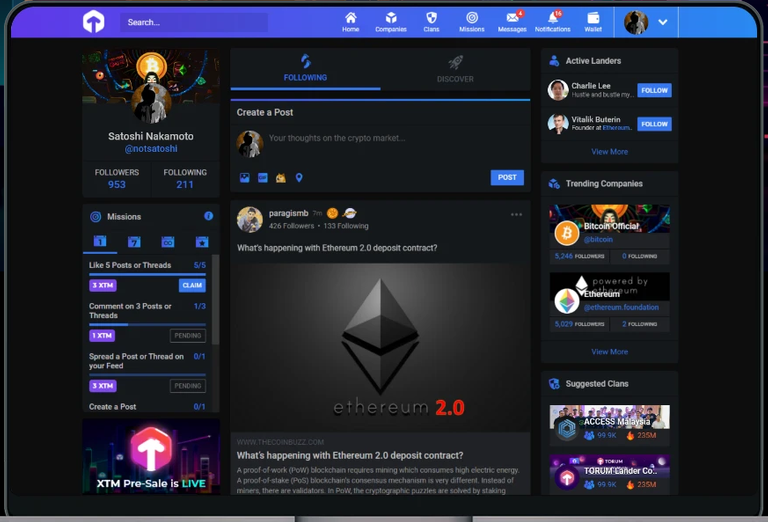 If I had to describe what Torum is in a single simple sentence it would probably be Crypto Facebook. It's a social media platform that basically has all the options you'd expect from a service like that. You can make shorter and longer posts, share memes and articles, like, comment, and spread what others have written, follow and be followed, and so on. Basically, just look at Facebook and you'll have a good idea of what to expect.
There's a key difference though - Torum is not only completely built around cryptocurrency and blockchain technology, it actively utilizes it itself. The site comes with its own ERC-20 token called XTM. While it cannot be traded or sold on any platform yet, they are in the process of having their IEO Pre-Sale. Depending on the amount you buy the price changes a bit but at the basic level, you are looking at a price of 0.05$ per XTM.
XTM can be earned for various activities on Torum. You are given different missions that you need to accomplish in order to earn some XTM. There are daily, weekly, and one-time missions available. These usually consist of simple tasks like liking 5 posts, spreading a thread, or leaving 3 comments.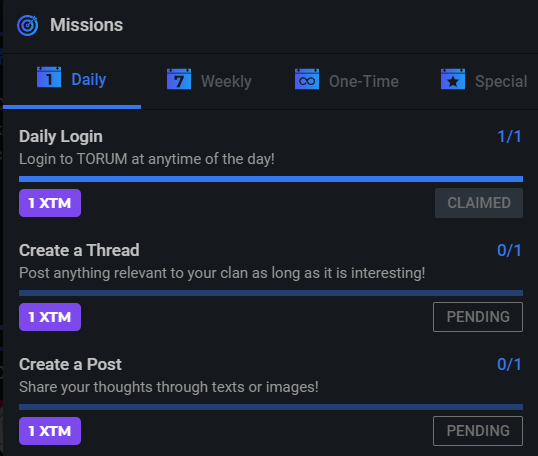 You can also buy awards of differing value for threads or posts that you enjoyed. In that case, the XTM is subtracted from your account and 30% of the cost are awarded to the post's author. To tell the truth, I found the value given to the author rather low as 70% of the XTM value go back to Torum. Then again, the feature seems to be used rather often, as I have already received 12 awards in the few days I'm active on the site.
Speaking of earnings, since I've joined I made 288.9 XTM which would equal ~14.45$ if you follow the asking price from their pre-sale. That's a pretty nice amount of money considering I joined the site without a network or any expectations. Other than gifting the token to each other, XTM does not have any utility yet. The developer's behind Torum are fully aware that the token needs utility in order to be successful, so there are already some plans laid out for the future on their site:

Basically, the idea is to establish XTM as the payment medium for the whole Torum ecosystem. So besides the possibility of collecting another token and potentially earning some money, is Torum worth your time?
Truth be told, I was skeptical at first. I'm not a social media guy. While I do have a Facebook account, it has been lying dormant for years and I never really could get myself to use it for anything in the first place. That said, Torum has a way better look&feel to me than Facebook ever had. It's obviously fully focused around cryptocurrency and the blockchain world, and to me, that's a lot more interesting than aunt Erna's strudel recipe.
To me personally, it seems to be a great way of further building up your blockchain network. I've already found several members from LeoFinance and Publish0x on Torum and it only came natural to follow them there as well. It's also a great way to both promote your own content as well as to discover content you might be interested in.
Both LeoFinance and Hive also have their own Clan on Torum. A Clan is basically a Facebook group focused on a certain topic or service. It's a great place to share your new articles or look for articles you might have missed.

Even though I don't like social media platforms, I have to admit their power and importance in everyday live. Billions of people are using them to varying degrees and establishing a social media platform fully focused on the blockchain world sounds like the logical next step. The people behind Torum are highly active and constantly interacting with their users. Getting the economical site of things right won't be an easy task, crypto folks are tech savvy but also always looking for ways to earn more coins. So in order for XTM to have any value, it will be crucial to convince at least some of the users, that holding or even buying it will benefit them more than just dumping it whenever they can.
Even without the monetary aspect, though, Torum certainly is an interesting proposition for any author. To me, it's a great way to generate some more attention for my articles and at the same time generate some additional traffic for LeoFinance. So ultimately, yes, I think it's worth your time. Like most social media platforms, you could probably spend hours upon hours on the site without getting anything done, but if used right, I believe it can be another powerful tool to generate an additional stream of income or at least some additional views for your work.
And that's all from me for today. Thank you all for reading and see you next time!
Posted Using LeoFinance Beta