If you follow my Play2Earn Reports, you are probably already aware that I picked up dCity about a week ago. Ever since I've been toying around with the different options and finally decided to invest some Hive into setting up my initial city. I'm certainly not the most knowledgeable person on the game yet and there are many things for me left to discover. Yet, I feel confident enough to give a first impression and answer the ever important question - Is it worth your time?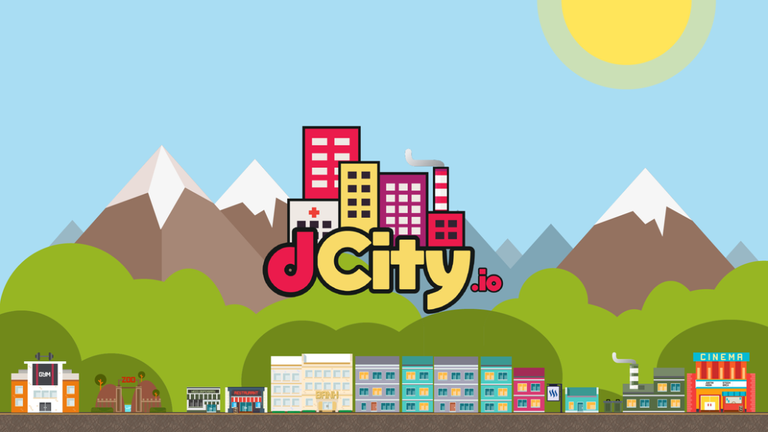 First things first, what is dCity ? Simple put, it's a city builder simulation running on the Hive blockchain. Each of your buildings but also all the population of your city is represented by NFTs which obviously can be transferred to or traded with other players. There are already 2 editions of NFTs available in the game with a 3rd one to be released pretty soon. While all buildings in your city are coming from these editions, the additional inhabitants of your city can be minted simply by running your city. More on that later.
Your goal is to set up the most efficient city possible with the resources available to you. This is where things become interesting. There are several basic factors at work that you need to consider when deciding what NFT to get next.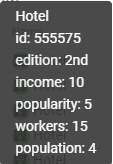 workers determines how many people you need to efficiently operate the building. For each point of worker you need one point of population, the stat that tells you how many people are living in your city. This number is influenced by a second stat, though. popularity gives a modifier to the number of people present in your city. Basically, the higher your popularity, the more people you'll get out of each point of population. income finally determines how much SIM you are paid daily for having that building if it's fully staffed.
SIM is the native token of dCity and it can be either used to buy new NFTs in the game or it can be traded on Hive-Engine. Obviously, you want your income to be as high as possible. To ensure that, you need to make sure that the other stats are as balanced as possible. If you don't have enough people to work your buildings, you will receive less income from them. If parts of your population are unemployed, you will have to pay social support which is also deducted from your SIM income. Ideally, you'd have just as many people living in your city as you need workers.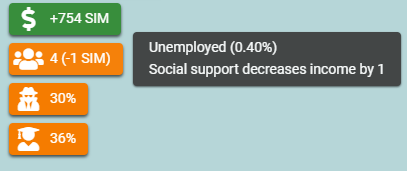 Initially, this seems rather simple as you can tell pretty exactly how many population you will get from a card and also how many workers you will need to operate the building. The more your city grows, though, the more complicated this gets. As you can see from the Hotel NFT above, many buildings have several or even all of the basic stats. With the ever growing popularity modifier, it becomes harder and harder to determine how many population you'll actually end up with from buying the card.
There's a second factor to it as well. Every 2 hours, there's a chance for you to mint new citizen NFTs which will add additional population to your city and often come with other (negative) attributes. Immigrants or homeless people for example do increase your population but at the same time they reduce your popularity. So if you don't manage your town for a longer time, population will go up, increasing the number of unemployed citizens and reducing your SIM income. These new citizens are not all bad, though. If you invest in their education, you have a chance to train them into becoming a valued member of society like a worker or a scientist. These kinds of citizens don't have a negative popularity modifier any more and sometimes even provide an additional bonus.

Besides the 4 basic stats covered above, there are more values to look out for. Creativity increases your chance to receive a new background for your city while education gives you the chance to mint a technology which, when adapted, permanently provides a certain bonus to your city. There are also taxes to be paid. These are set by the ruling president which is elected by all people playing dCity and holding SIM.
As you can see from the above, there's a lot more to the game than you might think initially. I don't want to dig too deep here since this article is meant to provide a first impression. But just to give you an idea, there are many buildings that have additional effects that are not obvious at first glance. If you have a stadium in your city, you'll receive an additional token called ENTRY which allows you to join a special series of Splinterland tournaments. There are several other buildings like that, providing you with all kinds of tokens. If you own art galleries, you will earn small amounts of Hive from auctions taking place there.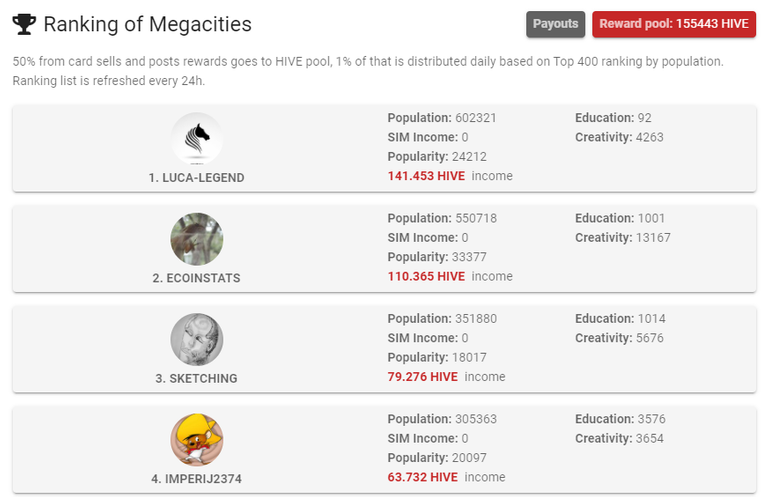 Speaking of Hive earnings, there's a daily payout of Hive to the top 400 cities in the game. Together with the SIM earnings from your city, this can provide a nice daily earning which you can either choose to reinvest or use for other projects on and off the Hive blockchain.
There's a lot more to be said about the game and concepts to learn, but I'll leave it at that to give you a first overview of the game. So let's now get back to our initial question. Is it worth your time? You might have already guesses, I absolutely think so, yes! To tell the truth, right now I'm a little mad with myself for not joining it earlier. Once you understand the basic concepts, it's easy to play and tinkering around with the perfect setup, always trying to balance your different stats, is a lot of fun. Yet there's a lot more to be discovered beneath the first layer of rules. There are many different setups possible to create a successful city and most of your choices will depend on what you want to do with your city.
dCity is not a free2play game, though. If you want to pick it up, you will totally have to make an initial investment. This might be off-putting to some, but it certainly is the right decision. By not giving away stuff for free, everything bought or earned in the game can retain it's value, making the game long term viable. Also, it certainly is more than just a game. It's an investment that will pay dividends if you stick with it. Not everybody will enjoy this kind of game. But if you do, there probably is no better game than dCity for you right now. In case you have not done so, I'd absolutely advise you to check out the game. You only need a couple of Hive to buy some very basic buildings and see if you like it. If you find you don't like it, you can simply sell the NFTs again at basically no loss. Chances are that you might like it, though - I certainly do!
And that's all from me today. Thank you all for reading and please let me know what you think of dCity in the comments. See you all next time!
Posted Using LeoFinance Beta