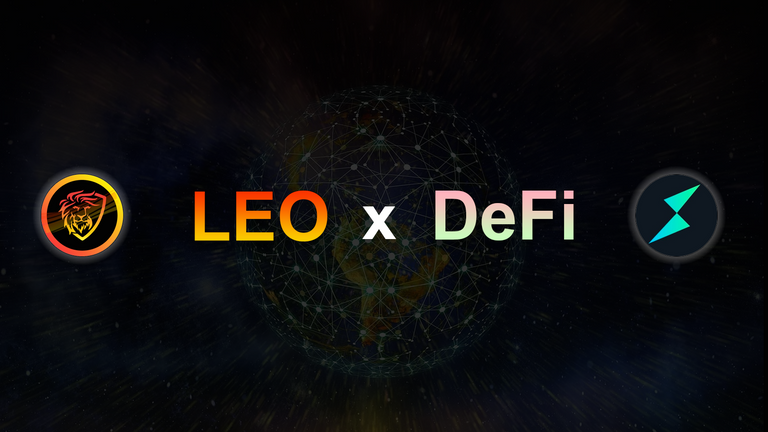 As we get closer and closer to the official launch of wLEO, our entire community has rallied behind the value that it can bring to the LeoFinance ecosystem. Some people are definitely in it for the short-term gains, but there are many others who understand the long-term prospects of having an Ethereum bridge connected to our community token.
While the launch of wHIVE was muted to some degree, I believe that the launch of wLEO is a lot different. With wLEO, we're following a trajectory laid out by other DeFi coins and communities. Offering things like LP incentive structures and collaborating with Uniswap/DeFi community groups that are willing and able to spread the word beyond Hive.
In any business, you need to understand your audience and know not just what they want.. but what they need.
For a successful launch into the DeFi space, you need to focus on these needs and desires. On the surface, it looks like DeFi is a greed-driven industry of scam artists and opportunists. When you dive beneath the surface, you'll find a passionate global community of developers, investors and users. There's more to DeFi than food coins and thieving Chefs.
I've been talking a bit with Prof K - whom I consider to be an expert in DeFi. He's spent months in deep research and activity in the DeFi space. He's peeled back the DeFi onion more than anyone else that I know and has been dropping some knowledge on me. He's pointed me in the direction of a few very interesting projects and DeFi ideas that the Leo team and I are continually discussing ahead of the wLEO launch.
wLEO is about attracting people outside of Hive to the LeoFinance and Hive ecosystem. Hive is our home, but at some point we have to venture out of the nest beehive and go look for opportunities to benefit our home and our project.
"Flowers provide bees with nectar and pollen, which worker bees collect to feed their entire colonies. Bees provide flowers with the means to reproduce, by spreading pollen from flower to flower in a process called pollination." - 1
The key to growing Hive is to take our project out into the world and attract people back to our community. wLEO allows us to collaborate and integrate with applications, communities and protocols like never before.
Thorchain Collaboration (Example)
I followed a Twitter conversation between @jk6276 and the Thorchain developers. I also saw that he wrote a post shortly after describing the situation in more detail - "WLEO/RUNE this year."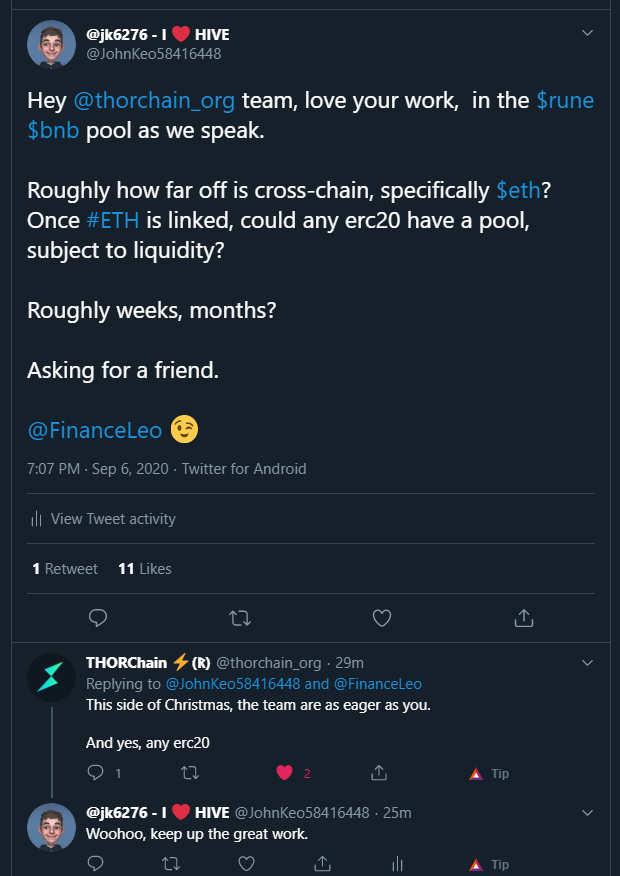 You can read Jk's post for more details, but Thorchain is essentially a decentralized protocol that is similar to Uniswap. There are some key differences in that Thorchain has its own blockchain and thus, offers features that Uniswap (which is a project on Ethereum) cannot. They are creating an Ethereum bridge that will allow ERC20's (like wLEO!) create cross-chain liquidity pools.
Collaborating with a project like Thorchain would bring massive exposure to our community in terms of potential new bloggers, readers and token investors.
This is merely one example of how wLEO will open up our community to the broader world of crypto and allow us to onboard new LeoFinance/Hive users.
Think Long-Term
I would like to continually reiterate this idea to think long-term when it comes to the LEO token and the LeoFinance project. We are still in the early stages of accomplishing the vision of our community project and the idea to go broad and bring people back to Hive is becoming more and more real each day.
The collaboration and integration potential of Wrapped LEO is enormous and once the technology is in place, all it takes is our communtiy getting involved while simultaneously reaching out to other communities/developers like the Thorchain team to create opportunities that are mutually beneficial.
The crypto ecosystem will soon be at our fingertips. Our listing on Uniswap is imminent and that is incredibly exciting for a lot of reasons but the real potential lies in the weeks, months and years that follow.
---
We've been putting together a library of information about wLEO, Ethereum, DeFi and Uniswap. We're building a new webpage to handle all of this information (along with another new webpage which will serve as a landing page to all the various projects under the LeoFinance umbrella - aimed at informing non-Hive users about our community).
Stay tuned. In the meantime, feel free to explore some of our previous podcast episodes where we talk more in-depth about the LEO/wLEO token bridge and our future plans:

Join Our Hive Community & Earn LEO Rewards!
Earn LEO + HIVE rewards by creating crypto/finance-related content in our PeakD community or directly from our hive-based interface at https://leofinance.io.
Posted Using LeoFinance Beta