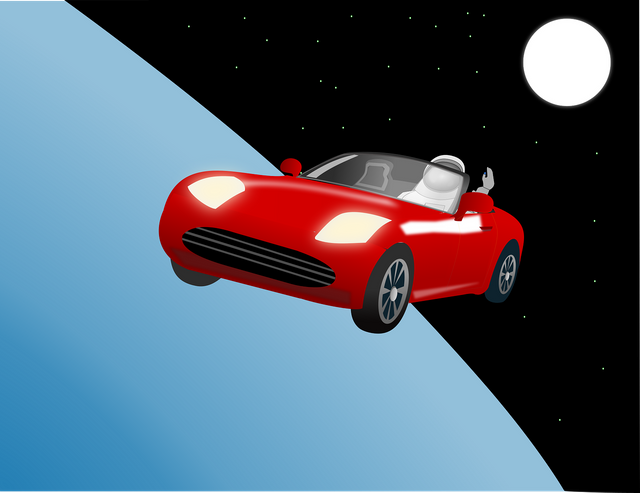 Tesla has no shortage of innovation just as it has no shortage of short sellers & naysayers. While the global economy got a corona-sized punch in the teeth, many automakers have taken plenty of the blow. I've seen recent figures expecting a 70% or more drop in automobile sales by companies like Toyota.
Tesla was making some headlines throughout the main part of the shutdown as Elon Musk fought with local regulators to get the Tesla plants back open. Since then, we've seen a major rally in the stock market and TSLA has been a great benefactor of the gains.
Personally, I bought some TSLA during the March crash and made a solid ROI on that. I sold it on the way up in disbelief as the market hit the V-shaped recovery that most of us didn't anticipate. If nothing else, the power of Brrrrrrr will surprise you.
Since then, it seems that TSLA just won't stop it's climb to ATH's. Today, it hit its 52-week high which valued the company at $208 Billion USD.
Toyota's market cap is about $202 Billion USD, so this puts Tesla firmly as the kind of the hill on automobile mountain. The main conversation that we're seeing now - especially by main stream analysts - is a questioning of how TSLA could possibly warrant this kind of valuation.
Tesla produced 367,500 vehicles in 2019 - a more than 50% increase from 2018.
Toyota produces about 10 million vehicles per year.
Clearly, there is a disconnect between vehicles produced/sold and the valuation of a company (no surprise there).
Why Traditional Auto Analysts will Never Understand TSLA
Traditional analysts of any kind will never understand TSLA or any similar tech company... why? For the very same reasons why people like Warren Buffett miss the boat on world-changing companies like AMZN and AAPL.
If you apply traditional metrics to technology, you have no chance at predicting the future outcome. In reality, tech is volatile in both directions - it's volatile on the downturns and it's volatile on the upswings.
TSLA lost a ton of valuation in March, but look at the rally in the stock price. Would you have preferred to buy TSLA at the bottom or Toyota?
Speculation makes up so much of the price action in markets these days, there is no getting around it.
@taskmaster4450 and I have talked about this divergence in traditional analytics and new age tech companies on the Tech Talk episodes of the LeoFinance Podcast. Things like AMZN, AAPL, TSLA and SQ are hard to put a future valuation on because traditional value metrics simply don't apply in the same way.
While I Would Bet on Tesla and Elon to Mars and Back, Here's Why I've Become a Short-Seller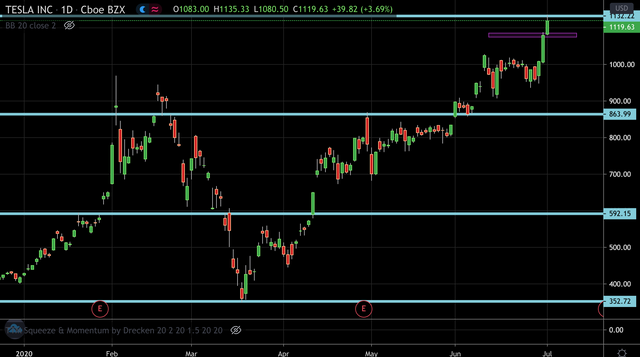 I haven't really become a short-seller in the sense of being completely negative delta on Tesla, but I've hedged some of my long stock shares in TSLA with a put debit spread. I didn't size the spread well in the sense of using it as a hedge, but I'm just testing out some different options strategies lately and seeing how I can utilize them in my primarily long stock portfolio.
My short position is a put debit spread:
8/21 expiration date
Sold the $1075 PUT (just a hair out of the money when I opened the position yesterday)
Bought the $1085 PUT (just in the money yesterday)
Since we've reached new highs today, the position isn't looking hot at the moment. As soon as this ship turns around (and I think it's highly likely that it will), I'll look to close the position for about 40-50% of the max profit. Since I'm also in the learning process about all of these options mechanics, here's a little factoid:
The max profit of a put debit spread is the distance between the strikes - net debit paid for the contracts ($1085-$1075 = $10 - $5.60 = max profit of $4.40 per contract).
With the stock price at all time highs, I just can't help but to short it. I know the stock is volatile and I also know that the whole market feels overbought to me. Once the pajama day traders get burned a few times, will we see a massive drop in the markets? Will we at least see a drop thanks to less FED activities (at some point)? I hope so.
I won't be a buyer of TSLA until the shares are below that $860 line I drew in the chart. Even there I won't feel comfortable buying a lot of shares, but I'll still stick to a longer-term accumulation plan that I set in motion a few years back.
TSLA and SQ are two of my favorite tech bets (outside of crypto) for the next decade. Both have been outperforming just about everything else and while I still believe that they deserve to outperform the rest of the herd, I still can't get behind these crazy valuations.
---
Join The LEO Community
LeoFinance is an online community for crypto & finance. We run several projects that are powered by Hive and the LEO token economy:
Posted Using LeoFinance