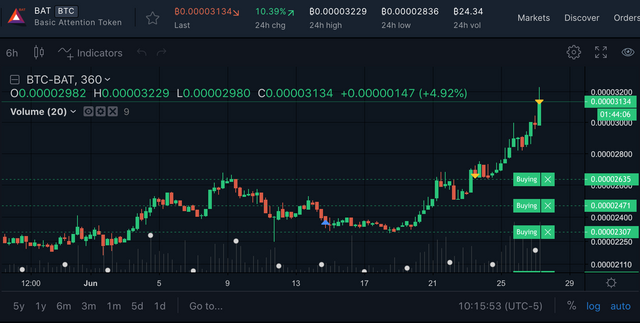 I've talked about my crypto portfolio in a few recent posts. My crypto is primarily invested in 4 places:
BTC
HIVE
ETH
BAT
Over the past week, BAT has risen about 35%. While that's not a crazy move in the crypto space, it is relatively uncommon for BAT to have wild swings. Personally, I think this is due to a more efficient economy for the BAT token - meaning that it's real-world use case and utility actually adds to a greater degree of price stability.
So with a 35% rise, I just made another small sale of my holdings in BAT and then set a bunch of bids to buy back in. I've sold on the way up (3 separate sales each with each 10% rise), but this will likely be my last sale unless we push higher by another 10% or more from here.
I'm still very bullish on BAT In the long-term, so I firmly believe we'll see a correction back down to ~2500 SATS (or lower) where I'll be able to re-accumulate. After 4 years in crypto, one of the biggest lessons I've learned is how & why I should take profits anytime there is a price hike out of the blue.
Where I Hold BAT
I hold BAT in a few places. I keep a small amount on the exchanges for active trades and open sells (to catch those big upper wicks), some in a cold storage wallet and a very small amount in the MakerDAO loan protocol.
Whenever I sell, I usually scrape a little bit off the top from the exchanges, MakerDAO and 1 of my other hardware wallets and leave my cold storage alone.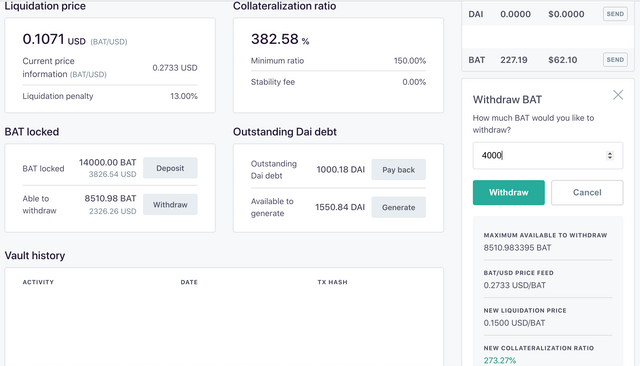 how the latest withdrawal impacts my collat. ratio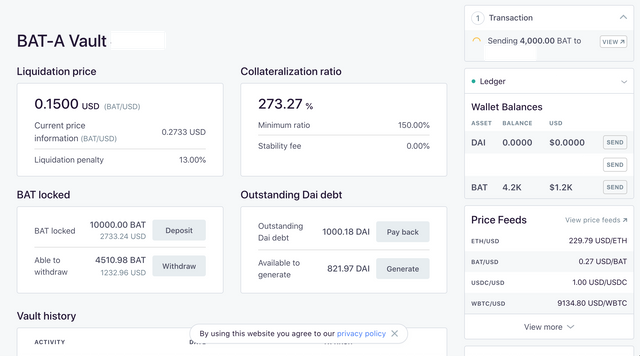 withdrawing 4k BAT from MakerDAO
I've talked with a few people here on Hive about Maker vaults and how I utilize them to mobilize some of my crypto. I'm still not entirely trusting when it comes these kinds of protocols, however, so I always ere on the side of caution and keep a small amount in the vault. I'm also always at the ready (with alerts and the whole nine yards) to protect my vault against liquidation.
The other risk (outside of liquidation) is that the protocol has some kind of failure or the MakerDAO "decentralization" isn't as decentralized as they say it is. @edicted has written about this in the past few weeks.
Fortunate for us, we're seeing new protocols being created and new DeFi ecosystems built. Competition is always a good thing and I'm hopeful that it will either improve MakerDAO's system or cause the launch of one that is even better and more decentralized.
BAT Ad Model
We've modeled the LeoFinance Ad Model after the BAT ad model. They're doing amazing things with the BAT ecosystem and that is one of the primary reasons I'm bullish on the token.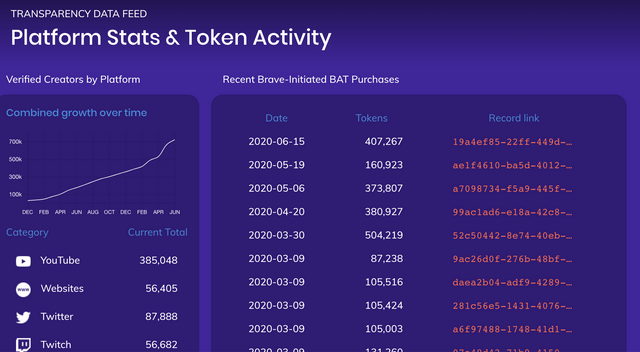 https://brave.com/transparency - shows the growth of Brave & BAT and also shows BAT buybacks with on-chain proof
---
Join The LEO Community
LeoFinance is an online community for crypto & finance. We run several projects that are powered by Hive and the LEO token economy:
Posted Using LeoFinance