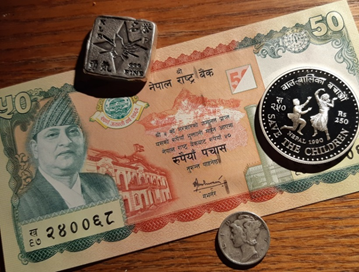 1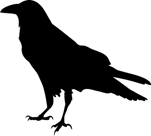 P
"Blackbirds tend to like Shiny Things" ~ The Bloody Raven
I was attracted this shiny piece from Nepal of a favorite Canadian e-tailer in Ontario. I put in a bid at what I thought as a significant discount of the posted 2017 Krause Catalogue value, as one of those 'not totally interested' but for the sake of recreational sport bidding. I didn't expect to win at my low bid.
One thing I've observed on my auction experience and talks with Members of the local coins club is that published Trend Prices do not reflect the reality of collectable prices as the older generation tries to pass on their collection to an uninterested newer generation. Retiring Baby Boomers end up liquidating their collections resulting in an oversupply and dealers don't have much choice but reduce their prices. So there is a squeeze in overall prices except for exceptional high quality rarities.
With that in mind, one thing led to another and voila, here she is! Free shipping and a passing the CCT Silver Slide test! I will discuss this test on later blog on this Low Tech non-destructive testing solution.
Where is Nepal?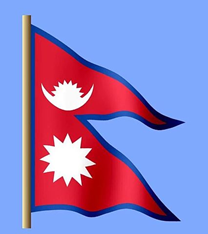 W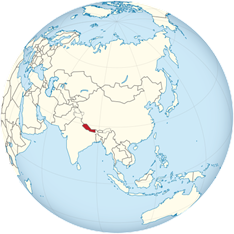 Flag of Nepal by T Bimal under CCO 4.0 Location of Nepal by TUBS under CCO 3.0
The Exotic Coin
1990 Nepal 250 Rupees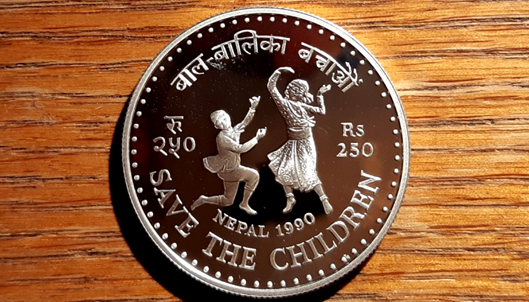 1
Reverse: Dancing Children, Nepal 1990, SAVE THE CHILDREN, Rs250
250 Nepalese Rupees, Vikram Samvat Calender 2047 (1990)
Sterling Silver 0.925
Weight 19.44g
Diameter 36mm, thickness 2.3mm
This is only one coin of a series of Commemorative coins initiated by the SAVE THE CHILDREN FUND an international Nongovernmental organization based in London in United Kingdom, founded in April 1919.
The Save the Children Fund, commonly known as Save the Children was established in the United Kingdom in 1919 to improve the lives of children through better education, health care, and economic opportunities, as well as providing emergency aid in natural disasters, war, and other conflicts. ~ Wiki
This series comprise of a coin from 12 different countries; Botswana, Gambia, Indonesia, Nepal, Oman, Sierra Leone, Cayman Islands, Falkland Islands, Mongolia, the Philippines, Zambia and I believe Suriname.
Mintage are be limited to 3000 22K gold coins and 20,000 in sterling silver and were available in sets only by subscription at the time.
This series is minted by the British Royal Mint.
Ah, so someone had to bust a set to free this coin!
1990 Nepal 250 Rupees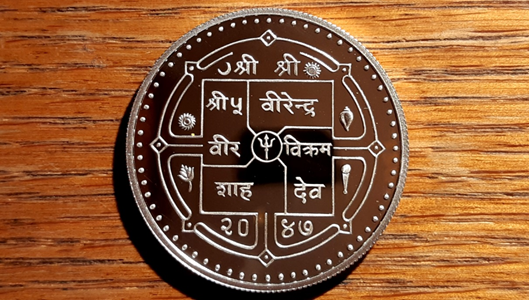 1
Obverse; Royal Symbol of King Birendra Bir Bikram
Mintage of 20,000
Reference# KM#1055
A beautiful Obverse of a Symbol that I thought was a religious symbol at first but turned out as the symbol of the reigning King Birendra Bir Bikram at the time. This design is similar to that of a Coat of Arms like a country as in some coining traditions go.
The Nepalese Bank had long decided for the Royal symbol rather than a portrait of the King himself as far coins were concerned. Apparently this is the Nepalese tradition with previous coinage in the distant past.
The CCT Slide: Test for Silver Authenticity
By CyberCurtainTwitcher on YouTube.

R
An Exotic Banknote
Again, I wish to thank my friend Punky's Dad for loaning me this banknote from his personal collection.
2006 50 Nepal Rupees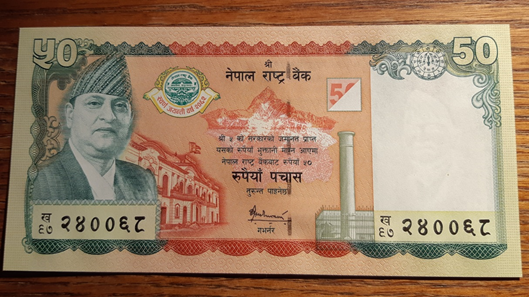 1
Front; King Gyanendra Bir Bikram Shah Dev, Golden Jubilee logo, Mt. Machhapuc
NRB Head Office Bilding, Ashoka Pillar
Commemorating the Golden Jubilee of Nepal Rastra Bank
King Gyanendra Bir Bikram Shah Dev featured here was the last Hindu king of Nepal following the death of King Birendra Bir Bikram in 2001. In 2008 Nepal became a Constitutional Republic that ended Monarchy rule.
2006 50 Nepal Rupees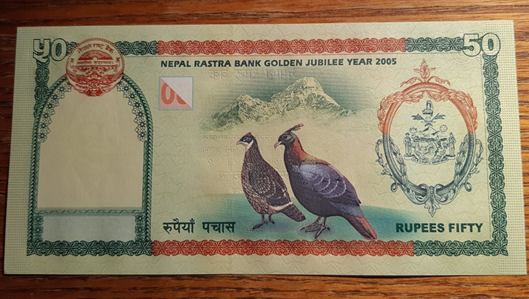 1
Back; Mt. Ama Dablam, Pair of Dampe bird
security thread, watermark of the King
Printer: Giesecke & Devrient GMBH Germany
Mintage 20 million
Reference# NRB-104, P# 52
I hope you enjoyed this very special feature
Thank you for stopping by my Blog today.

R
The #worldcoinwednesday tag is one of many strategic tags hatched by none other than the TAG MASTER @silverd510 to take over the all social block chains one post at a time. Give in to the Master and reveal your wondrous silver world coins.
References
1. My own pictures shot with a Samsung SM-A530W
P. Image under Pixabay
R. Clip art from 123RF
W. Wiki Commons
SAVE THE CHILDREN International
Wayback Machine: 2006 50 Nepal Rupee Banknote Pdf file of ref. p.83
Britannica: King Birendra Bir Bikram Shah Dev of Nepal
Tampa Bay Archives: Save the Children Coin Series

R
"Et lux in tenebris to serve laboro, sum sicarius" "I work in the shadows to serve the Light, I am an Assassin"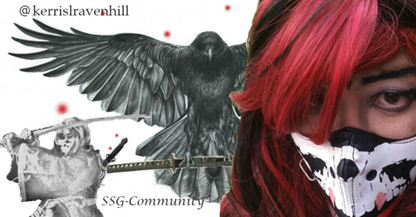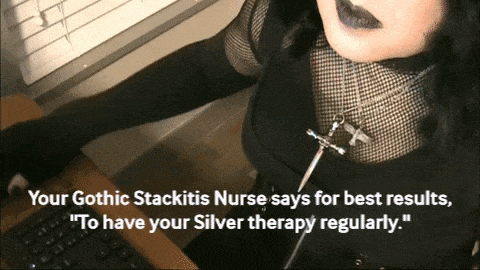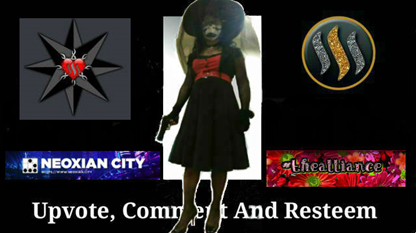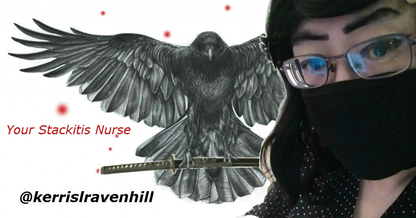 Posted via Steemleo