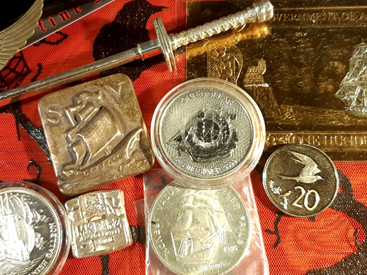 P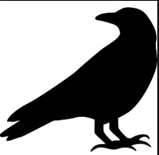 " Blackbirds tend to like Shiny Things" ~ The Bloody Raven
This is another lovely coin rescued from the fiery Furnace of Reckless Metals. We shall never know what art form this coin may have had in a new life, and I can see why I got it at just two bucks above spot at the time. The small handling scuffs may have taken away it's original Brilliant Uncirculated condition, but I am very pleased with having my hands on the coin commemorating a famed Mutiny.
The Instagram Silver Stacking community can be great source of bullion coin without the huge retail premiums.
The Coin
2017 Cook Islands One Dollar The Bounty Bullion coin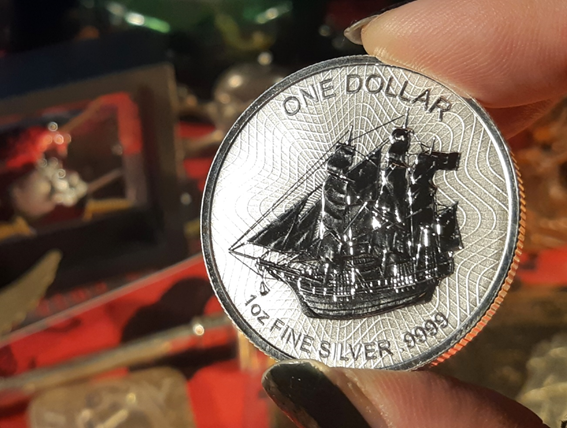 Reverse: Sailing Ship, The Bounty
Legend; ONE DOLLAR, 1oz FINE SILVER .9999
Diameter 38.6 mm, Thickness 3mm
Weight 31.1 g
Some aspects of this famed Mutiny has it's controversial circumstances regarding the nature of the Mutiny or whether Captain William Bligh really conducted himself in a malicious manner, but it was enough such that Acting Lieutenant Fletcher Christian and 22 of the 42 men forcibly seized the Bounty and set adrift Bligh with 16 of his loyal crew. It is noted that Captain Bligh had survived three mutinies in his career, which says something about the man's character.
Meanwhile, Christian and the mutineers settled on Pitcairn Island. Grounded and set The Bounty a flame. The remains of the ship were discovered in 1957 by Luis Marden.
While everyone is most familiar of the Mutiny itself, I'd rather focus on the Ship itself.
2017 Cook Islands One Dollar The Bounty Bullion coin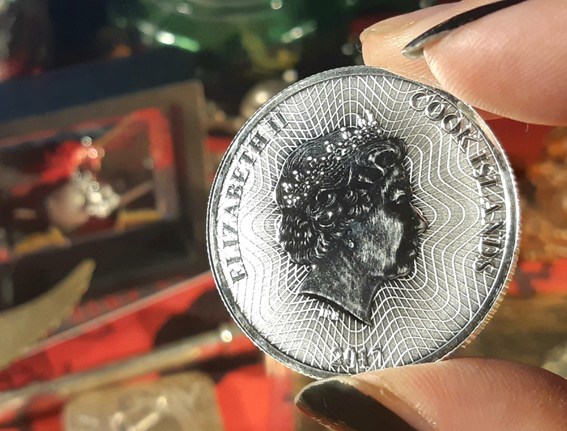 Obverse: Queen Elizabeth II facing Right
Legend; ELIZABTH II, COOK ISLANDS, 2017
Edge: Reeded
Minted by The Sunshine Minting Company
Mintage of 5000
The original ship was not a warship, but a small three masted Merchant ship Collier Bethia purchased for £1,950 by the Royal Navy renamed the Bounty in 1787 and converted for expedition work.
Original HMS Bounty Specifications:
Builder: Blaydes Shipyard, Kingston-upon-Hull, England
Launched: 1784
Tons Burden: 220 Tons
Length: 90 ft
Beam: 24 ft
Depth of Hold: 11 ft 4 inches
Sail Plan: Full rigged Ship
Complement: 44
Armament: 4 – 4 pounder guns and 10 Swivel guns
Bounty, the Replica.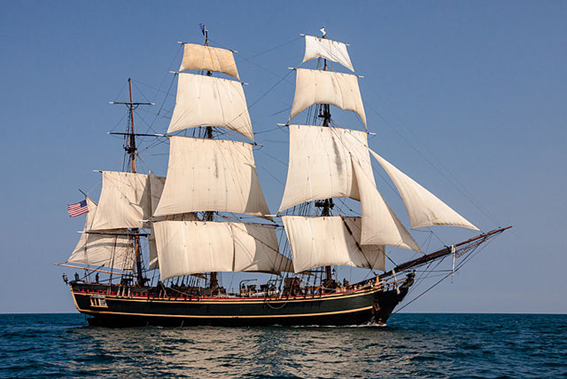 'HMS' Bounty 1960 Replica by Kasberger under CCO 3.0
In 1960, the major film Studio Metro-Goldwyn-Mayer Commissioned the Smith and Rhuland Ltd of Lunenburg, Nova Scotia in building a replica of the Bounty based on the documents archived by the British Admiralty. However, the ship was built to almost twice it's original size.
Bounty Specifications:
Builder: Smith and Rhuland Ltd of Lunenburg, Nova Scotia
Launched: 1960
Tonnage: 409
Length: 180 ft
Beam: 31.6 ft
Draft: 13 ft
Depth: 21 ft
Powered Inboard: 2 x John Deere 375 hp diesel engines
Sail Plan: Full-rigged ship
Crew: 12-14
Bonus Coin
1972 20 Cents Cook Islands Fairy Terns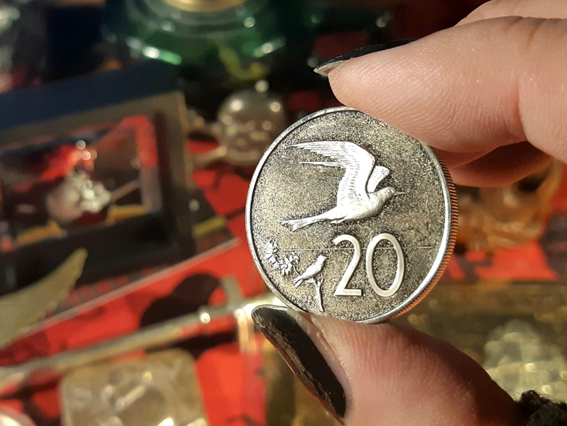 Reverse: Fairy Tern in flight to the right
Legend; 20, JB
28.5 mm Diameter, 2mm Thickness
Copper-Nickel, Weight:11.31 g
The Bounty was completed in August of 1960 and sailed to location in Tahiti for the filming of Bounty Starring Marlon Brando. The director planned the ship to be burned at the end of the filming, but Brando protested, the ship was spared and sent the Bounty on a worldwide promotional tour. Based in Florida as a tourist attraction, The Bounty has been used in a variety of television features, films and Tours. To name a few…
1962: Mutiny on the Bounty, Marlon Brando
1963: Yellowbeard
1965: Flipper
1966: Treasure Island, Charlton Heston
1989: Treasure Island, Christian Bale
And with this ship changing hands and getting on in years, she had seen many refits and restorations if not for maintaining seaworthiness then re-configuring her for a filming production.
In October 2012 heading back to St. Petersburg Florida, the Bounty saw her end when Captain Walbridge made a fatal error steering the ship into the path of Hurricane Sandy and was sunk off the coast of North Carolina. May she rest in Peace.
1972 20 Cents Cook Islands Fairy Terns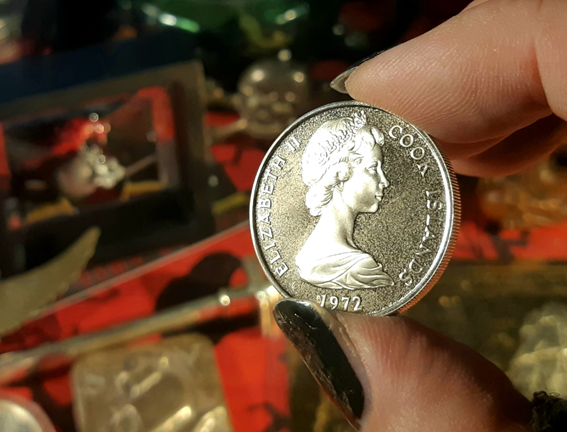 Obverse; Queen Elizabeth facing right 2nd Portrait
Legend; ELIZABETH II COOK ISLANDS 1972
Mintage of 31,000
Reference KM #5
I hope you enjoyed this mutinous epic yet seaworthy feature
Thank you for stopping by my Pirate Blog today.

I may just as well show this piece of me treasure once again for posterity.
The Mutiny – 1oz by Mutiny Metals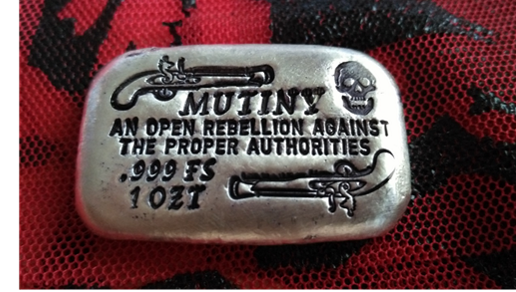 The #piratesunday tag is the scurvy scheme of Captain @stokjockey for #silvergoldstackers pirates to proudly showcase their shiny booty and plunder for all to see. Landlubbers arrrh…welcomed to participate and be a Pirate at heart so open yer treasure chests an' show us what booty yea got!
References
1. Me own pictures shot with a Samsung SM-A530W
P. Image under Pixabay
R. Clip art from 123RF
W. Wiki Commons
Sources
Wiki: The Bounty 1960
Wiki: HMS Bounty
Web: History.com Mutiny on the Bounty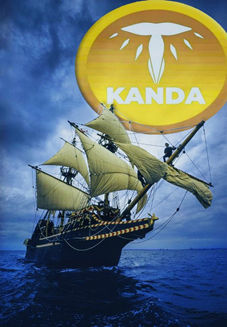 Educating Africans on the benefits of the Block chain
Join our Discord, https://discord.gg/cmbSM5B
"Et lux in tenebris to serve laboro, sum sicarius" "I work in the shadows to serve the Light, I am an Assassin"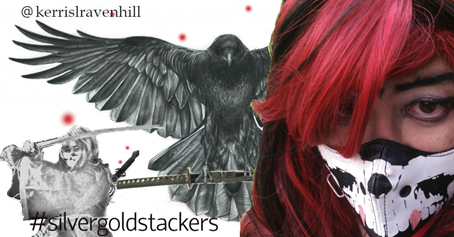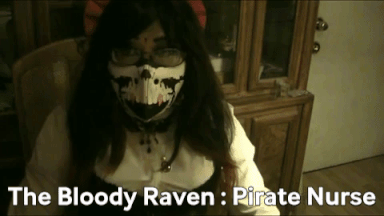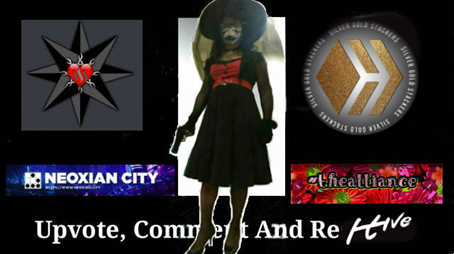 Posted Using LeoFinance Beta