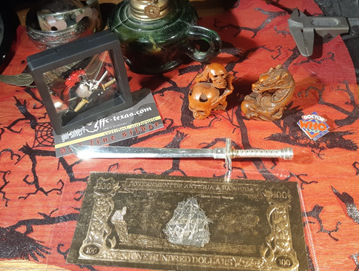 P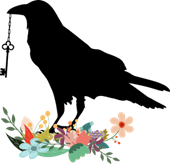 " Blackbirds tend to like Shiny Things" ~ The Bloody Raven
A late post for yesterday but still, "The gift that keeps blowing me away more often than my overpowered Conair Hair dryer."
It was a few months ago he asked for permission to send me a gift and it was likely to be silver *" ...in appreciation of all the chats and pictures shared with me…" *
The Admirer, Nyssacat373 aka DrWho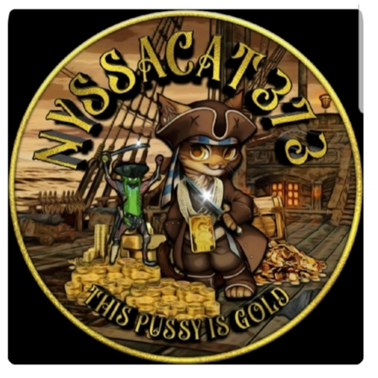 Purchasing Poured Fine Silver products such as this usually incurs a high premium so they are not suited as an Investment Asset but in a pinch could function as one should the necessity or opportunity arise. I pray not.
Otherwise, I consider the extra premium to be that of a Fun Premium paid for in acquiring it as a personal signature collection piece. But getting this as a Gift, Whoa!
The Silver Sword
Silver Ninjatō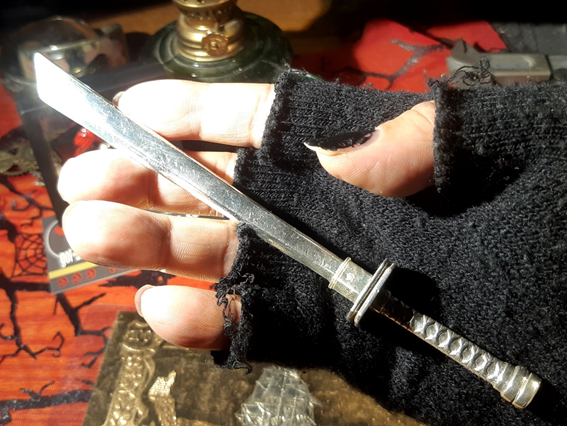 Custom made by Menehune Melt Hut from Hawaii
2.23 Troy Oz of 0.999 Fine Silver
175 mm long
Peculiar on this silver sword is the Tanto styled blade tip not typical for a Ninjatō nor the exaggerated size of the blade tip which functions more like a Macedonian Kopis Cavalry sword or Machete styled weapon like a French Falchion, swords that are more suited to open terrain combat and slashing attack styles.
1886 Version of the Bloody Raven
As Lady McMillan with a Full-
sized 40" Shinwa Ninja Sword.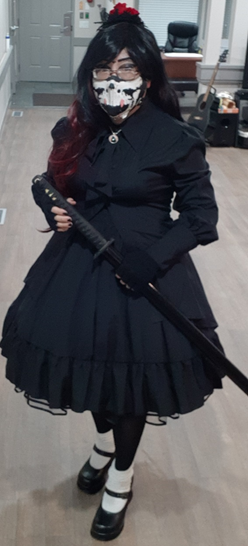 Approximating a Ninjatō or a Ninja short sword it's a very cool piece considering my fictional alter ego. The Bloody Raven this time as Lady McMillan of the 1880s wields a similar type of weapon that can be most suited for concealed attack within an umbrella, cane or walking stick. The emphasis on speed and stealth, especially close combat in confined spaces inside a steamer ship.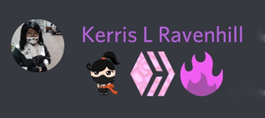 The full size 40" Ninja sword can be considered Ninjatō being ten inches longer but enough to change combat dynamics that taxes center of gravity agility and combat style.
I should let it be known that the Ninjatō is not a quite the historical weapon used by Japanese Ninja of Medieval Japan but more a product of the modern Entertainment industry. The usual basic primary weapon is still the Katana along with improvised weapons based mostly on farming tools that were in common use.
Menehune's Melt hut Trademark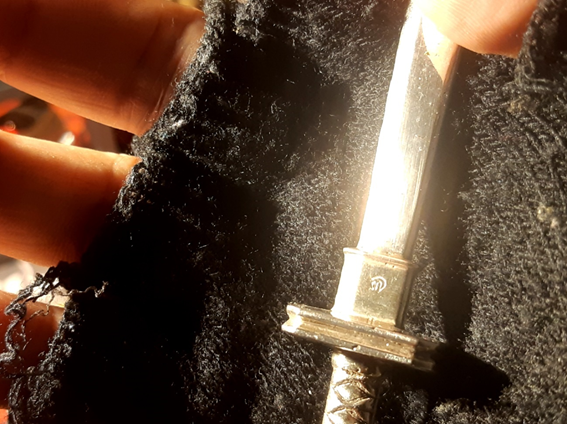 A tiny stylized 'M' stamped on the sword's Habaki (collar)
The Term Ninja in most instances is a warrior in a scouting and information gathering role and seldom sent on a covert offensive objective. Currently, some surviving documentation, yet not entirely definitive evidence, describing warriors in this covert role according to my favorite sources.
There is lots of latitude interpreting them.
And like the Entertainment industry I find it fun to fictionally 'Fill-in-the-Blanks.'
Certificate of Authenticity


Samurai traditionally name their personal swords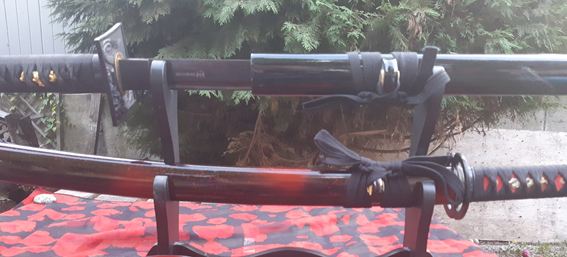 "Norbert" My Full sized 'Ninja Sword'
"Fluffy" My Battle Katana
Why did I take up Kenjutsu?
It was suggested by my Akido Sensei as a compliment to what I have learned. Guns are prohibited in Canada so having practiced and knowing how to use a Katana and Wakizashi against kitchen knives, baseball bats, tire Irons, axes and hockey sticks I will be last samurai standing in a SHTF scenario. Another reason is I do not have a strong enough grip for a dueling or broadsword. However, with a Katana I can much more reliably grasp the sword's Tsuka (hilt) with both hands.




Concluding Thoughts
My Admirer did his research. He knows what I like and understands of my dark Ninja Pirate ways because plain precious metals Stacking is BORING precious metals Stacking.
In context with the gorgeous Valkyrie bar and Silver Antigua & Barbuda Pirate ships banknote, this additional Silver Ninjatō gift from Nyssacat373 (DrWho) make awesome additions to the Poured Pirate silver collection of the Bloody Raven and a place among my most cherished possessions. 💖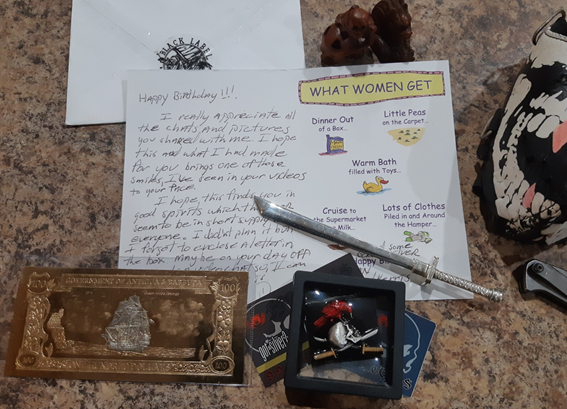 Also included are a pair of hand carved wooden Netsuke beads or toggles. (at the top right) They are a part of a carrying case called an Inro, designed to hang beneath the waist band of the kimono to hold small objects like tobacco, small personal items, medicines or even money.
Why? Kimonos and Hoari jackets have no pockets.
I will describe this in another later blog with more recent acquisition of Japanese silver and perhaps another episode of The Karasu.
Previous Related Posts
The Karasu Part One
The Karasu Part Two
A Pirate's gift package from an Admirer Part 1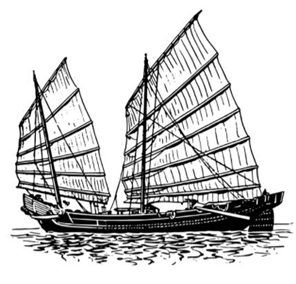 P
I hope yea enjoyed me Pirate Blog t'day
Thank you fer coming aboard!


The #piratesunday tag is the scurvy scheme of Captain @stokjockey for #silvergoldstackers pirates to proudly showcase their shiny booty and plunder for all to see. Landlubbers arrrh…welcomed to participate and be a Pirate at heart so open yer treasure chests an' show us what booty yea got!
References
1. My own pictures shot with a Samsung SM-A530W
P. Image under Pixabay
R. Clip art from 123RF
W. Wiki Commons
Sources
YouTube: Menehune Stacker
Wiki: Ninjatō Short Sword
Wiki: French Falchion Sword
Wiki: Macedonian Kopis Cavalry Sword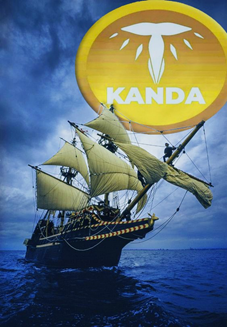 Educating Africans on the benefits of the Block chain
Join our Discord, https://discord.gg/cmbSM5B
"Et lux in tenebris to serve laboro, sum sicarius" "I work in the shadows to serve the Light, I am an Assassin"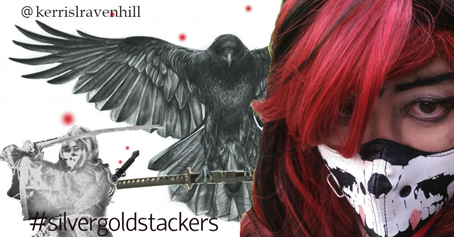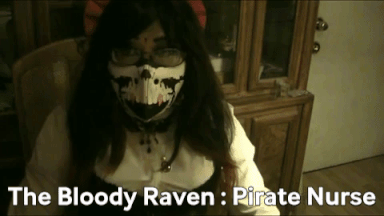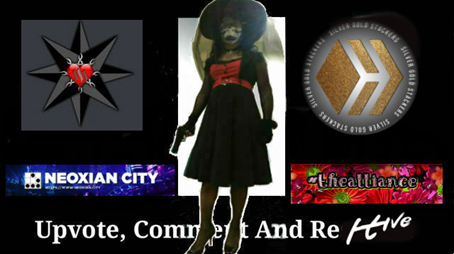 Posted Using LeoFinance Beta