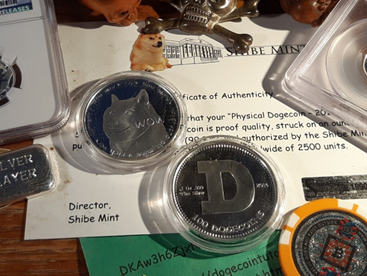 P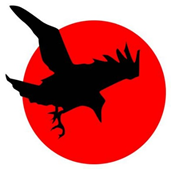 "Stacking – A synonym for the mnemonic HODL." ~ Some anonymous Gothic Stacker.
The Litecoin Experiment with Silver Slayer
2016 and 2017 Saw plenty of heated talk in the YouTube Stacking Community of Precious Metals versus Crypto currencies. Some embraced it and totally committed all their resources, many were quiet about it, while others rejected it outright, the argument continues this day with the same talking points.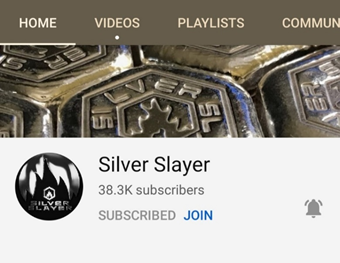 In the middle of this is a Stacker turned Crypto fiend Silver Slayer boasting a very sizeable subscribership in the thousands and used his Channel and influence to build an Investment 'Club' with Bitconnect in 2017.
I recall the thousands of dollars bandied around the Comments section in his videos of remarkable growth. New members signed up on Slayer's Downline throwing in lot's cash while my instincts kept me out of the craze.


First Edition Silver Slayer Channel Bar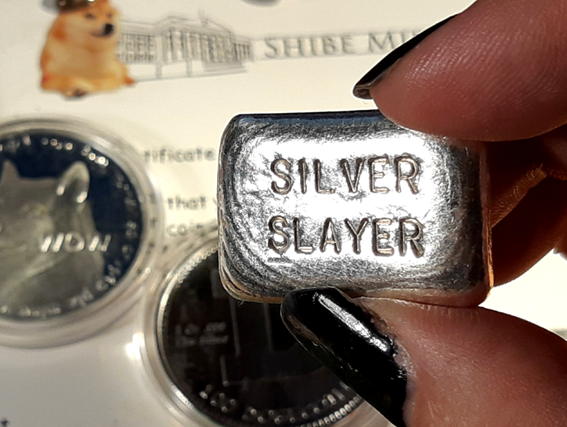 Front: First edition SILVER SLAYER Channel bar
Mintage of 300 Serialized
Custom made by Erickson Mint
Silver Slayer originally built up his Subscriber base with regular Giveaways of this silver bar. I was never fortunate enough to win one, so I sort of cornered him on one of his Live Stream Crypto Chats as he was talking about Litecoin being one of his favorite HODL coins.
I offered him a Trade, live and in real time in front of his audience, 0.5 LTC ($40/LTC at the time) for one of his last 5 low numbered Channel bars.
First Edition Silver Slayer Channel Bar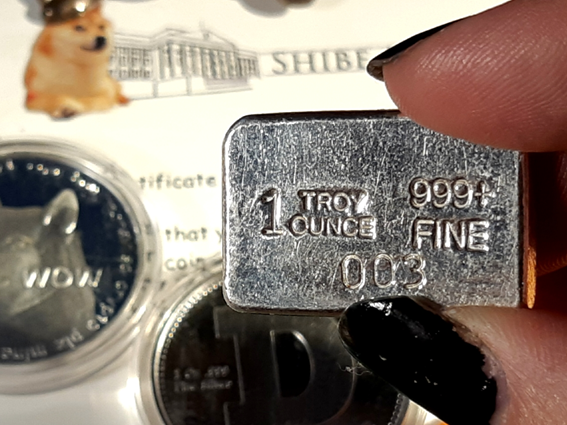 Back; 1 TROY OUNCE, 999+ FINE
Bar #003 of 300
He reacted in surprise at my offer, it did present an opportunity for him to demonstrate a peer-to-peer transaction via Crypto, and so like a gentleman he happily agreed. As a result, he sent a little more than promised since I made his program a little more memorable.
The Package with a few added gifts of appreciation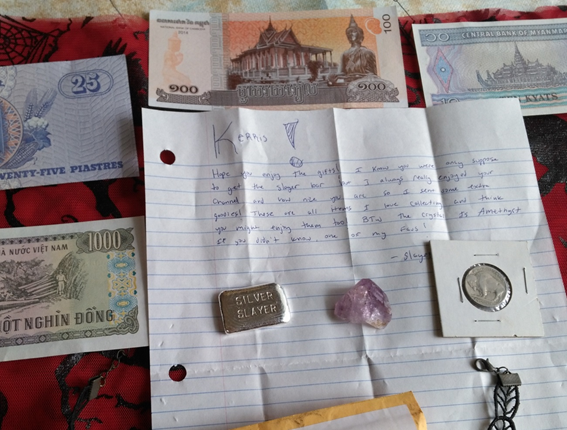 South East Asian Banknotes, Silver Slayer Channel Bar, letter of Thanks,
Amethyst Crystal, and 1927 US Buffalo Nickel
Things were fun and laughs until the 2018 New Year that saw the price of Bitcoin crash with unimaginable speed. Bitconnect went Off-Line, members of Slayer's downline lost enormous amounts of cash. Silver Slayer himself stopped posting YouTube videos and Live Streams not long after. I could barely imagine the hate directed at him by his members. He returned by 2020, back into talking about Silver once again building his current Subscriber base of almost 40K.
The same 'Moral of the Story' Don't invest more than you can afford to lose.


While Bitcoin blows a hole through the Moon...
The other coin that pinged off of Elon's Satellite
Back in 2015 collecting Dogecoin was just a time filler and as a Meme coin I was not expecting much as I was only interested in Bitcoin and Litecoin. The Reddit Dogecoin community was quite friendly with the tipping fierce and the majority of the talk is most often Meme related. I admit, I got to liking this crypto of little value and it's cute mascot.
Searching around their community I found a post referring to a physical Silver Dogecoin and my interest perked. The Shibe Mint
2014 100 Dogecoin 0.999 Proof Silver Round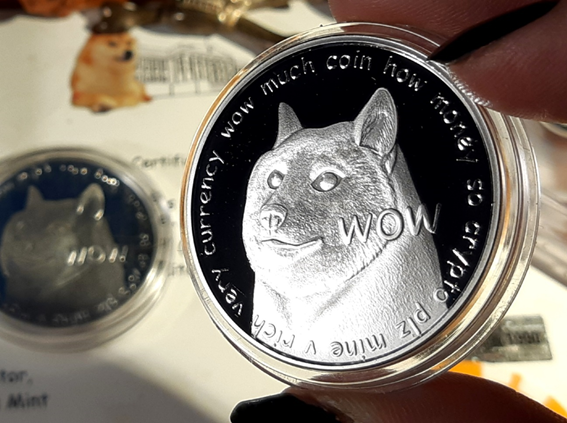 Obverse; Shibe Inu Mascot facing ¾ Left, WOW
Inscriptions; wow much coin how many so crypto plz mine v rich very currency
Diameter 39mm, Thickness 3mm
Weight 31.1g
The name of the Shibe Mint's director and Sales Rep was Tony when I contacted him. I had put a pair of these physical silver Dogecoins in the shopping cart but the payment in Dogecoin was not online. In keeping with the spirit of my experiment I wanted to buy using Dogecoin, but since it took just over a day of getting the DogePay back online the value of Doge had slipped below $0.01 so Tony took responsibility for the problem and threw in Free Shipping. What a Community!
2014 100 Dogecoin 0.999 Proof Silver Round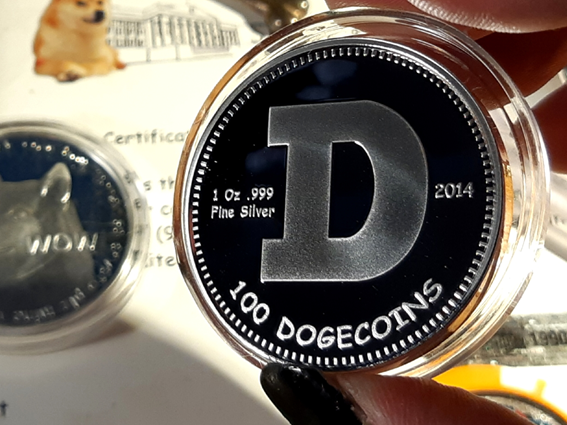 Reverse; Letter D
Inscriptions; 100 DOGECOINS, 2014
Lettering; 1 Oz .999 Fine Silver
Mintage of 2500!
The Story with my Dogecoin isn't over yet. My faith in Crypto currencies has been strengthen at each step so far. I had run into a few scams along the way but that hasn't shaken my faith in the math of the Blockchain and this experience and other positive experiences had set me forward in search of newer coins of potential value, it's got to have own thriving ecosystem, and community with real world applications and use. Then in 2017 I was introduced to Steem/Hive and eventually gravitated to LeoFInance, learning a lot more here than in my College years.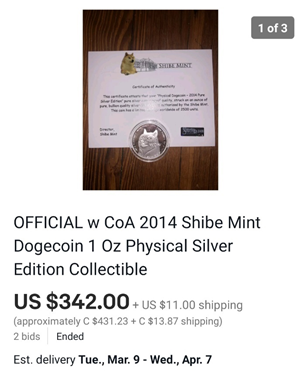 And those Silver Dogecoins? Check out the prices on an Original 2014 Silver Dogecoin on Ebay.


https://www.ebay.ca/sch/i.html?_from=R40&_trksid=p2380057.m570.l1313&_nkw=2014+silver+dogecoin&_sacat=0)


I seen these sell in the neighborhood of $90 without the original Certificate of Authenticity a year ago. It's rather funny that there is no Hard cap on the mining limit on Dogecoin yet the same Meme Team agreed to only 2500 of these coins in Silver bullion.

Could the Elon's Tweet Pump cause this price explosion? What do you think?


Otherwise, Thank you Elon. While I don't have enough Dogecoin to buy a Tesla yet, of which I will expect you to make another Tweet to that effect, I have already taken out some profit to get something nice for myself and leaving the balance for that Black Tesla with a flaming skull on the hood.
And thank you for dropping in on my blog Today
And wishing all my readers success on Hive
Link to my previous post
Hive: My Crypto Journey Part One
LeoFinance: My Crypto Journey Part One

Disclaimer: I am not a Financial Advisor I am just a sword swinging gal that likes to share her personal stacking and HODLing experiences, if I made any money it could be just dumb luck.
References
1. My own pictures shot with a Samsung SM-A530W
P. Image under Pixabay
R. Clip art from 123RF
W. Wiki Commons
Sources
The Shibe Mint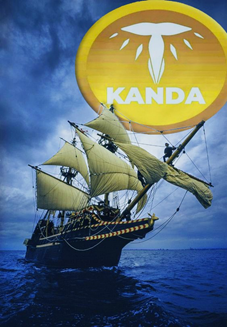 Educating Africans on the benefits of the Block chain
Join our Discord, https://discord.gg/cmbSM5B
"Et lux in tenebris to serve laboro, sum sicarius" "I work in the shadows to serve the Light, I am an Assassin"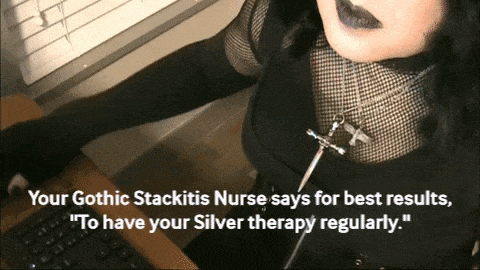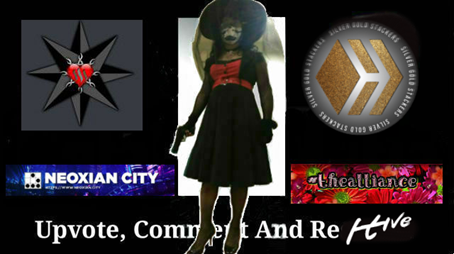 Posted Using LeoFinance Beta