Hello everyone, how are you this Sunday?
I have been busy trying to gather some information so that I can share with you all :)
2 days I ago I posted about some Christmas promos (gifts) - one of them was the extra rewards that Publish0x is giving to its users! (30% extra rewards in its crypto-tips)
If you don't know what Publish0x is, it is a crypto-agnostic blogging site where you can earn rewards by blogging or by tipping other authors. Feel free to use my ref link to join https://www.publish0x.com/?a=y1aKpxJbQG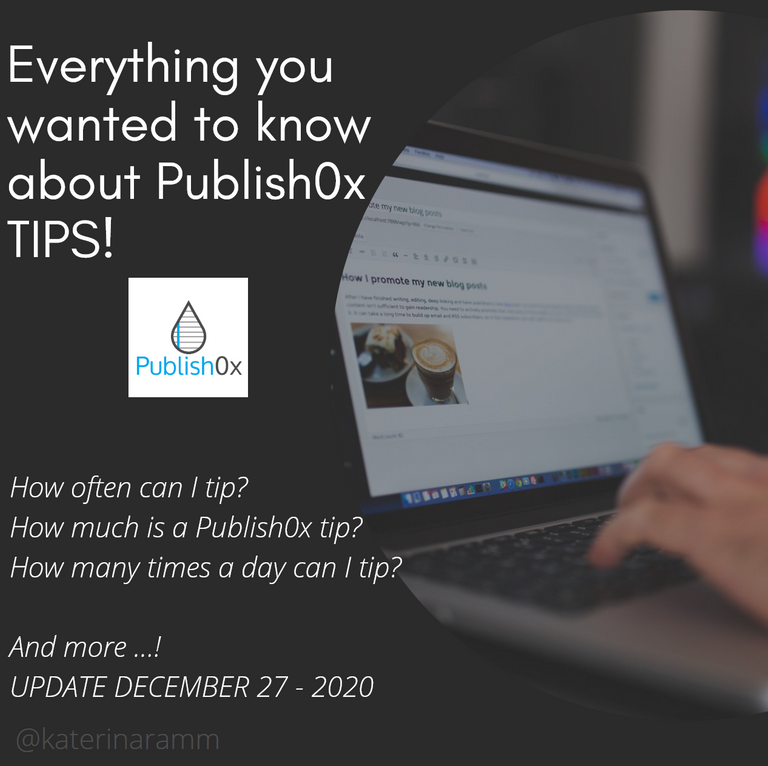 ---
After my post, I thought of trying to find out how much we receive by tipping on Publish0x!
Every time we tip a post, we have the possibility to change the weight of our vote (in percentage, how much the author and how much the voter receives). But we have no knowledge or control of the currency to be received or to the total amount of tip.

The default values are: 80% to the author and 20% to the tipper.

---
Let's try to .. demystify Publish0x tipping!
Fact 1 - TIP value
You do not know how much you earn/tip the author until you hit the button. After that, you will see a notification that will include the amount of currency and the currency received by the author and you.
These days (Christmas period), that there is an extra 30% applied - each tip amount varies between 0.01 - 0.07 $ - so from this if you stick to the custom percentage, the author will receive between 0.008 to 0.05$ if the person who tips chooses the default 80/20 percentage.
I suppose that the tips are by 30% less, but I will have to check if after the promo ends and update you.
With the extra 30% included
Total Tip Value: $0.01 - $0.07
Fact 2 - TIP LIMIT
I usually forget to use all my daily tips, to be honest whenever I saw there was a limit - I could not remember how many times I had upvoted :) But now I tested it.
We are allowed to cast 7 upvotes per day (or to be precise, every 15 hours)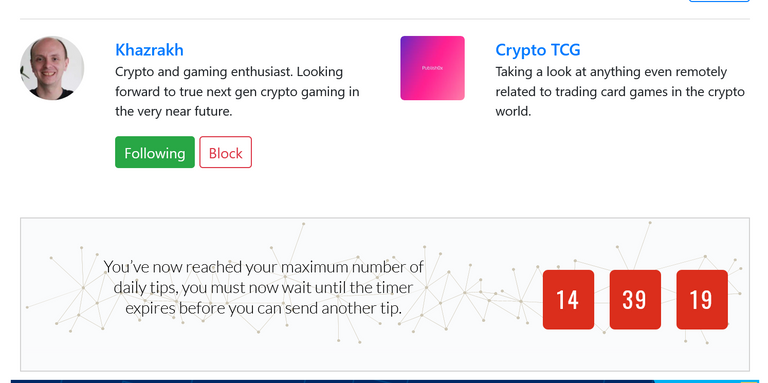 (This image is from today, when I had given away all my 7 votes and have to wait 15 more hours to be able to upvote again)
Fact 3 - TIME BETWEEN TIPS
If you tip a post, then you have to wait 8 minutes before you can tip another post.

Fact 4 - TIPS for the same article
You can tip the same article twice but with a 24 hour waiting time. After the second time you tip the same article, you will see this message "You've reached the limit for this post. Why not check some of the most popular posts from today:"

If you wish to tip a different article from the same (or different) author, you can wait 8 minutes and tip them.
Fact 5 - We don't know who or how much tipped us
As far as I know, we cannot know how much a tipper is giving us or even who actually tips our posts - not unless they state that in the comments.
Fact 6 - Comments are not rewarded
You are reminded that commenting will not earn you any tokens :)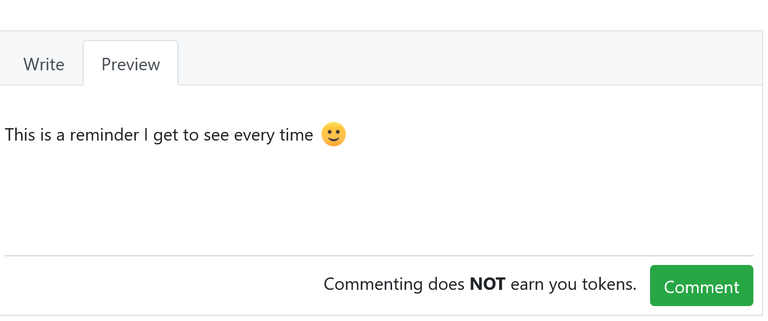 Fact 7 - Your posts can be tipped .. for ever!
I did not see any limitation in the timeframe when a post can be tipped. So, in theory your post could be tipped .. for ever! Assuming of course that people can find it :)
Fact 8 - You do not know what cryptocurrency you will receive
On the two days I have been writing down my tips, I saw no correlation between the types of cryptocurrency tipped.
At the time this post is written, the Publish0x authors receive ETH, AMPL or BAT.
In the two days I have tested, I assume that you cannot know in advance the currency to be received.
| CRYPTOCURRENCY | (x) DAY 1 | (x) DAY 2 |
| --- | --- | --- |
| ETH | 4 | 0 |
| AMPL | 2 | 4 |
| BAT | 1 | 3 |
Regarding amounts in USD (converted with rates of 27 December 2020)
---
According to my sheet (Appendix 1)
| DAYS | TOTAL $ | 80% (authors) | 20% (tipper) |
| --- | --- | --- | --- |
| DAY 1 | $0.1346710 | $0.1077368 | $0.0269342 |
| DAY 2 | 0.159613 | $0.1276904 | $0.0319226 |
The tipping strategy of yours will affect the amounts.
TL;DR
TIP value: between $0.01 - $0.07 (30% extra rewards included but will be over in January)
TIP limit: every user can tip up to 7 articles
TIP interval: Every tip needs a 8-9 minutes interval between
Limitations:
You can tip the same article twice but with a 24h waiting time.
Comments are not rewarded
You don't know who tipped you or how much
You don't know what cryptocurrency will be received
No limitations apply to when your post can be tipped.
Feedback
So tell me, did I leave anything out? Are there any questions you have about the tipping on Publish0x?
Will you continue using Publish0x?
Do you see the differences with other crypto-rewarding social media channels?
Feel free to connect with me on Publish0x
---
Thank you for visiting! I hope you found this post useful :)
---
---
Appendix 1 - table for upvotes on Publish0x the dates 26 & 27 December 2020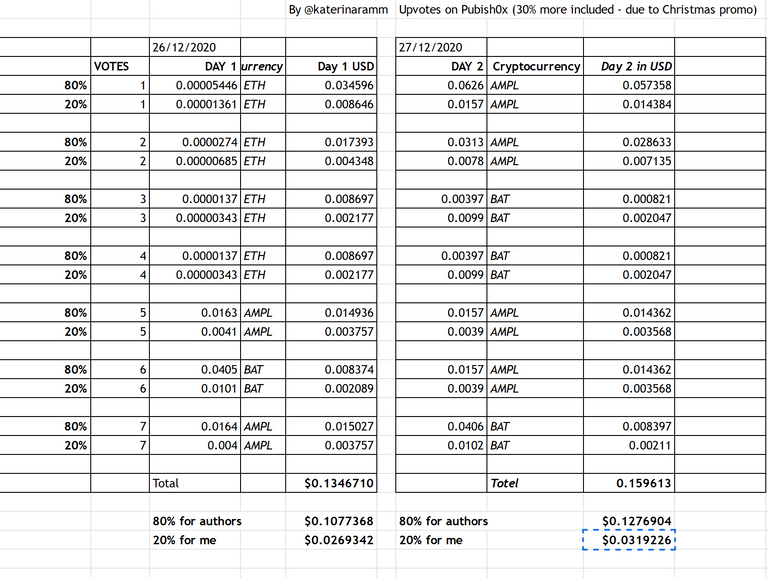 ---
Who am I?
I am Katerina from Crete, Greece. An enthusiastic content creator with a passion for photography. Interested in the blockchain technology, in new social media platforms and in trying to educate new users who wish to explore the blockchain social media world and its possibilities!
Posted Using LeoFinance Beta