The recent Bitcoin price correction has seen us go from a new ATH of $42000 down to around $32k and below as of writing. This is a 25% correction so far. Since a retrace like this was long overdue in such a frothy market, it was totally natural and expected. Are the bears finally taking back control as traders take profits, or was that the short but sharp dip now completed?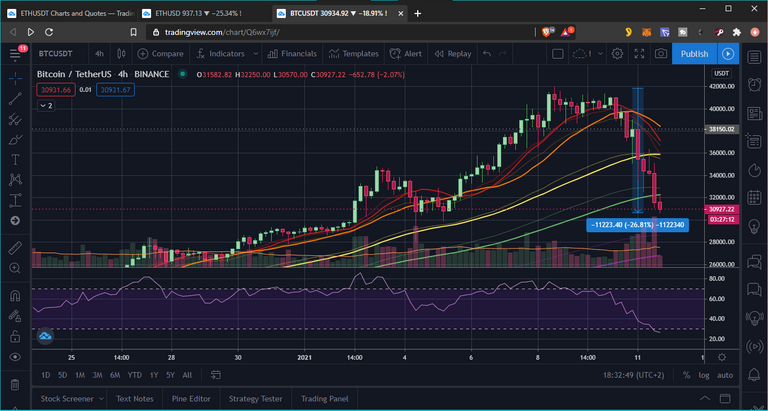 I personally see weakness in the charts, as price continues its descent back to lower levels of support. On the daily chart bitcoin has retraced to precisely the 21 day MA. Also the RSI has dipped but remains above 50, which is still bullish. We should potentially see a bounce back up here. Will it be a dead cat bounce? That is the question. Let's see if the 21 day MA holds first.
This is the first time price has returned to the 21 daily MA in about a full month. This certainly looks bearish, but these are unprecedented bullish times, akin to 2013 more than to 2017. This may be due to the massive whale buying action from institutions this time. Our retraces should be up to 40% but we are seeing half of that.
On the 4 hour chart, price has closed below the 100 MA, which is bearish. Just as with the daily chart, this last occurred around mid December, which was when this parabolic pump of 100% first launched from the launchpad around the previous ATH of $19600. Price has already – in the last 4 hour candle as I write this – bounced back up to retest the 100 MA but collapsed again to the downside, continuing the trend. The RSI is oversold at 27.
The next natural support levels would be around the psychological $30k as well as previous price support at $28k. On the 1 hour chart, price is making lower lows and lower highs, all the time finding resistance at the 13 MA. This is very bearish, particularly as price is way below the 200 MA on the 1 hour chart now too. However, the RSI is showing a bullish divergence, as price makes lower lows but the RSI makes a higher low. Let's watch this closely.
Overall the correction may not be over yet, so be ready on the sidelines to buy the dip once we see price reach support and there is a distinct trend reversal. No one can really call the bottom, so we simply wait for confirmation of a trend reversal and then enter the trade to ride the trend, taking small scalps of profits along the way. In the same way no one could really call the top of the recent parabolic pump, and we simply had to follow the trend.
My own personal current trades have been by scalping a few percentage points of profit, like 1-2% per trade, with a few of those per day, making up a significant profit, with minimal risk. Sometimes I am in a trade for only a few minutes and then out, bagging another scalp for the collection. They all add up and profit is guaranteed. I know this may sound rather humble, and it is, but it suits my personality and trading style, where timing the bounces or riding the short term trends on the 30 minute or 15 minute chart between bollinger bands is my current preference.
I lack the patience to sit for too long in a trade and am more of a sniper in that regard. I also can't tolerate too much loss, so I bale out of a trade very fast too if it show signs of going against me. I simply wait and time my entry and ride out a small pump, capturing the small percentage of profit and then exiting. It's like moving up the stop loss into profit, though I do it without a stop loss, all manually. I guess one could use a trading bot but I can't be bothered to buy one. I have time in my leisure lifestyle to watch charts, and I love the strategy game kind of challenge it provides my brain.
Unfortunately I am forced to pay fees for each trade, but luckily they are proportionate to my trades, so they are factored in overall. Let's see where this correction ends up. Get ready to go long once you see a consolidation at some point. Unless of course the whales give us no time and buy it all up again. Keep an eagle eye on the charts and happy trading.