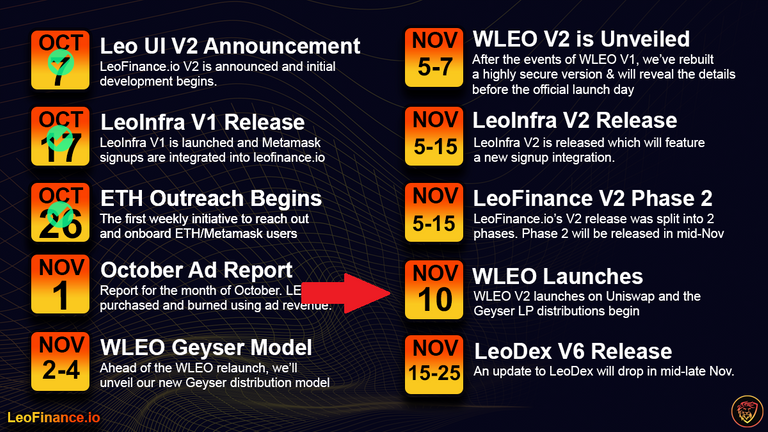 Mark your calendars, wLEO 2.0 goes live on November 10th
In less than 2 weeks wLEO gets another shot.
If you weren't around or do not recall, wLEO launched on Uniswap a couple months back.
What was originally questionable whether wLEO would get over $100k in total liquidity turned into a absolute certainty as wLEO climbed over $400k in total liquidity in a matter of a couple weeks.
Unfortunately (or fortunately depending on how you look at things), someone figured out a way to exploit the wLEO listing on Uniswap and wLEO was basically printed out of thin air diluting the pool and stealing a large chunk of the liquidity providers ethereum.
Fast forward to now and a lot of hard lessons were learned and wLEO is planning to give it another go in less than two weeks time.
The official announcement from the LeoFinance team can be seen here:
https://hive.blog/hive-167922/@leofinance/new-month-to-month-roadmap-and-developer-updates
There is a whole host of security measures being taken this time around that will very likely prevent what happened the last time from ever happening again.
Why does this matter?
For LEO, wLEO is very important.
It matters for a whole of reasons, some of the biggest being that it brings in orders of magnitude more liquidity for the token.
In order to buy LEO right now you must first buy HIVE, then transfer that HIVE to Hive-Engine or the Leodex and from there you can sell the swaphive for LEO.
Not the smoothest process and pretty complicated for anyone not already in the HIVE ecosystem.
The goal going forward is to bring users in from outside the HIVE ecosystem and to really do that we need wLEO.
Plus wLEO also opens the doors for getting listed on some of the popular centralized exchanges.
How cool would it eventually be to see wLEO listed on Bittrex, or Binance?
Imagine how much trading volume and liquidity some of those listings might bring in.
With LEO only having roughly 5.7 million coins outstanding, and a whole lot less than that liquid, it won't take much buying to push the token price to new price levels.
Just for a comparison, LEO could trade for $8 and still be worth less than HIVE is right now.
Currently LEO is trading for $.17, you do the math...
Stay informed my friends.
-Doc
Posted Using LeoFinance Beta