MicroStrategy has put together an Event that is going to present Bitcoin to thousands of Corporations and Executives and it's happening in a matter of days
Bitcoin is due for a pullback right? It ran up roughly 10x from the March lows and has only pulled back 31% from those highs thus far.
It has to correct further, right?
Well, maybe, or maybe not. Besides the fact that history says these roughly 30% corrections are often all we get during the post halving bull market pull-backs, there is a major event taking place in less than 2 weeks that could potentially drive massive demand for bitcoin.
This demand could potentially be in the hundreds of millions or billions of dollars in new money coming in.
Ok, so what am I talking about exactly?
Everyone's favorite Bitcoin-Bro CEO of MicroStrategy Michael Saylor, has put together an event explaining bitcoin and how to add it to corporate balance sheets to literally thousands of corporations and executives and it's taking place on February 3rd and 4th.
Bitcoin for Corporations
The Event is being called Bitcoin for Corporations, and as mentioned above, it's being hosted by Michael Saylor on February 3rd and 4th:

(Source: https://www.microstrategy.com/en/resources/events/world-2021/bitcoin-summit)
The first day of the event (Feb. 3rd) consists of Saylor and team explaining bitcoin and how/why to add it to a corporate balance sheet as a treasury asset as well as some general finance/accounting/regulatory related issues that may come up with bitcoin and crypto .
The lineup for that day can been seen on their website and looks like this: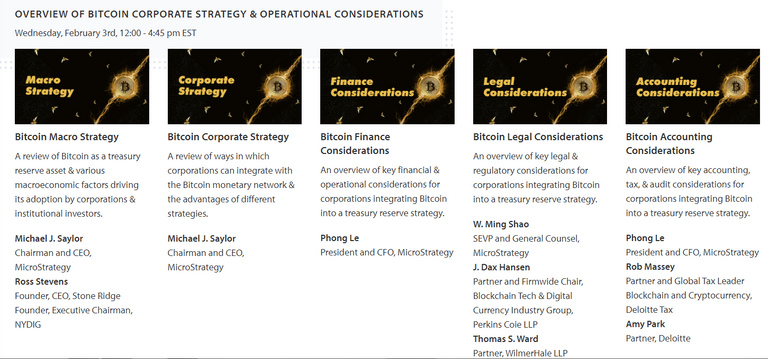 (Source: https://www.microstrategy.com/en/resources/events/world-2021/bitcoin-summit)
While that is very interesting and may hold the most pertinent information for many of the attendees, it's the day 2 presentations that might garner the most attention...
Basically the who's who of crypto is going to be there on Day 2, presenting.
From Michael Novogratz to Grayscale to Fidelity to Binance, many of the biggest names are all going to be presenting the states of their businesses as well as the state of the industry to the attendees.
Here's a screenshot of the day 2 (Feb. 4th) lineup: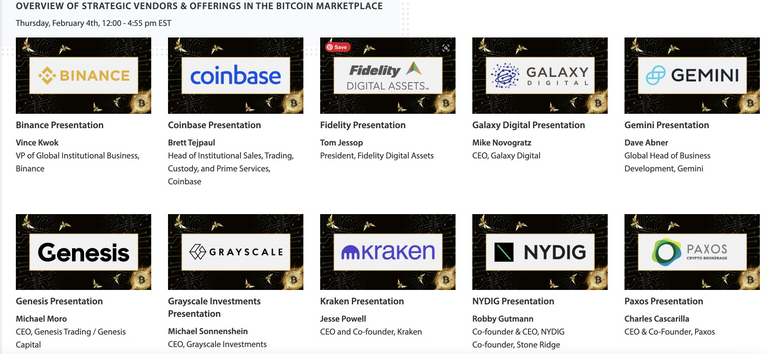 (Source: https://www.microstrategy.com/en/resources/events/world-2021/bitcoin-summit)
This could be YUGE for Bitcoin
While it remains to be seen how impact that his will have on the price of bitcoin in the near term, it's hard to think this doesn't have huge implications for bitcoin over the following weeks and months.
We are going to have billions of dollars attending this conference with an interest in adding bitcoin to their corporate balance sheets.
If just a few of them do anything close to what Michael Saylor has done, bitcoin will have to go up.
There's simply not enough supply out there to counteract the amount of demand they could be bringing in.
So, while bitcoin may or mat not have bottomed in the immediate term, this conference is something the bears probably don't want to see on the horizon, I know I wouldn't if I was short or out of bitcoin.
Stay informed my friends.
-Doc
Posted Using LeoFinance Beta