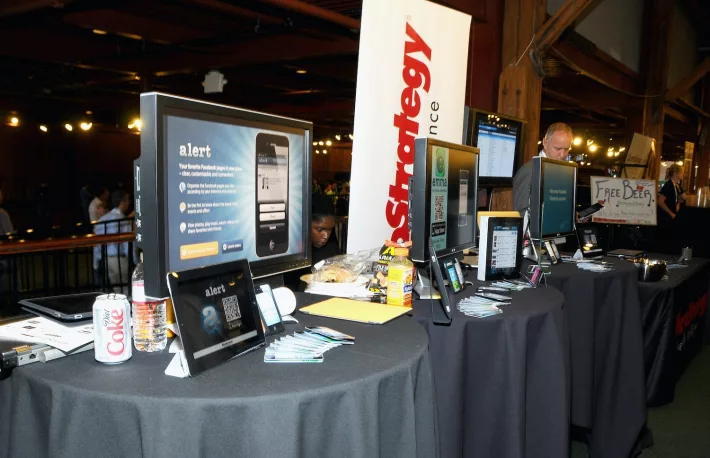 The biggest news of the year is probably not the news that you think it was...
Sure we had some good news for bitcoin and crypto this year.
We had the rise of defi, we had the massive central bank money printing globally, and we had the comptroller of the currency in the US say that federally chartered banks could hold bitcoin.
All great news.
However, there was one development that I think may end up being bigger than all of those as we go forward.
And that news is continuing to develop to this day...
What am I talking about you may be wondering?
I'm talking about Microstrategy announcing they were investing $250 million of their cash reserves into bitcoin due to concerns about inflation and low yields.
More on that can be seen here:
https://hive.blog/hive-167922/@jrcornel/possible-watershed-moment-for-bitcoin-as-microstrategy-swaps-fiat-for-bitcoin-as-company-s-reserve-asset
https://hive.blog/hive-167922/@jrcornel/another-business-opts-to-convert-cash-reserves-into-btc
https://hive.blog/hive-167922/@jrcornel/another-company-adds-bitcoin-as-reserve-asset-to-corporate-balance-sheet
And then today, news broke that they have filed with the SEC announcing that they may go ahead and add more to that position...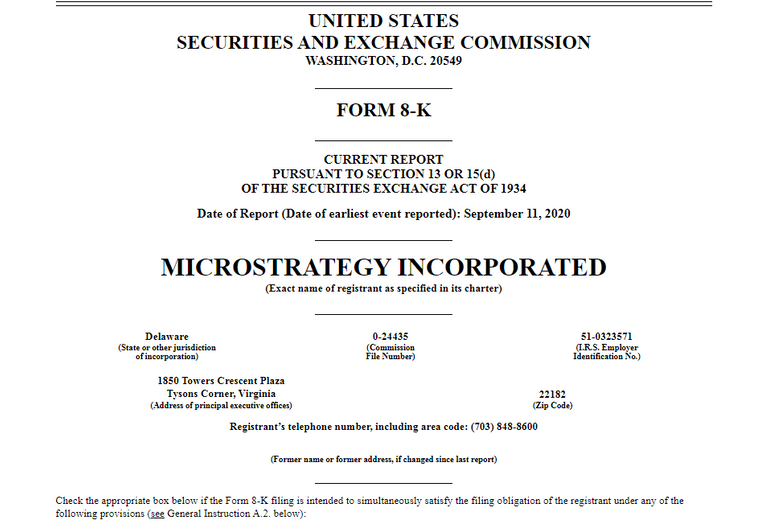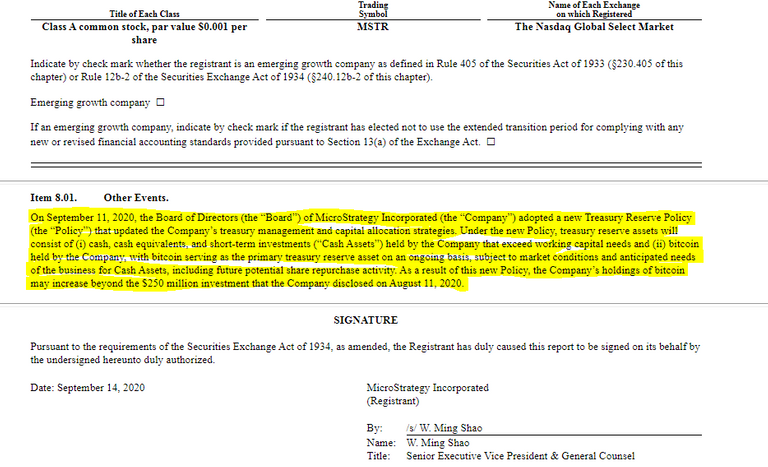 (Source: https://www.sec.gov/Archives/edgar/data/1050446/000119312520244732/d937119d8k.htm)
Why does this matter?
I'm glad you asked!
This matters bigly for a couple reasons.
The first and most obvious reason is that no one expected fortune 500 companies to major bitcoin investors, at least I didn't.
I fully expected pensions, endowment funds, family offices, private equity funds, etc etc etc to all be the major players as far as institutions are concerned.
However, I never expected large tech companies, are should I just say large companies as there are already other non tech companies showing interest in doing the same thing.
The second reason that this is a big deal is because it basicially makes turns Microstrategy into a quasi bitcoin fund.
There are currently no US approved bitcoin ETFs.
Microstrategy with $250 million already invested, is basically turning itself into one.
This has lead to investors buying up the stock when the news broke and I am sure other companies out there looking to boost their stock price have noticed.
I think this trend is going to continue into the coming months and will only intensify if the price of bitcoin starts really going up.
The future looks very bright for bitcoin and crypto.
Stay informed my friends.
Image Source:
https://www.coindesk.com/microstrategy-more-bitcoin-sec?__twitter_impression=true
-Doc
Posted Using LeoFinance