Hey guess what, HIVE's not dead after all!
It's been a quiet last couple of months around the Hive ecosystem, and for good reason.
There haven't been any fundamental developments and the coin price has drifted lower and lower and lower.
Falling all the way down to #134 on Coinmarketcap.com.
Hopefully much of those doldrums are behind us now that the most recent Eclipse Hard Fork has been completed as well as a general uptick in the crypto markets with PayPal getting involved and bitcoin breaking through $13k recently.
Today, the Beaxy Exchange announced they would be listing HIVE.
Check it out: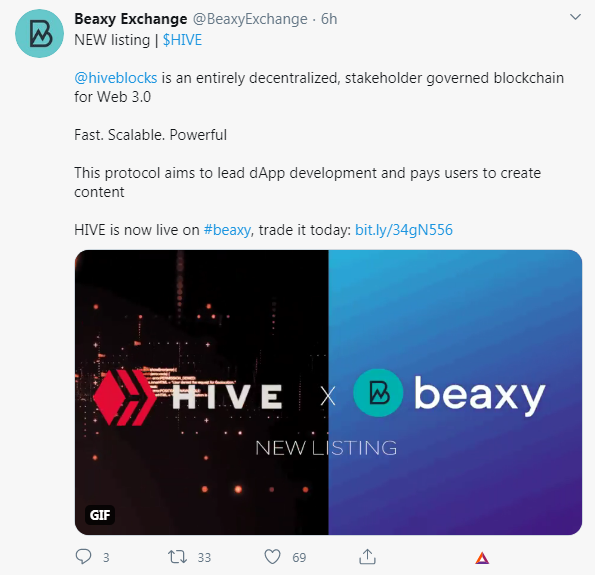 (Source:
1319350467789508609?s=20) twitter metadata:QmVheHlFeGNoYW5nZXx8aHR0cHM6Ly90d2l0dGVyLmNvbS9CZWF4eUV4Y2hhbmdlL3N0YXR1cy8xMzE5MzUwNDY3Nzg5NTA4NjA5P3M9MjApfA== ~~~
Cool, but who's Beaxy Exchange?
Admittedly I had never heard of the Beaxy Exchange before the Hive announcement today...
But a quick search on Coinmarketcap tells us they are a US based exchange with headquarters in Chicago: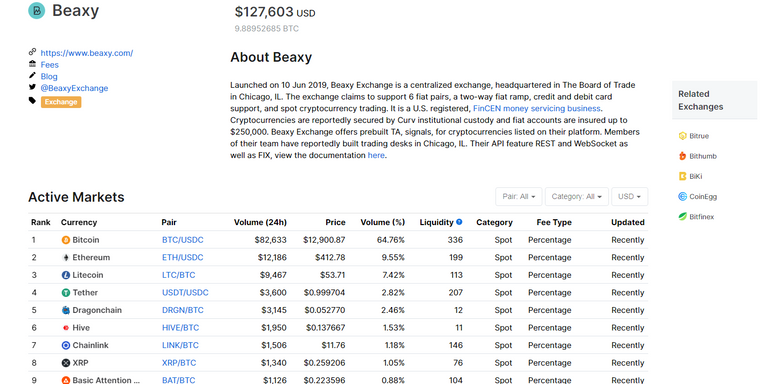 (Source: https://coinmarketcap.com/exchanges/beaxy/)
As you can see, they don't do much dollar volume and HIVE is already within the Top 6 in terms of highest dollar volume of trades.
Interestingly enough, it's ranked ahead of heavyweights LINK, XRP, and BAT, though that may only be due to the announcement today.
Previously listed???
What is a bit strange to me is the fact that if you look up HIVE on their exchange it looks like it was already trading on the exchange several months ago.
See what I mean: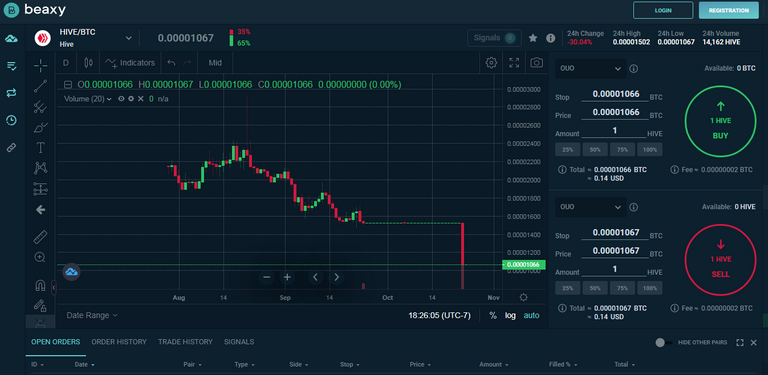 (Source: https://exchange.beaxy.com/?pair=HIVEBTC&tid=1603415781626)
That is until the end of September when for whatever reason it looked like the HIVE/BTC pair stopped trading until now.
Though prior to that it looks like it had been trading on there from end of July to end of September.
New old listing perhaps?
Either way, this news by itself is nice, but not going to move the needle much.
I think the more important takeaway from this announcement is that hopefully HIVE is now getting back to moving forward and focusing on growth instead of taking care of internal house-cleaning like we had been the last several months.
Here's to hoping things start perking up for HIVE again!
Stay informed my friends.
-Doc
Posted Using LeoFinance Beta