The Grayscale Effect may soon start impacting more Altcoins...
We've all seen what Grayscale has done for bitcoin, namely remove tons of supply from exchanges and make it that much easier for the price to go up when demand comes in.
Well, that same phenomenon may soon start impact some select altcoins.
In a filing with the Delaware Trust Company, Grayscale created 6 additional crypto trusts, which can be seen below: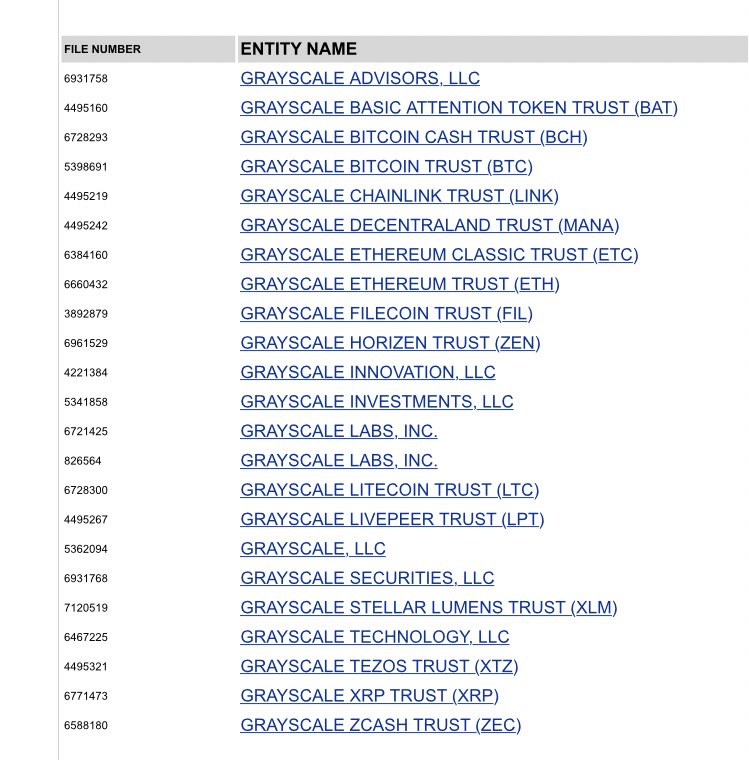 (Source:
1352709900787445761/photo/1) twitter metadata:QmxvcXBvcnR8fGh0dHBzOi8vdHdpdHRlci5jb20vQmxvcXBvcnQvc3RhdHVzLzEzNTI3MDk5MDA3ODc0NDU3NjEvcGhvdG8vMSl8 ~~~
If you are curious why LINK, BAT, and XTZ have been performing so well recently, this is why.
Keep in mind that just because Grayscale incorporates the trust, it doesn't necessarily mean they will bring it to market.
In fact, the CEO said exactly that when questioned about the recent altcoin trusts that have been incorporated.
"Occasionally, we will make reservation filings, though a filing does not mean we will bring a product to market." - Michael Sonnenshein CEO
(Source:
1352720286324580352) twitter metadata:QmxvcXBvcnR8fGh0dHBzOi8vdHdpdHRlci5jb20vQmxvcXBvcnQvc3RhdHVzLzEzNTI3MjAyODYzMjQ1ODAzNTIpfA== ~~~
Grayscale's AUM continues to swell...
Grayscale now has over $25 billion assets under management as they continue to add bitcoin to their trust at a blistering pace.
In the last 24 hours, Grayscale added 3,544 bitcoin which is worth roughly $118 million at current prices.
Over the past 7 days, Grayscale has added 29,598 bitcoin, which is worth close to $1 billion dollars.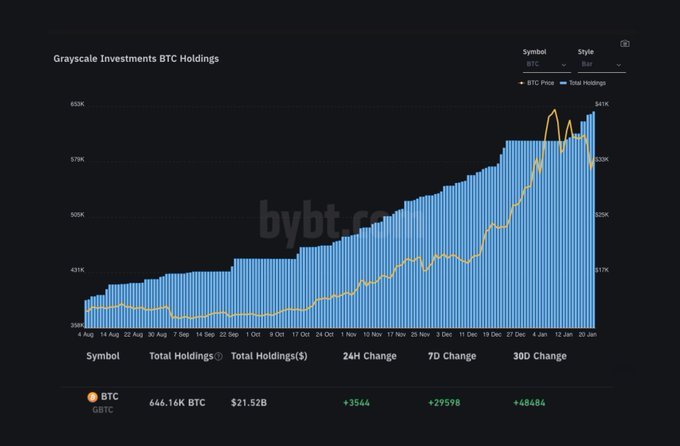 (Source:
1352740716397654016/photo/1) twitter metadata:QmxvcXBvcnR8fGh0dHBzOi8vdHdpdHRlci5jb20vQmxvcXBvcnQvc3RhdHVzLzEzNTI3NDA3MTYzOTc2NTQwMTYvcGhvdG8vMSl8 ~~~
The pace of inflows is more interesting than usual considering that the GBTC bitcoin trust is getting closer and closer to trading with no premium.
On last check, the trust was trading with roughly a 5% premium.
That's a long ways from it's 30% historical average.
As it stands right now, Grayscale has the Midas touch and any altcoin they touch is likely to turn to gold over the coming months.
Would be great if we could get them to touch HIVE or LEO!
Stay informed my friends.
-Doc
Posted Using LeoFinance Beta