This day will forever be remember on the Bitcoin Blockchain
People have long wanted Elon Musk to turn to bitcoin. He'd made some stops and starts over the years, with this potentially just being another one of those...
Though, with each stop and start he does seem to be moving more and more towards bitcoin and his latest quote of "in retrospect, this was inevitable" (with the bitcoin emoji) being the latest and best example.
Either way, his quote today referencing bitcoin and it being the future will now be embedded in the bitcoin blockchain forever.
Check it out: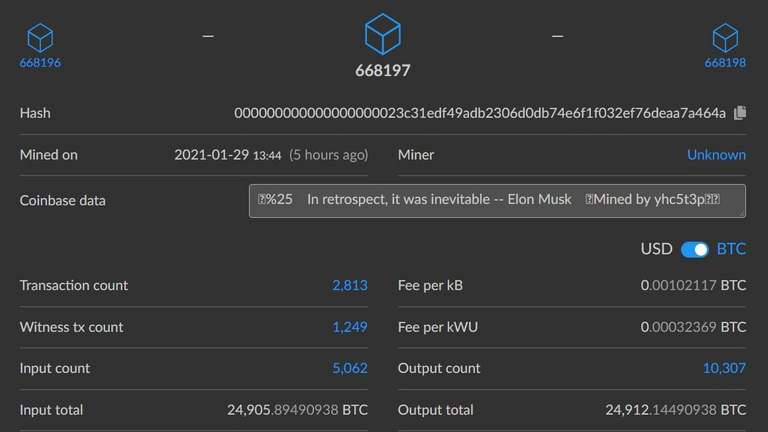 (Source:
1355220734872854531/photo/1) twitter metadata:RG9jdW1lbnRpbmdCVEN8fGh0dHBzOi8vdHdpdHRlci5jb20vRG9jdW1lbnRpbmdCVEMvc3RhdHVzLzEzNTUyMjA3MzQ4NzI4NTQ1MzEvcGhvdG8vMSl8 ~~~
One of the unique and strong selling points of bitcoin relates to its immutability, with this being a prefect example.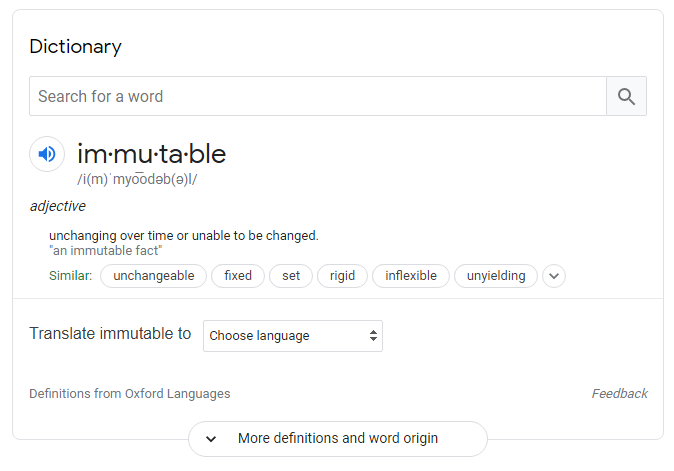 This quote will live on long after you and I are both gone, well unless they figure out a way to upload our consciousness onto a computer at some point. :)
The seed planted by Michael Saylor may end up blooming after all...
Unfortunately for us in the near term, the Elon Musk pump is all but evaporated but the implications from his tweet could hold long term implications.
While I don't think this tweet means that he is going to start buying bitcoin and putting it on TSLA's balance sheet, he could.
The odds of a move like that go up when you factor in past conversations between him and Michael Saylor.
More on which can be seen here: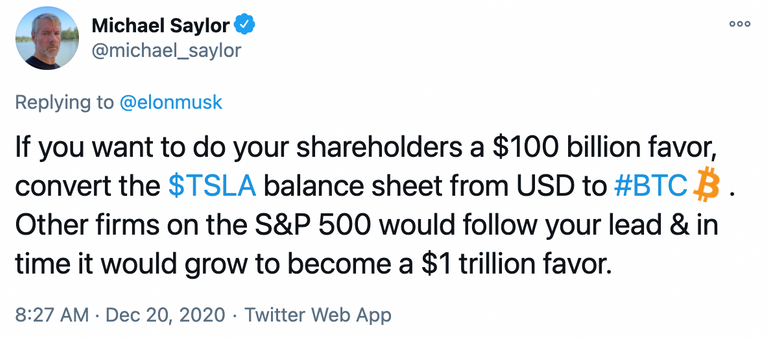 https://hive.blog/hive-167922/@jrcornel/elon-musk-now-the-richest-person-in-the-world-keep-pushing-him-michael-saylor
https://hive.blog/hive-167922/@jrcornel/michael-saylor-offers-to-help-get-elon-musk-and-tesla-into-the-bitcoin-game
Plus anytime you have someone of the caliber and popularity of an Elon Musk endorsing bitcoin it is likely to cause at least some collateral buying, and potentially a ton of collateral buying.
When you factor this in with the Bitcoin for Corporations Event kicking off early next week I find it hard to believe bitcoin doesn't keep grinding north in the near term.
All we need is for the stock market to behave and bitcoin will be just fine.
The weakness in the stock market today was likely why bitcoin wasn't able to hold those Elon Musk gains from this morning.
Stay informed my friends.
-Doc
Posted Using LeoFinance Beta