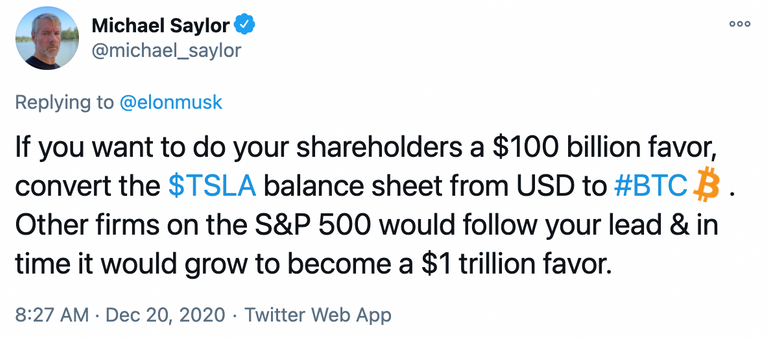 What if Elon adds Bitcoin to TSLA's balance sheet?
Elon Musk became the richest man in the world today with his net worth topping $185 billion today.
This is mostly thanks to the rocketing share price of TSLA, of which most of his net worth is tied to.
On that note, TSLA is one of the few large assets or stocks that has actually outperformed bitcoin over the last 12 months.
It's up close to 900% at this point, while bitcoin is ONLY up 500% or so: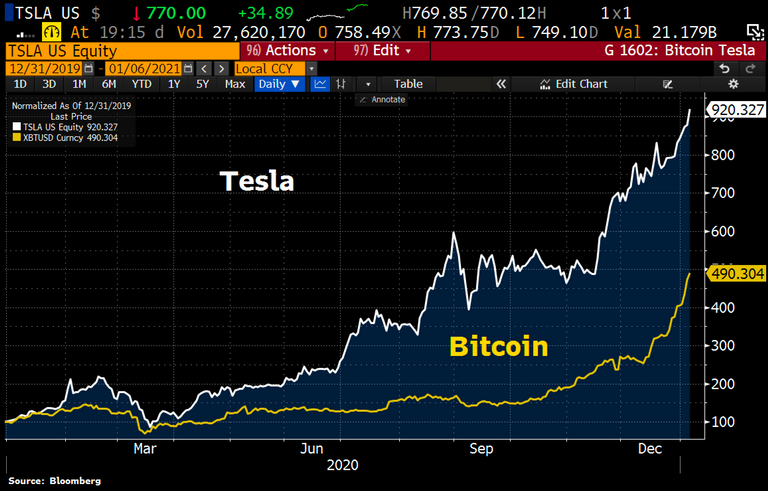 https://hive.blog/hive-167922/@jrcornel/if-bitcoin-s-in-a-bubble-then-tsla-s-in-a-yuge-bubble
The really crazy thing about this is that Elon started the year worth about $22 billion and barely cracked the list of 50 richest people in the world.
Fast forward 12 months and he's now worth $185 billion and just climbed past the CEO of Amazon (Jeff Bezos) to take the top spot.
For those doing the math, he Elon's net worth roughly 9x in the last 12 months. In this instance holding a ton of his company's stock paid of big time.
Could he eventually buy bitcoin?
The really great thing about your stock price flying is that you can issue new shares and really capitalize on the run up in prices.
In fact TSLA is know for doing exactly that.
They have issued shares on a semi regular basis ever since they went public.
The really crazy thing for them is that the last time they announced issuing more shares the stock actually close higher on the day.
Very rarely do you see a company announce that they are going to be diluting share holders an the stock climbs on that news.
Oh the power of Elon and Tesla.
Anyways, not long ago Michael Saylor took to twitter to pitch the idea of TSLA and Elon converting some of their cash to bitcoin in order to preserve the purchasing power.
More on that can be seen here btw:
https://hive.blog/hive-167922/@jrcornel/michael-saylor-offers-to-help-get-elon-musk-and-tesla-into-the-bitcoin-game
While Elon's response we luke warm, he didn't shoot down the idea either.
In fact he later made some comment that bitcoin was less rigged than fiat money, which is a complement in a way.
Considering how much cash they are sitting on and going to continue to be sitting on given how easy it's going to be to raise equity it will make a lot of sense for him to eventually add some bitcoin to his balance sheet.
Time will tell if he does, but it certainly is in the realm of possibilities.
Here's to hoping he does!
Stay informed my friends.
-Doc
Posted Using LeoFinance Beta