Bitcoin is still tracking firmly between the 2013 and 2017 bull markets
With the recent pullback in the bitcoin market, some are starting to get a little fearful, and for good reason.
The price was around $42k a couple weeks ago and now is barely holding $31k as I type.
That kind of pullback tends to scare a lot of new traders, and even some of the bitcoin veterans as I have seen numerous comments about people exiting and looking to buy back around $20k (or lower).
However, the recent price action is nothing out of the realm of normal bitcoin operations during a post halving bull market.
As it stands right now, bitcoin is tracking firmly between what it did in both of the previous post halving bull markets.
Check it out: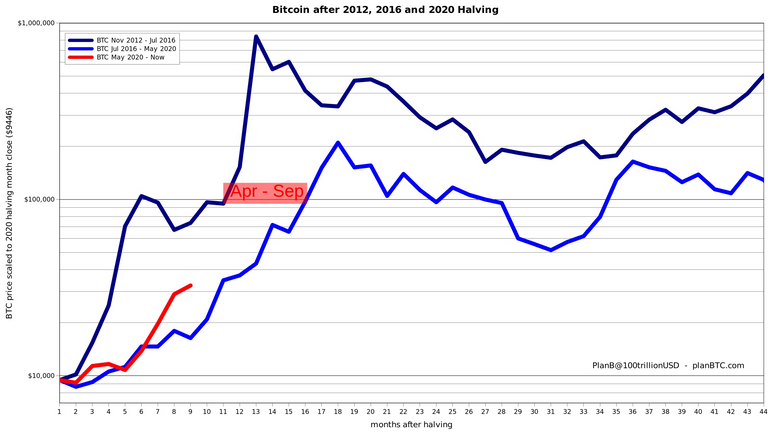 (Source:
1353324777528811522/photo/1) twitter metadata:MTAwdHJpbGxpb25VU0R8fGh0dHBzOi8vdHdpdHRlci5jb20vMTAwdHJpbGxpb25VU0Qvc3RhdHVzLzEzNTMzMjQ3Nzc1Mjg4MTE1MjIvcGhvdG8vMSl8 ~~~
As you can see, unless bitcoin goes sideways or down for the next 2 months or more, bitcoin should continue to track mostly between those two lines.
With it likely tracking closer to the blue line in my opinion which was the 2017 bull market.
Bitcoin falling 30% in a matter of days and weeks is pretty normal
While the velocity of the pullback may be what has scared people, IE dropping over 30% in a matter of days, it's really not that unusual for bitcoin in post halving bull markets.
We all know that bitcoin is volatile, but some forget that it's also volatile during bull markets.
Back in 2017, bitcoin had 6 drops of roughly 30% during it's post halving bull market.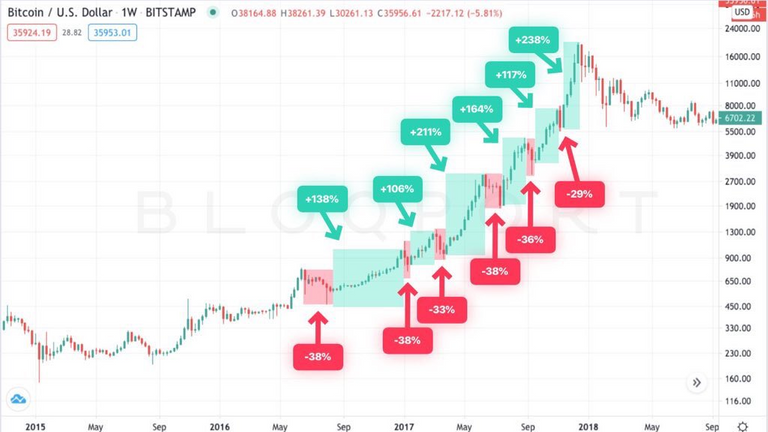 (Source: https://hive.blog/hive-167922/@jrcornel/on-average-bitcoin-surges-153-after-correcting-by-30-during-the-last-bull-market)
While this doesn't necessarily guarantee that bitcoin isn't going lower, it does provide some history and context of what is likely going on right now.
The recent lows of $29k represent about a 31% draw-down from the highs, which is pretty much in line with other draw downs seen in 2017.
If bitcoin were to mimic the largest draw-down seen back in 2017, which was 38%, we would see a drop to $26k.
If bitcoin were to go below $26k, it would represent a larger draw-down than anything we saw back during the post halving bull market of 2017.
I am betting that the lows are already in and we are going to start moving north again within the next couple weeks.
Stay informed my friends.
-Doc
Posted Using LeoFinance Beta