Green is good!
We all remember the famous quote uttered by one Gordon Gekko on Wall Street, you know the one...
"Greed is good"
It's actually one of my favorite quotes of all time from one of my favorite movies of all time.
This guy deserved every bit of that Oscar trophy he took home for this:
Well, as you also might have guessed, green is pretty good as well...
And in more ways that just your favorite cryptocurrency increasing in value!
You see, bitcoin has just now entered the "green zone" on PlanB's stock-to-flow chart.
Check it out: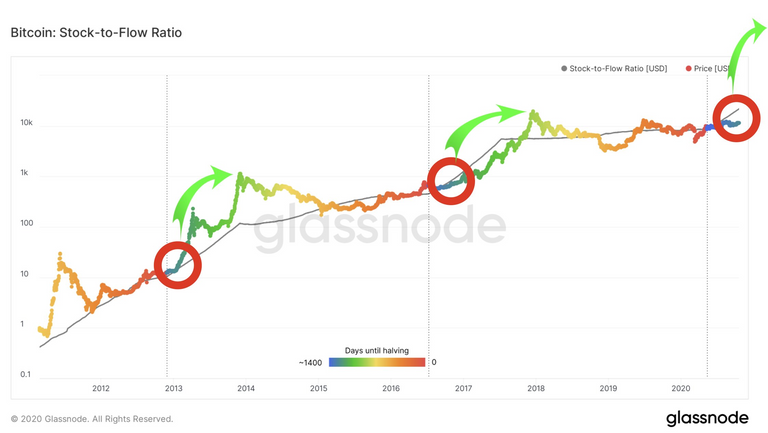 (Source:
1318171762534846465/photo/1) twitter metadata:TU1DcnlwdG98fGh0dHBzOi8vdHdpdHRlci5jb20vTU1DcnlwdG8vc3RhdHVzLzEzMTgxNzE3NjI1MzQ4NDY0NjUvcGhvdG8vMSl8 ~~~
As you can see, in this case green is very good.
Cool, but why does this matter?
The green zone on the above chart is simply a reflection of time since last halving.
Each time period is represented by a different color and as you can see the price of bitcoin seems to perform in certain and repeatable ways during certain colored time periods.
As it stands now, we are just leaving the blue period and starting the green period.
Historically, every time bitcoin has entered the green zone on the stock to flow chart, the price has seen its most bullish price action of the entire cycle.pr
Don't believe me?
Check out the above chart for yourself and you will see that in both instances of parabolic price moves, it just so happened to be during the green period.
Which is exactly why, green is good!
Based on past patterns and the time period for each color, one might expect bitcoin to peak in late 2021.
We will be in the green zone for much of the next 12 months or so.
Fasten your seat-belt, we are in the green zone now!
Stay informed my friends.
-Doc
Posted Using LeoFinance Beta