We need to make this a thing.....
Peter Schiff has been bitcoin's biggest basher, resident basher, no matter what it does, it chides it.
This has lost him most of his credibility long ago due to the obvious fact that he is looking for things that aren't even there and grasping at straws in terms of ribbing bitcoin.
Anyways, since he is still clinging to it and he's so clearly wrong at this point, we need to immortalize him forever.
No better way to do that then creating a phrase that does exactly that for him.
Something like:
"You got Schiff for Brains"
To explain when you did something really stupid.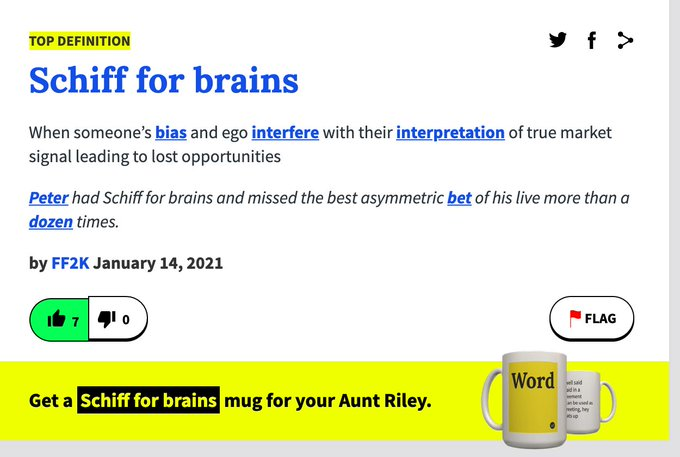 (Source:
1350447676458987521/photo/1) twitter metadata:Qml0Y29pblRpbmF8fGh0dHBzOi8vdHdpdHRlci5jb20vQml0Y29pblRpbmEvc3RhdHVzLzEzNTA0NDc2NzY0NTg5ODc1MjEvcGhvdG8vMSl8 ~~~
Had Peter just switched to bitcoin when he first started hating on it, he'd be up like 40x at least on his money instead of the 10% he's up on his gold.
Gold is old Pete, time to get with the times!
If you don't, you have Schiff for brains! :)
Posted Using LeoFinance Beta