Everyone freaks out when we dip, but they really shouldn't
Unless you have money to buy the dip, there's no reason to even pay attention to them.
If you freaked out about dips in early 2017 you missed the life changing move.
We got two rather large dips early in the year before ultimately surged much higher over the years that followed: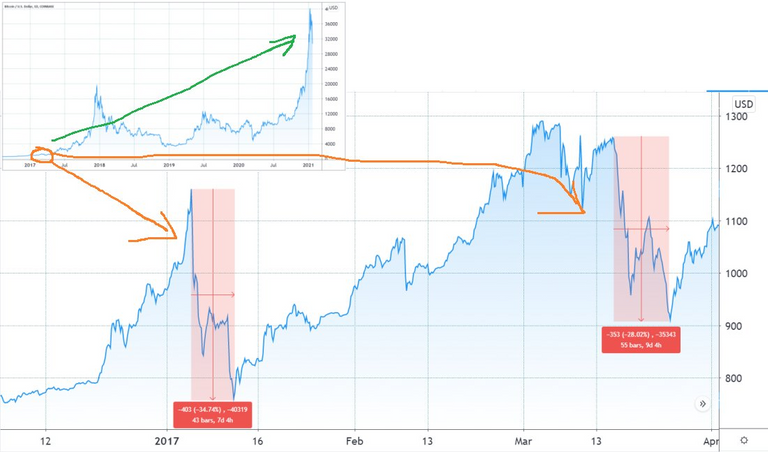 (Source:
1352602667072315397/photo/1) twitter metadata:bm9zaGl0Y29pbnN8fGh0dHBzOi8vdHdpdHRlci5jb20vbm9zaGl0Y29pbnMvc3RhdHVzLzEzNTI2MDI2NjcwNzIzMTUzOTcvcGhvdG8vMSl8 ~~~
Your time-frame should be the next halving, or the one after that one even depending on your age.
If you look at things like that, a little dip here won't matter when we are trading north of $500k by 2025.
Probably hit $1 million per coin before the end of this decade, which makes worrying about selling due to a little January dip kinda seem pointless.
Unless of course you can get back in.
Then you can buy all the dips and sell all the rips and make $3 million by the end of the decade instead of $1 million!
Sounds great and all but that's not something that 99% of traders can do, are you part of that 1% that can?
If so, go for it! If not, go enjoy your life and check on your bitcoin a few years from now and you will probably have a very large smile on your face.
Posted Using LeoFinance Beta